Wizarding World Digital Releases Closer Look at 'Keys and Curios' Journal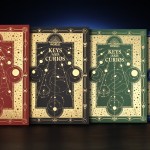 Oct 24, 2019
We recently released an exclusive look inside the Keys and Curios journal, the Wizarding World Gold paid subscriber welcoming gift. Wizarding World Digital have now released a video giving another look at the personalized journal, as well as statements from Wizarding World Digital and personalisation experts, Wonderbly, who had a hand in creating the journal.
The journal is created to be a new experience for fans, giving a year's worth of prompts and exclusive access to newly curated content on the Wizarding World app for Wizarding World Gold subscribers via 'Enchanted Keys', scattered throughout the journal.
Take a look at the preview below:
Wizarding World Digital included the work of illustrator Jim Kay, specially designed Hogwarts house covers by MinaLima, and personalized aspects from Wonderbly.
Award-winning start-up, Wonderbly, took on the challenge of making sure journals were entirely unique for each subscriber. Asi Sharabi, CEO of Wonderbly said:
"As real innovators, we could not ask for a better-suited partner than Wizarding World Digital. They came to us with an exciting vision for a type of publishing product that had never been done before. It's been an absolute pleasure to collaborate with them and bring to life this beautiful journal, for millions of Harry Potter fans around the world."
Tom Greene, Wizarding World Digital's Chief Operating Officer said:
"The Keys and Curios brings a new level of personalisation to fans of the Wizarding World. Through imagination, creativity, and technology we were able to create a truly magical journal, that is not only unique to every fan but will delight them with new interactive features such as our Enchanted keys unlocks. The team at Wonderbly were fantastic in helping to deliver this innovative experience that can be enjoyed time and time again."
Are you planning to subscribe, or are you happy enough with the free app? Find out more in our previous write-up, and take an even closer look at the journal in our exclusive preview.