'Fantastic Beasts 3' Will Head To Brazil: Production Updates & More!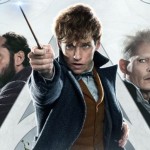 Nov 04, 2019
In a production update on WizardingWorld.com, we found out today that Fantastic Beasts 3 will, indeed, be heading to Brazil!
The film will begin production in Spring 2020 (Dan Fogler told us at LeakyCon that filming begins in February!) and will also be directed by David Yates, confirmed in the article.
The film will bring back Eddie Redmayne as Newt Scamander, Jude Law as Albus Dumbledore and Johnny Depp as Gellert Grindelwald along with Ezra Miller (Credence/Aurelius Dumbledore). Does this casting announcement suggest Grindelwald wasn't lying, or is this a placeholder name, perhaps? We'll also revisit the story of Alison Sudol (Queenie Goldstein), Dan Fogler (Jacob Kowalski) and Katherine Waterston (Tina Goldstein), and be introduced properly to Jessica Williams as Ilvermorny's Professor Eulalie 'Lally' Hicks!
The film will bring back David Heyman, J.K. Rowling, Steve Kloves, Lionel Wigram and Tim Lewis, along with executive producers Neil Blair, Danny Cohen, Josh Berger and Courtenay Valenti, and the screenplay will be written by J.K. Rowling and Steve Kloves, who we know have been working on the script for quite some time — it's interesting to note, though, that Kloves is noted as a writer this time round!
On the Wizarding World article, they say on the location reveal:
"This location-reveal follows on from J.K. Rowling's mysterious Twitter header last year and confirms that she was indeed referring to Brazil as one of the main destinations in the third Fantastic Beasts."
We can't wait to see Wizarding World in Brazil and Rio de Janeiro — and perhaps even glimpses of the Amazon rainforest?
Let us know your thoughts on this HUGE reveal! It's time to start theorizing!