Hermione is back in Vogue, so to speak
Nov 07, 2019
Being the brightest witch of your age never goes out of fashion.  What we meant is that Emma Watson, who plays Hermione Granger in the Harry Potter films, is back on the cover of British Vogue for its December issue.  Wearing a silly confection of a dress that resembles a giant red carnation, and slicked back wet hair that looks like she just climbed out of a pool, Watson graces the cover with a look that says, "I dare you to say I look ridiculous."  We won't say that, I promise!  The dress is playful and fun, it just looks more like something Luna might wear to a wedding.  Or a funeral.
Vogue notes that Watson's 100 million followers across social media channels put her in the top echelons of so-called "influencers," a new term for celebrities who are in a position to build a brand and sell products based on their huge audience.  Yet Watson has chosen to use her influence to educate her followers about important social justice issues rather than more shallow or mercenary pursuits.  She is passionate about feminism and reproductive rights as basic human rights and she uses her soapbox to highlight oppression of women on a global scale.
In her interview, Watson explains the pressure she feels around turning 30:
"I was like, 'Why does everyone make such a big fuss about turning 30? This is not a big deal…'" she shares. "Cut to 29, and I'm like, 'Oh my God, I feel so stressed and anxious. And I realise it's because there is suddenly this bloody influx of subliminal messaging around. If you have not built a home, if you do not have a husband, if you do not have a baby, and you are turning 30, and you're not in some incredibly secure, stable place in your career, or you're still figuring things out… There's just this incredible amount of anxiety."
Watson also discusses the peace she has made with being single, calling herself happily "self-partnered."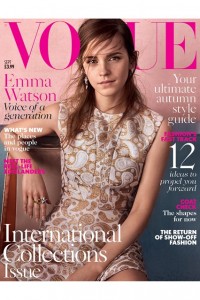 Watson has been on the cover of various editions of Vogue over the years of her stardom.  As Leaky has reported previously, she was on the cover of the August 2009 issue of Teen Vogue, the July 2011 issue of US Vogue, when she had short hair, and she made her British Vogue cover debut in September 2015.  For that issue, she made a video interview on gender equality.  In the November 2015 issue of Vogue Italia, Watson talked about her polymath ambitions and posed in a dramatic evening dress that would have created quite a sensation at the Yule Ball.  In March 2018, she was both the cover model and guest editor for a sustainability-themed issue of Vogue Australia.
Take a look at Emma Watson's full conversation with journalist and activist Paris Lees for British Vogue below. The December issue of Vogue UK will appear on newsstands on November 8.