Supplies
Bought wooden frame
Paint in colors of your choice
Any other extra decoration you might want to add
Instructions
Take the frame and paint it in the main color of your choice.
Using a bright, contrasting color, write "Harry Loves Ginny" (or X loves Y if you support another pairing!) all around the frame.
Add extra embellishments to personalize your craft
Final Product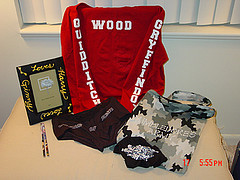 Credit
© DrunkKitty's tutorial was taken with permission.