Actors in the News Weekly Roundup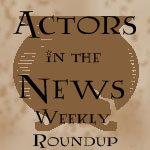 May 31, 2010
With the emerging photos from "Deathly Hallows" filming dominating the headlines this week, other projects involving the Harry Potter cast have not really been featured in the news. Nonetheless, there are a few nuggets of news from the younger members of the cast.
Firstly, Emma Watson (Hermione Granger) has appeared in a behind the scenes preview of the "Say You Don't Want It" music video. Thanks to our Order Partner EmmaWatson.net, we can let you know about the new video in which surfaced on the YouTube channel for band One Night Only. Parents of younger readers: Please note that the video contains both strong language and adult themes. You can watch the video via this link; Watson appears only briefly a number of times throughout. More information about the music video can be found in our previous post about it, at this link.
Order Partner RupertGrint.net have a link to a Script Smart interview with Daragh Carville. Carville wrote the screenplay for the now released "Cherrybomb" in which Rupert Grint (Ron Weasley) stars and describes Grint as "perfect for the part [of Malachy in "Cherrybomb"]" as well as talking briefly about the fan support for the film that led to it being distributed all around the world. Quotage:
So that's the first thing to say: he was the best actor for the part. But the other thing he brought to Cherrybomb ' and I don't think any of us were quite prepared for this ' is this huge fan-base of people who have grown up with him, through the Potter movies. And because this was Rupert's first ˜adult' film and it has a certain edge to it there was a huge amount of interest. And that translated itself into all this support for the film online and we had Rupert fans travelling to see it at festivals all over the world and organizing petitions to have it released in their countries and what have you.
You can read the interview via this link.
Lastly, RupertGrint.net also have news of a "Cherrybomb" screening at The Dukes, Lancaster on the 7th of June from 6.15pm. The screening will be followed by a Q&A with Carville. You can find more information via this link.