Closing Q&A From Today's Live Stream from the HP Celebration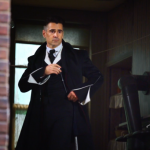 Jan 30, 2016
The Harry Potter Celebration wrapped up its first day with a live Q&A from Rupert, Bonnie, Evanna, Katie, and Matt. The Harry Potter actors did a live Q&A earlier that afternoon that was exclusive to guests with premium passes. Earlier in the day, WB Studio Tour did a Q&A with the prop makers and hosted a duel.
The actors took turns answering questions about their Harry Potter Celebration experiences so far, as well as their experiences of the theme parks, especially those who have been the theme parks before. The five also talked about their film and fan experiences with being apart of a world wide franchise, that reaches the far corners of the globe, and people of all ages and cultures.
Bonnie talked about the series lasting forever within the people, while Evanna talked about fans dedication to dressing up (and her dad's jealousy of fans older than him being more enthusiastic about his daughter's project than he–by the end of this trip, Evanna is hoping he buys his own robes!)
The cast also answered questions that were the same as the private panel. As to what character they'd play other than the ones they were cast, Rupert had a joke up his sleeve, "My answer's different every time I get asked this question. Maybe Hermione, so I could kiss myself." Matt Lewis followed that saying that he would play Hermione as well, "so I could kiss Rupert Grint." The crowd went nuts.
Bonnie contributed with the joking, saying she used to answer that she'd love playing Hagrid because she thought the idea was funny. She then decided playing something dark would be fun–even Voldemort! Katie changed her answer from Draco earlier this afternoon to Luna! She wanted to "try embracing awkwardness." Evanna also changed her answer from Dobby to Dumbledore, who is also "wise, detached from the world, and quirky at the same time," just like Luna.
The cast were asked about what it was like meeting J.K. Rowling for the first time, getting advice from her, and working with her. Rupert said Jo allowed him to work organically. Matt wasn't sure if he's ever discussed Harry Potter with Jo. Evanna talked about Jo's support in her role as Luna, and how Jo quelled her fears about playing Luna just right.
Rupert got the opportunity to talk about his kiss with Emma after the panel was asked about the most weird, exciting, funny or scary moments they had while filming the movies. Emma's face getting closer and closer to Rupert's was apparently really terrifying and he was really scared. Bonnie and Katie agreed with their experiences kissing Dan. Matt took the funny rout with having Rupert say a line that never made the film because they couldn't stop laughing as Rupert delivered it. If you're ever fooling around, watch out or you'll get "a fit full of Weasley."
After the panel was over, Warner Bros and other Harry Potter partners shared new surprises from behind the scenes of Harry Potter and the Cursed Child and Fantastic Beasts and Where to Find Them. More on these surprise can be read here at Leaky.
If you missed the live stream, the full video recording is now available through the Universal YouTube page, and can be watched below:
Stay tuned tomorrow for the closing of the Harry Potter Celebration, and possibly (hopefully!) more surprises!