Harry Melling as the Next Doctor Who?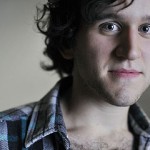 Feb 23, 2016
We raised the question a few weeks ago, of how the Doctor Who world would change with a woman Doctor, and how fans felt specifically about Emma Watson playing the part. What we didn't discuss, was the age of the Doctor. Harry Melling, who played Dudley Dursley in the Harry Potter series, has expressed interest in playing the Doctor, but thinks he is too young.
Melling comes from an acting family, and is currently lighting up London's West End with his well-reviewed performance in Hand to God, where he plays a Texas teenager who uses hand puppets to preach and spread the word of God. As with other Harry Potter stars who have found success on stage as well as in front of the camera, they always have the support of their Potter family:
Wow, @handtogodlondon was the most fun I've had in the theatre in a long, long time. Go see Harry Melling and rest of cast be outstanding.

— Matthew Lewis (@Mattdavelewis) February 15, 2016
In a new interview with Express, Melling talked about his family and acting. Potter was the beginning for him, but he has been able to step away from being typecast, and even take roles out of his comfort zone (he was initially scared to take on Hand to God, but was really glad he gave it a chance). Even more interesting, Melling would like to play the next Doctor Who.
Acting runs in his family, and so does the role of Doctor Who. Melling's grandfather, Patrick Troughton, played TV's most loved Time Lord 50 years ago. Talking of his role in Harry Potter and wishing to join the Doctor Who franchise, Melling said to Express:
"Harry Potter was a great experience and the cast have kept in touch," he said. "I was a chubby kid who went to drama school at 18 and lost weight. It was down to growing up, a new routine, a new environment, lots of movement and taking care of my body. "I was able to shed the whole child actor thing and start a new career, because no one sees me as Dudley," he explained.

"Harry Potter was a lifetime ago. I was 10 in the first film. So much has happened since then." 

"I was scared by Hand Of God but in the end I felt comfortable enough to do it. My parents came to watch and loved it. They all come from an acting family."
He continued: "I would love to be the next new Doctor.

"I am not the person in charge of that but I would love to keep it in the family. It probably won't happen as I might need to be a bit older. I've really enjoyed doing theatre but getting Doctor Who in the family again would be great." 
Melling raises an interesting question that adds to the discussion on who should be the next Doctor. There are many opinions on whether or not the next Doctor should be a woman, but how do fans feel if the Doctor was even younger than past Doctors have been? Still a young man verging on adulthood, but not quite there yet?