Maggie Smith's Remembrance of Alan Rickman in New NPR Interview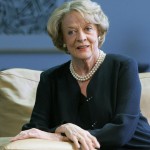 Feb 24, 2016
Maggie Smith (Professor Minerva McGonagall) was recently interviewed on NPR, during their Fresh Air segments. Smith has been promoting her newest movie, The Lady in the Van. The interview largely focused on Maggie Smith's comedic roll as homeless woman named Mary Shepherd, living in a van parked in writer Alan Bennett's driveway for 15 years.
While discussing the pressures and hurdles of acting, Smith's roles in Downton Abbey and Harry Potter–the roles most familiar to the larger American audiences–became the focus of the interview. During her reminiscing of Harry Potter towards the end of the interview, Smith talked of working with the late Alan Rickman:
DAVIES: Do you want to take one question about "Harry Potter," or would you rather be released?

SMITH: I would – I would rather be released. I think you've been adorable, though.

DAVIES: OK, I don't know about that (laughter).

SMITH: What do you want to know about "Harry Potter?"

DAVIES: Just what was it like to play that role, to act in those films?

SMITH: Well, I'll tell you I just did adore Daniel – Daniel Radcliffe, who I had worked with before "Harry Potter" and spent a long time telling all the producers they had to see him because I thought he was so terrific. And it's been sad thinking about it because of Alan Rickman…

DAVIES: Oh, who died recently, yeah.

SMITH: …Who – yes, he was such a terrific actor, and that was such a terrific character that he played. And it was a joy to be with him. We used to laugh together because we ran out of reaction shots. They were always – when everything had been done and the children were finished, they would turn the camera around and we'd have to do various reaction shots of amazement or sadness and things. And we used to say we'd got to about number 200-and-something and we'd run out of knowing what to do when the camera came around on us. But he was a joy.
There is much discussion of The Lady in the Van, Downton Abbey, Smith's early acting and education, her family, her award-wining roles, and how she came into acting. The entire interview may be read here, at NPR. You may listen  to the interview below: