Emma Watson talks Feminism with Gloria Steinem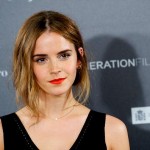 Feb 26, 2016
After completing My Life on the Road, the first book in her feminist bookclub "Our Shared Shelf," Emma Watson met with author Gloria Steinem in London on Wednesday, to discuss her role as Hermione, her choice to take a break from acting to focus on activism, and more broad ideas on Feminism.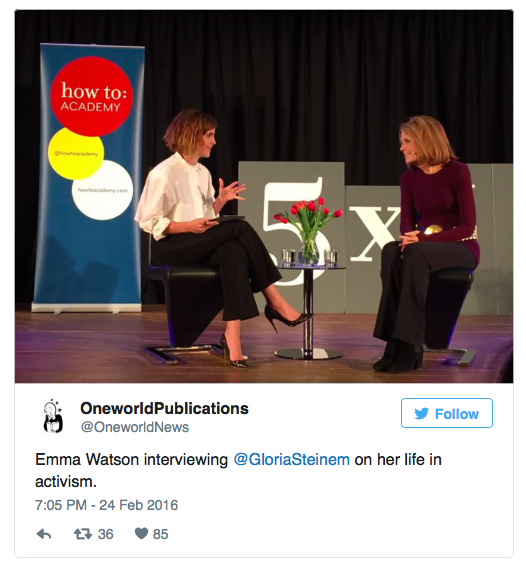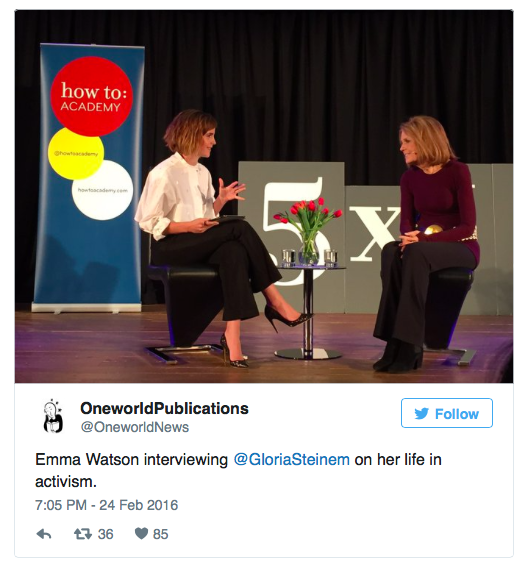 Huffington Post published details of the event:
"I feel as though I spent a long time trying to pretend I was not like Hermione. And, of course, I was rather like Hermione," Watson said, speaking about her struggle to separate herself from the character she played in the Harry Potter movies.

"I used to hate that I had strong eyebrows. As a nine-year-old I desperately wanted to pluck them and make them two thin lines," she said to Steinem.

"I was disturbed by how long a conversation I could have with any woman about what she didn't like about herself," she said. Steinem agreed.

"Our bodies are instruments not ornaments," said Steinem. "We should celebrate our different shapes and sizes, our caesarean scars and all the other beautiful imperfections that make us who we are. I hope every woman in this room goes home tonight, looks in the mirror and says, "Yes, this is fan-f******-tastic!'"

The two women also discussed the differences between pornography and erotica, the global political impact of violence against women, and, naturally, Donald Trump.

"People think that because he has a lot of money, he's smart," Steinem said. "Donald Trump is not a successful businessman, he's a successful conman."
Emma first announced her choice to help promote gender equality when she was appointed United Nations Goodwill Ambassador in 2014.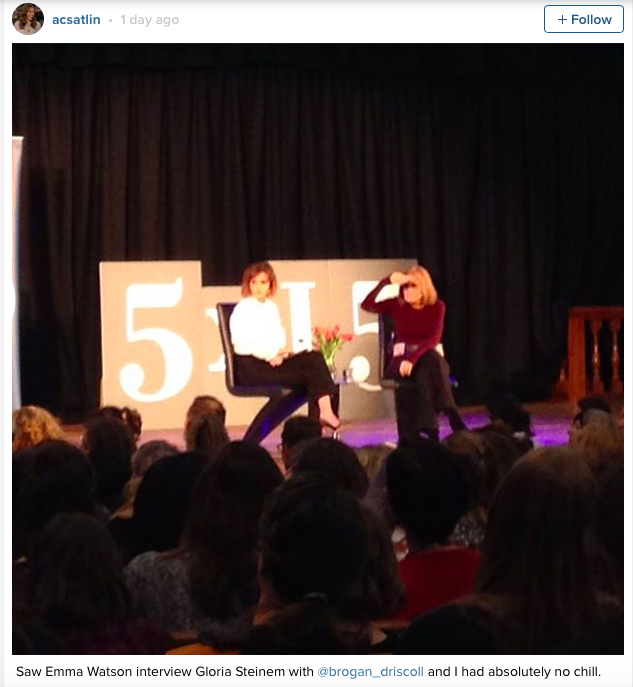 However, the Telegraph reported that media was mainly reporting on Emma's new hairstyle (which looks great, obviously),  her fashion sense, and her critique of her eyebrows:
The only thing Watson said that seems to have been most reported is that she used to hate her "strong eyebrows" aged nine.

This throwaway comment, about how she wanted to "pluck them and make them two thin lines" before she learnt to embrace herself, appears to be the only thing people have taken away from the event.
Telegraph published a great list of tweets, which reflect more important topics of discussion from the evening, which you can see here!