Evanna Lynch Appears at IFTA Awards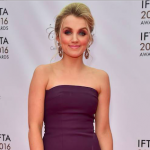 Apr 13, 2016
Evanna Lynch attended the IFTA Awards 2016 at The Westbury Hotel and Mansion House in Dublin on Saturday night (April 9th).
She looked absolutely stunning, as did Robbie Jarvis (who played young James Potter in Order of the Phoenix, and is currently in a relationship with Evanna) announcing on Instagram after the event:
"After an especially fancy week, I must apologize for the interruption in the regular stream of Puff pictures. Now to dismantle the glamour and unstick the glitz and go back to looking fluffy round the edges…"
Evanna spoke to the Irish Independent about Potter co-star Devon Murray's (Seamus Finnigan) legal battle.
Murray was ordered to pay €260,000 to his former agent (neil Brooks), as a result of losing a court battle over 'unpaid commission charges'. The Metro reports:
"Devon, 27, told reporters he was 'gutted' by the decision and addressed claims he'd thrown his £970,000 earnings away on 'cars, drink and girls'.

'There was an awful lot of things I put money into,' he said.

'I bought a lot of horses at the time… I bought property and the a*** fell out of that. It wasn't all just women, cars and drink. It wasn't all that.'

Devon, who appeared in all eight Harry Potter films, reportedly tried to break away from Neil after the fourth movie, allegedly after agreeing an increase in payment to the management company.

His parents were also sued as he was 10 years old when he entered into the contract in 1998 and both appeared in court alongside him."
Devon tweeted:
Evanna spoke about the difficulty of coping with "crazy success" at such a young age, and handling large amounts of money often lead young stars into trouble, which Evanna feels does not fully reflect the true character of an actor such as Devon Murray, who she knows is a lovely person:
"He (Devon) is a really great guy," she told the Irish Independent. 
"It's really so hard when you're a young actor and you have this crazy success and suddenly you get all this money.
"You've no idea how to deal with it, you know. They don't teach you about how to manage that stuff in school."