Emma Watson and David Thewlis call 'Regression' Much More than a Horror Movie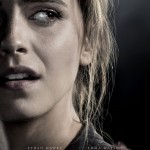 Apr 23, 2016
Entertainment Tonight released an exclusive video of Emma Watson, David Thewlis and Ethan Hawke talking about their latest film Regression, which was released in October 2015, along with writer/director Alejandro Amenábar.
'Regression has all the components of a psychological thriller, a sort of horror movie, but it has a deeper layer to it' Watson says, before a clip of David Thewlis's (Professor Lupin) character talking about 'unlocking a door' to memories, provoking a regression .
Ethan Hawke says the movie 'explores superstition in a really interesting way'.
Watson calls Alejandro Amenábar's films 'a smart man's horror film' and says:
'If you want to be challenged intellectually, emotionally and if you want to be on the edge of your seat and really experience something that's genuinely very dark and very scary, that's what Alejandro does'.
Alejandro says he was aiming for a suspense movie that 'took the matter seriously', he said they searched far and wide for 'the perfect farm for this story, which had to tell two things: the family drama and also the tragedy, and the horrifying things that happen'.
David Thewlis says on the director:
 'he knows exactly what he wants, but he's very passionate about collaboration'.
Be sure to watch the exclusive below!