Dan Radcliffe Speaks Out Against Inequality In the Movie Industry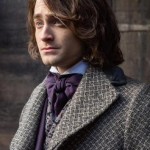 Apr 26, 2016
The Daily Telegraph's RendezView published a great interview with Daniel Radcliffe yesterday, on gender inequality in Hollywood.
He opens by being frank with us:
"I'm incredibly glad it (gender equality) has come up because I had just f****** naively thought this was not an issue any more because how can this still be happening?

"It's crazy. It is definitely the time for our industry to step up. Especially if we want to pride ourselves on being a liberal, progressive industry then you can't be doing that."
There's nothing wrong with being unaware of issues facing Hollywood, but Radcliffe brings up the same 'scandal' that Emma Watson used to illustrate just part of the problem in Hollywood:
"What I found shocking about the whole American Hustle thing," he continues, referring to the scandal that broke when the wage details of the David O. Russell film were released.

"And please correct me if I'm wrong — but if I have this right, they had all the boys on one deal and all the girls on another deal.

"That, to me, is shocking … stuff like that is crazy and the thing I can't help but think is 'Who? Who's doing that? What guy is sitting in a studio somewhere thinking let's f*** the girls out of some money'?"
One thing Dan Radcliffe has going for him is his open mind when it comes to discussions – he's ready to state his views, but he's also ready to listen to others. A quality that HeForShe advocates heavily.
One thing to remember about equality is that it's not about white, heterosexual men 'stepping down from their hypothetical platforms', giving away their money and accepting their fate. It's about collaboration, learning where prejudice and inequality operates and listening to those who don't get to have their views represented as well so that progress can be made.
Dan talks about this progress with optimism:
"The conversations that have been had over the past few years about the type of roles for women in films, the fact that these conversations have all taken place over the last few years and become much more open should mean that you do start to see changes.

"And I feel like I am starting to see changes, particularly in the type of roles for women.

"I just did a film with Toni Collette (Imperium) and she's f****** bad-ass in this film and it's a f****** awesome role.

"The themes of it are coming up more, you know, Furiosa — all that s***. And you know what was really especially cool about that (Mad Max: Fury Road) was I feel like that was made long before a lot of this stuff was talked about. Its release was very timely, but it was made long before this was a hot topic.

"It's very cool and I feel like there's such a wealth of amazing actresses in the world right now and we've got to start writing better parts for them and paying them equally."
Be sure to read the full interview here, and his recent interview with Junkee here!