'Beauty and the Beast' Soundtrack Release Date Announced!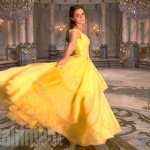 Dec 29, 2016
Disney has announced that it will release the soundtrack for its live action remake of Beauty and the Beast, on the same day the film arrives in theatres (17th March, 2017).
Whilst this two disc edition is exciting enough, another edition of the soundtrack, a two-CD deluxe version with an exclusive 12″x 12″ lithograph will be available and ready for shipping around the 10th March 2017. The track listing for both of these versions has not, however, been released. Emma Watson will be singing in the film though, so it's bound to be a treat for those who are fans of her work!
The film will be scored by Alan Menken, who is credited with two Academy Awards (Best Original Score and Best Song) and also composed the original 1991 score.
An ensemble cast of Emma Watson, Sir Ian McKellen, Ewan McGregor, Dan Stevens, Emma Thompson, Luke Evans, Josh Gad and others will attempt to bring the beloved fairy tale to life once again, with director Bill Condon, and screenplay writers Evan Spiliotopoulos and Stephen Chbosky at the helm.
Paige O'Hara ('Belle' from the original animated Disney film) previously shared her excitement to see Emma take over the role of the Disney princess, and we're sure she's excited to hear her in the new soundtrack:
"If I were producing the film, I would have cast her," O'Hara told BuzzFeed last night at a 25th anniversary screening of the animated classic. "I think she's absolutely perfect for the role."

"She's got the outward beauty, but she's also got an inward beauty about her, and an old soul. Through mutual people we've sent messages, and I just basically was wishing her all the best and to have a wonderful time."
View the official trailer below:
Beauty and The Beast, with its ensemble cast and its inevitable promise to captivate audiences, provides all the more reason to look forward to 2017!
View a few more stills from the movie here.