Photos of Daniel Radcliffe in Rosencrantz and Guildenstern Are Dead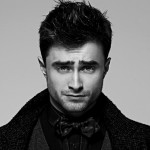 Mar 07, 2017
The 50th Anniversary production of Tom Stoppard's Rosencrantz and Guildenstern Are Dead starring Harry Potter's own Daniel Radcliffe, opens tonight at the Old Vic Theatre in London's West End. The absurdist comedy, which is set against the backdrop of Shakespeare's Hamlet, stars Radcliffe as Rosencrantz and Joshua McGuire as Guildenstern, two minor characters from the iconic drama whose comic blundering is intertwined throughout the action of the original plot. The play, which premiered in London in 1967, will be broadcast live by National Theatre Live on April 20 to select London cinemas, as reported recently by Leaky.
Whats On Stage has released these photos from previews of the production. To see various shots of the entire cast plus a video interview with Daniel Radcliffe, Joshua McGuire and co-star David Haig visit this article from What's On Stage.
Break a leg to Daniel and the rest of the cast and crew of Rosencrantz and Guildenstern Are Dead!