Redmayne, Davis, and Waterston: What're They Up To Now?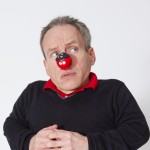 Mar 15, 2017
Some of our favorite Harry Potter and Fantastic Beasts actors have been busy this week. Eddie Redmayne presented awards to young filmmakers, Warwick Davis prepares for Red Nose Day, and Katherine Waterston discusses her role in Alien: Covenant.
Eddie Redmayne was one of the many stars present at the 2017 Into Film Awards presentation ceremony at London's Leicester Square on March 14th. The Into Film Awards, which receive support from the British Film Institute (BFI), honor filmmakers and reviewers age 5 to 19 as well as teachers who show a special dedication to film. Redmayne helped to hand out awards to the recipients alongside Daniel Craig, Ruth Wilson, and other big names in film.
Warwick Davis is one of many celebrities and comedians taking part in the festivities on Red Nose Day to aid Comic Relief. As a part of the fundraiser, BBC One and BBC Two will show a variety of skits, including one starring Davis alongside Catherine Tate. Davis spoke to The Irish News about the event.
"I'm going to be on set with Catherine Tate again, the wonderful Catherine Tate. I absolutely adore her she's so brilliant, so that will be quite nice, but that will be a live element which again will be interesting. For me, I just think you get such spontaneity out of doing something live."
Davis was also questioned as to whether he had any specific pre-performance rituals or superstitions.
"For me, it's always my left shoe on first, then my right one, but it is only when I'm performing. When I'm going out it doesn't matter but if I'm going on stage or on TV it has to be that way."
Red Nose Day broadcasts on BBC One on Friday March 24 from 7pm – 10pm, followed by other specials including Graham Norton's Big Chat Live, Russell Brand's Stand Off and Fantastic Beats & Where To Find Them, hosted by Jonathan Ross and Noel Fielding. BBC Two's coverage starts at 10pm with Greg Davies's Hot Tub Half Hour.
During the broadcast, viewers can donate either online via bbc.co.uk/rednoseday or by phone using 03457 910 910 or by text. To donate £10 via text, text YES to 70210 and to donate £20 text YES to 70220.
Katherine Waterston spoke to Dread Central regarding her upcoming role in Alien: Covenant. While the interview was primarily dominated by the film's director Ridley Scott, Waterston and co-star Danny McBride got in a word or two. After Scott suggested he'd like to continue making Alien films forever and being asked who he would have take over since he can't do it forever, he jokes about turning himself into an A.I. in order to keep working. To this Katherine playfully responds:
"Ridley might be an A.I."
Katherine also jokes about the idea of incorporation of A.I.s into everyday life with Scott saying:
"Maybe the next movie you could have an A.I. actor!"
Waterston also chimes in when asked which scene from the original Alien film she would most like to her character in:
"I think it's Ash's head. But it's hard to pick, man. The Chestburster. Me, I think I would just want to be hanging out with Harry Dean Stanton and Yaphet Kotto."
Reading the full interview it is clear that the cast and crew are very easy-going, work well together and are incredibly excited about the film. Don't miss it's release in theaters on May 19th.
We can't wait to catch these stars in their upcoming projects!