'Fantastic Beasts': Colin Farrell and Ezra Miller on Graves & Credence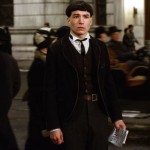 Mar 31, 2017
Whilst stars of Fantastic Beasts continue in their acting careers awaiting the start of filming  for the next movie, Ezra Miller and Colin Farrell each discussed their roles as Credence Barebone and Percival Graves, respectively, in recent interviews.
Ezra has been busy working on Justice League in his role as The Flash (portrayed by Grant Gustin in CW's tv show). He revealed how he got into the role of Credence in Fantastic Beasts in an interview with GT Magazine, revealing personal inspirations behind the cowering stance of his character:
"I experienced my fair share of bullying and teasing as a youngster with strange interests," he told us. "I also had a speech impediment when I was a kid, which made me an easy target, because I was the Quirrell [from the Harry Potter films] on the scene.
"And when I started going through puberty and having sort of confusing feelings about wanting to kiss people [laughs].  So, yeah, there were moments in my life where I felt ostracised from my contemporaries or from my peers." 
Ezra added: "Those times are really painful, but, of course, also very formative because they prompt us to step outside of society and to look at the world with fresh eyes, which is why I think that so many of our great minds have been ostracised folks and disenfranchised people of the world."
Read the full interview, which gives more insight into Ezra's thoughts on playing the role of Credence here.
Colin Farrell spoke to MTV at CinemaCon this week, to discuss where he thought Graves might be following the events of Fantastic Beasts, which we addressed in a recent article:
 "Maybe he's buried in a shallow grave and he's going to die of starvation 17 hours after the film ends."
See the interview, and read the full piece here.
Fantastic Beasts is now available on DVD and Blu-Ray – click here to find out how to get your hands on a copy now!
In the Potter realm, Ralph Fiennes also recently discussed his role as Voldemort and the creepy laugh he did in Deathly Hallows when asked by an audience member at a a talk with philosopher Slavoj Zizek at a School Of Life event in central London:
"I can't actually remember what that scene was or why I did it."

"It wasn't useful going into it as evil," he said, joking: "I just thought, 'I want to destroy Harry Potter, he is really annoying me and the world will be a better place without him in it"'
We hope to see more of Ezra in the next movie, and, well, maybe Colin if we're lucky!