'Harry Potter' Prints and Posters Now Available to UK Fans Through Pottermore!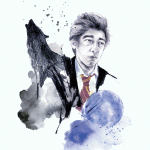 Jun 07, 2017
Exciting news continues to roll in from Pottermore this week. Yesterday, Leaky reported the Pottermore casting call announcement that Warner Bros. is seeking five young actors for teen versions of major characters in the upcoming Fantastic Beasts installment!
Today, Pottermore released news of an exclusive Pottermore Art Collection of prints and posters now available to UK fans through the Pottermore Shop.
Pottermore is offering over 30 art pieces, from cover prints to abstracts to watercolors and, of course, depictions of favorite iconic characters and scenes spanning all seven books.
According to Pottermore, the packaging will also be as magical as its contents, making these one-of-a-kind renderings must-haves for any UK Potter fan's collection!
Read more details, including specifics about artists and scenes featured, at Pottermore here!
Featured image is a young Marauders abstract from Montse Bernal.