UPDATE: Evanna Lynch's Vegan Podcast Has a Name, and Hosts!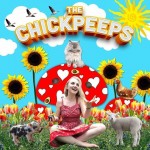 Sep 08, 2017
Evanna Lynch spoke to us back in February about a new project she was excited to be working on: a vegan podcast that would help people interested in having a cruelty-free lifestyle break into the world of veganism. Those thrilled by this idea (and those who even volunteered as hosts) will be pleased to hear that the podcast just started recording, and now has a name – and hosts! Keep reading for more details, and a Harry Potter interview with Evanna from LeakyCon!
**UPDATE: Details on the release of the first two episodes of  The ChickPeeps at the bottom of the article!**
Evanna told us in our previous interview:
"I do have names, but I'm told they're all too girly. I need to try to have a more neutral name. I'm still looking for a cohost so we'll see how that works out, but I'm starting to blog about veganism because I feel like there are so many people who are interested. It's not quite mainstream yet but it's getting there. There are so many people who say "I want to but I don't know how" or feel they're too lazy, so I just want to talk about that. You don't have to be a big foodie or a big animal lover. There are ways you can make little changes.

"It's so hard to get people to care about animals without having to dress it up to be about being for their benefit. It does concern you if the planet is messed up, but to other people it's far away so it's less of a concern." 
She then took to the stage at LeakyCon to speak about her new podcast, and revealed its name and hosts. The show will be called The ChickPeeps (find them on Instagram here), and Evanna will have not one, but THREE co-hosts to chat about all things vegan:
Some may know of Robbie Jarvis from Order of The Phoenix, in which he played a young James Potter. Tylor Starr is also a Potter fan, vegan activist and self-proclaimed Magizoologist, as Executive Director and co-Founder of animal rights and conservation charity and campaign group The Fantastic Beasts Foundation (previously the Fwooper Foundation). Momoko says on her social media accounts that she's a training crystal and sound healer, and an ocean activist, so we're sure she'll have a tonne of interesting points to add to discussions of  veganism, from animal welfare to environmental concerns.
The FB Foundation aim to show the positive changes we can make to animal lives on the planet, helping to conserve, protect and rehabilitate endangered, abandoned and threatened species. Their latest campaign to save the Erumpents (rhinos) stresses the severity of the threat of extinction to rhinos and gives ways that we can help (and offers some amazing Harry Potter and Fantastic Beasts prizes) – read more here.
The third host of The ChickPeeps is unknown to The Leaky Cauldron, but she's a Healing student living in Cornwall who gives off dreamy vibes on her Instagram page – they sound like the perfect team!
Given that the first episode has been recorded, we're sure we'll be hearing from The ChickPeeps soon! In the meantime, see Evanna's magical vegan campaign with PETA here.
Evanna also spoke to Ellie at Buzzfeed on her passion for Harry Potter, with one particular question asking what she thought about J.K. Rowling crafting Luna around herself:
"It's so crazy to me. I heard that, and I was like, [squeals]. That is such a dream, to have that kind of contribution and have that influence. Personally, I will read the books and not hear my voice. I'll picture Luna as I imagined her, and she's not exactly like me, and how I did it."
She also spoke about a scene that was unfortunately cut from the films:
"I wish I could've done Luna commentating the Quidditch match, which was originally part of the script. In the first draft of the script I got, it was all there, and then they cut it out. Her commentary was so funny, and to me sport is boring, I just can't […]  After a while, you're just following balls around a field again. It only really gets exciting when the Seeker comes into it and he or she does their dive. But Luna actually made it funny – that's what I'm wondering about, the players' personalities and what drives them."
Read the full interview here.
**UPDATE: The Chickpeeps will make its debut on Wednesday 8th November! Who's excited?!***
Our podcast launches Wednesday November 8th w/ the first two episodes available! Here's a quote from our first guest Erik Marcus of @vegan 🌻 pic.twitter.com/bJSh6q6E9Z

— ChickPeeps Podcast (@ChickPeepsPod) November 3, 2017
Took my sweet time but my new very fun and cool vegan podcast finally launches next Wednesday 💚 https://t.co/BAkxzU4Z8n

— Evanna Lynch (@Evy_Lynch) November 3, 2017