Happy Birthday, Julie Walters!
Feb 22, 2018
It's hard to imagine any actress other than Julie Walters as Mrs. Weasley.  I don't know that I would have thought of her for the role initially—I still think of her as the young Open University student in Educating Rita—but, having seen her embody the plump, devoted mother of the Weasley brood, I think she was perfect for the part.
Julie Walters turns 68 today.  She has had a very busy year:  She has recently been reprising her role as Rosie for Mamma Mia: Here We Go Again!, which will be released this summer, and filming Mary Poppins Returns, in which she plays Ellen, housekeeper for a now-grown-up Michael Banks.  Last June, both Walters and J.K. Rowling were recognised in the Queen's Birthday Honours.  Officially, she is now Dame Julie Walters, the female equivalent of a knighthood.  The title of Dame Commander of the British Empire was officially bestowed on her by the Queen at a ceremony in November.  Considering she is known to us Potter fans for playing a devoted parent, it is poignant that she said of the occasion, "I wish my parents were here."

Mrs. Weasley may have been too old to ride the Hogwarts Express in the films, but Julie Walters finally got her chance when she hosted a series on the UK's Channel 4 titled Coastal Railways with Julie Walters.  She got to travel some of the British Isles' most scenic railways for this series, but her journey on the Jacobite, the train that played the Hogwarts Express, must have had special resonance for her.
The actress who was so fond of listening to the wizarding wireless whilst doing housework at The Burrow has also applied her talents to radio this year.  She is hosting the Turning Points programme on Classic FM.  The series looks at significant moments in the history of classical music.  The series debuted on Saturday, February 17, and will air on subsequent Saturdays at 9pm.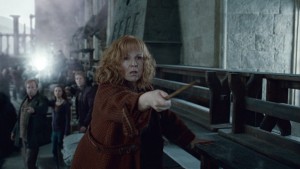 If you re-read our birthday post for Julie Walters last year, you can watch our favourite scene of Mrs. Weasley as the world's fiercest mom with a wand.