Theater Round-Up: Noma Dumezweni Reads for Letters Live, Talks 'Cursed Child' Along With Alex Price and Sam Clemmett–and More!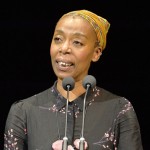 May 28, 2018
Most of this week's theater news centers on the juggernaut that is Harry Potter and the Cursed Child. It is a force to be reckoned with–and certainly one that cannot be ignored! Noma Dumezweni (Hermione Granger-Weasley), Alex Price (Draco Malfoy), Sam Clemmett (Albus Potter) and Anthony Boyle (Scorpius Malfoy) all gave interviews discussing the production and their respective roles in it, and Dumezweni will also appear on CBS This Morning tomorrow alongside co-star Jamie Parker (Harry Potter).
The topic of Cursed Child and the Harry Potter legacy was taken up by critics in a New York Times discussion as well, and the "not to be missed" production is up for more awards, this time from Broadway World.com.
Read on for more details on all of the above and for information on the one departure from the wizarding world, Dumezweni's participation in the Letters Live reading, a worthwhile charitable event highlighting her talents and those of many industry compatriots.
Noma Dumezweni Reads for Letters Live and Talks Cursed Child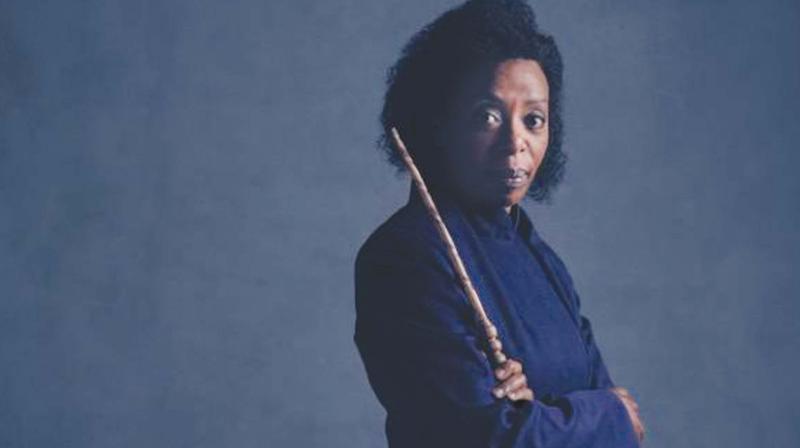 Noma Dumezweni, known for her Olivier-winning and Tony-nominated performance as Hermione Granger in Harry Potter and the Cursed Child, joined other renowned actors and actresses to participate in Letters Live on Saturday.
According to The Hollywood Reporter, Dumezweni, Benedict Cumberbatch, Molly Ringwald, Uzo Aduba, Lauren Graham, James Earl Jones and many more read letters of both historical import and general correspondence, humor and lament, from the past and present, authored by the prominent and the unknown. Dumezweni, in particular, read a moving letter written to J.K. Rowling by the mother of a young girl afflicted with cancer.
Part of the funds raised will go to programs such as 826NY, which promotes students writing, and the Entertainment Industry Foundation, which advocates for health, social and educational issues.
In addition to popping up at the New York event, Dumezweni continues to charm onstage at The Lyric, delighting fans as part of the iconic trio–and giving plenty of interviews about the role as opportunities arise, which, given her incredible performance, seems to happen with increasing regularity. She simply brings something remarkably special and new to the character, which Rowling readily encouraged.
"While there are seven books of source material, which she and the cast all studied, Dumezweni recalls Rowling telling her, when they offered her the part, 'I want you to do it and it will bring something else, which is all with you right there in the books.' For the actress, what resonated most was Hermione's interest in fairness and justice. 'A specificity to Hermione is all in the books,' she says. But she was able to connect with the character on another level — as a grown woman and a mother — that's new to the story. In the show, Hermione is now married to Ron Weasley and the two have a child together. 'There's a world there.' "
Not only does she relate to Hermione's development as a mother, but Dumezweni also gets to play out the payoff for Hermione's storied work ethic, intelligence and innate magical ability, which led to being labeled the "the brightest witch of her age." By the time her Cursed Child story begins, Hermione has risen to a position of prominence and success in the Ministry of Magic, an ascendance which Dumezweni knows may have rubbed some the wrong way, but she told Today Tix:
"She may be in people's noses and going, 'No, no you can do better, but she's doing it.' I think that's what we all tapped into when we read that…And as people know, she's the one who got them out of trouble, each and every time."
Dumezweni has also embraced her casting controversy, looking at her portrayal of Hermione as a unique opportunity made possible by the confidence of J.K. Rowling and collaborators and by the medium of theater. She's proving herself and breaking barriers in the process–but she's taking it all in stride, acknowledging:
"The representation that's given of these books as imagery becomes very, very strong. We've grown with Daniel. We've grown with Rupert, and we've grown with Emma. That's who we've seen in the part…" 

"My joy is that it's a theatrical form. We can take risks…We can experiment with that, but I am also aware that I know I can deliver on the part. It's not colorblind casting. That phrase irritates me."
What's clear is that critics and audiences agree with Dumezweni, she most certainly delivers, and Broadway theater-goers are profoundly lucky that she has months of performances yet ahead of her.
In the meantime, Broadway World reported that Dumezweni and co-star Jamie Parker will appear on CBS This Morning Tuesday, May 29, so tune in to see them discuss the magical production!
Alex Price Talks Draco Malfoy
"He's trying to re-evaluate his relationship towards his past and what it meant" – #CursedChildNYC's @alexpriceactor on playing the adult Draco Malfoy. pic.twitter.com/Lcm1CJruk1

— Cursed Child NYC (@HPPlayNYC) May 21, 2018
Alex Price, who originally brought Draco Malfoy into adulthood on the London stage, now continues to hone and perfect his characterization in New York, and he spoke to Cursed Child NYC about his understanding of Draco's driving motivations–no longer driven by a need to please his father, he's now confronted with establishing his own legacy and what he wants that to look like.
Price observed, "And he's trying to reevaluate his relationship towards his past, what it meant, and you know, whether that's between Lucius, his father, or between him and his son."
Price also noted that Draco's tragic story arc gives him a heightened perspective, above and beyond what audiences may expect from him, saying, "And weirdly, I think Draco has a huge amount of clarity. You know, he has this unbelievable clarity because his grief is so present."
In short, the wizened Draco Malfoy may be a much more sympathetic character than he was as a youth, concerned only with besting Harry Potter by whatever means necessary. In Jack Thorne's story, they former enemies have far more in common than not.
Sam Clemmett at BUILDseriesNYC
Albus Potter himself! Thank you @sam_clemmett for being such a fantastic guest at @BUILDseriesNYC this afternoon!! ??????? FULL INTERVIEW VIDEO: https://t.co/X3oUWO8EOX pic.twitter.com/EEj6ct8Qzd

— Laura Heywood (@BroadwayGirlNYC) May 21, 2018
Sam Clemmett, who plays the troubled Albus Potter on Broadway, joined Laura Heywood for BUILDseriesNYC last week. He opened the interview by explaining his job as follows:
"I tell stories. That's what I do for a living. I study human behavior and transfer that onto a stage or screen. That's what we do, we tell stories. It's the best job in the world. It's bizarre, but it's brilliant!"
As for how he describes his current story-telling venture, he commented:
"I say it's a play about a father and his son. It's a play that explores these universal truths that we have to all deal with on a day-to-day basis be it grief, love, isolation, family, fathers and sons–it could go on and on and on. There's so much humanity in J.K. Rowling's stories and her characters and that very much lives in this play as well."
Profound and perfect answer. Watch the rest of the interview below!
Cursed Child and Harry Potter Discussed by Critics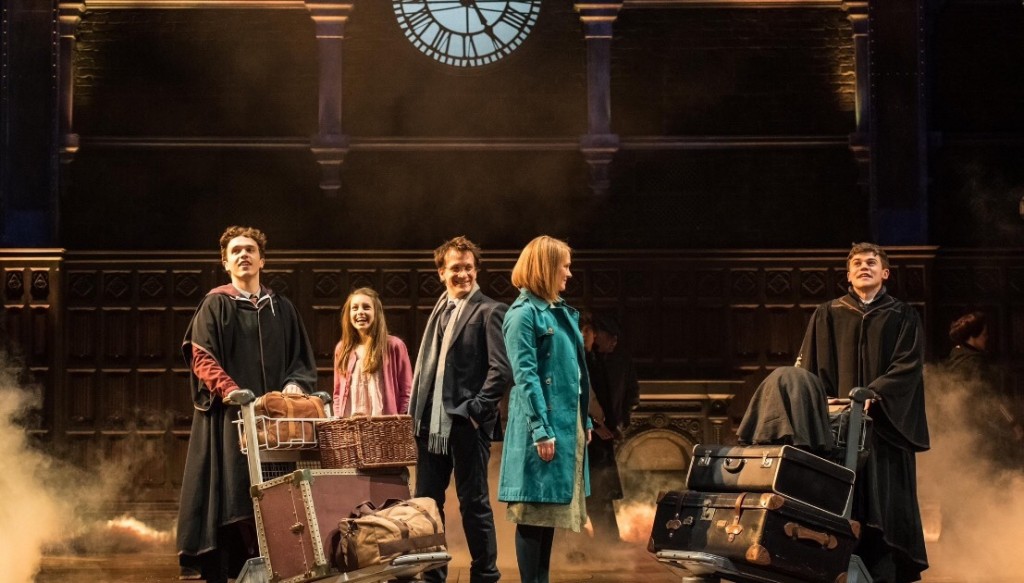 Book Review editor Pamela Paul and children's book editor Maria Russo joined New York Times theater reporter Michael Paulson to discuss the Harry Potter series, the story's continuation in Harry Potter and the Cursed Child and its relevance and success on the stage.
Paul agreed that the publication of Rowling's series was the impetus for a real turning point in children's literature, spawning not only a "golden age" of books in the genre but also a change in perception of the acceptability, and even normalcy, of adults enjoying it as well.
As for how Harry Potter translates to the stage in a way that both adults and youth can enjoy, Russo, having recently begun rereading them aloud to one of her children, observed:
"Reading them out loud this time, I'm struck even more by how the language of the books seems unpolished, and even awkward in places. The pacing is not always great either. But of course the point of the books is not gorgeous sentences and perfect paragraphs, but this amazing world she created, with so much depth and resonance. And what surprised and delighted me was to find that that world was captured just as well in the theater, and in a way that was at the highest level of theater experience."
Paul also reflected:
"Because the play is essentially about time, the older you are when you see it, the more you can appreciate its themes on a deeper level. Young children have a much more tenuous grip on the passage of time and therefore, on the emotional impact that passage has on us — regrets, paths not taken, doors closing."
Russo closed out the interview with a firm recommendation–plot flaws and debates over canonicity aside, it is still a must-see, both for veteran theater-goers and for Potter fans. She said:
"A non-fan — meaning someone who hasn't read the books — will be puzzled and possibly frustrated in parts — but I think a theater fan, in general, could appreciate so much else. And if you're someone who's good at piecing together complicated plots — and time-travel plots, in particular — I would say it could be worth it. For any Harry Potter fan I think it is simply 'not to be missed.' "
Read the full New York Times discussion here.
More Cursed Child Awards News
Voting is now open for BroadwayWorld.com's 16th Annual Theater Fans' Choice Awards. Anyone can vote in the 29 available categories, which include Best Choreography, Best Costume Design, Best Direction of a Play, Best Lighting Design, awards for Leading and Featured Actors and Actresses and many more!
VOTE HERE through June 4, 2018.
The wizarding world was also represented on the 2018 Outer Critics Circle Awards Ceremony red carpet. According to Broadway World, Jim Dale, voice of the U.S. audiobook editions of the Harry Potter series, Christine Jones, set designer for Harry Potter and the Cursed Child and Colin Callender, co-producer of the production, all made appearances.
Cursed Child NYC and London
Finally, Harry Potter and the Cursed Child continues to enchant on both side of the pond with the production going strong since its New York opening and the third cast well on their way to the same level of success in the West End. See Anthony Boyle talk about how "infectious" the magical show truly is and celebrate its ongoing spell-casting with an image of the London cast's cake cutting!