Sky Cinema airs exclusive "Fantastic Beasts " featurette, plus interviews & sneak peek images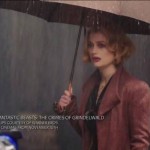 Jul 12, 2018
Today the UK's Sky Cinema aired an all-too-brief, tantalising, exclusive sneak peek at Fantastic Beasts: Crimes of Grindelwald.
The 4-minute featurette begins with Eddie Redmayne and Katherine Waterston giving a quick recap, with footage, of the first Fantastic Beasts film.  They explain how chaos ensued when magizoologist Newt Scamander shows up in New York with a suitcase full of magical creatures—in particular, one errant little Niffler.  Note that Eddie Redmayne makes a slight slip of the tongue when he says that "wizards and Muggles aren't allowed to know of each other's existence".  Um, that ignorance was only supposed to work in one direction:  Wizards had to be extremely aware of No-Majs in order to pass undetected amongst them.  Note also that some of the interviewees pronounce Grindelwald's name correctly (the German "W" sounds like an English "V") and some don't.  We won't hold it against them, though, especially if they are pointing a wand at us.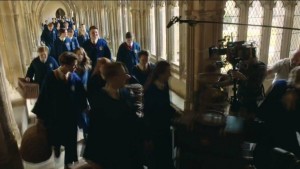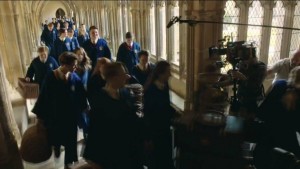 Then we get a whirlwind peek at the Crimes of Grindelwald set, with snippets about the film from Eddie Redmayne, Allison Sudol, Ezra Miller, Jude Law, and J.K. Rowling herself.
J.K. Rowling tells us, "We're now getting into the meat of the story."
Ezra Miller says in awed tones: "J.K. Rowling is not just continuing a story; she's taking it to a new level."
Eddie Redmayne adds: "It's taking these characters that you've met…characteristics and histories that were hinted at in the first film are really being torn back and explored."
J.K. Rowling hints: "In this movie, Crimes of Grindelwald, you stumble across quite a few people that you will recognise from the Potter books."
Well, we had a clue that we were going to meet Dumbledore.  Jude Law, who plays a young Albus Dumbledore, says: "Having the opportunity to go back and see what made the man that we all love is a really rare and really extraordinary experience."
This film takes us back to Hogwarts but also to Paris for the first time.  J.K. Rowling enthuses: "It's so much fun to press on into different places, and look at wizards and witches there."
But it's not all fun and Quidditch.  Grindelwald is gaining power, amassing followers, and Dumbledore knows him well enough to be alarmed and take steps to oppose him, but not openly.  He recruits Newt Scamander to help him, and warns the young wizard, "The time is coming, Newt, when you're going to have to pick a side."
Alison Sudol, who plays Queenie Goldstein in both Fantastic Beasts films, notes: "This is a very important part of their evolution, and it's a very important part of time in history."
J.K. Rowling adds: "Things are becoming much more complicated, and people's allegiances are now being exposed— and that, I suppose, is the thing that interests me most, is human nature."
Take a look at the featurette below – we're not sure how long Kerry Endicott's video will stay up on YouTube, but here it is anyway! :
Another preview image we found is in this tweet from Fantastic Beasts News showing an article from Empire Magazine.  Look whose picture Newt has in his suitcase (along with the news that Tina's been appointed as an Auror!).  Awwwwwww.  He also seems to have saved his tickets from the New York crossing as souvenirs.  Well, we got a clue in the first film that Newt is a nostalgic kind of guy.  The sketches pasted inside the suitcase have been identified by Empire Magazine as a "spiral-shelled snail, a jerboa-like marsupial mouse, and a lock-picking bowtruckle."  Where is Newt when this shot is taken?  It appears to be some sort of dungeon, with what looks like red rubber protective gear hanging from pegs on the wall behind him.  Weird!
The article from which this image is excerpted will appear in the August issue of Empire Magazine, available today, July 12.  It features an interview with Harry Potter and Fantastic Beasts films producer David Heyman, who finds Grindelwald to be an even scarier and more formidable villain than Voldemort: "He's very persuasive. One can see the rationale in his arguments — which doesn't mean his methodology is right."
A new image of Newt Scamander and his suitcase from @empiremagazine.

Source: @RossJNicholson#FantasticBeasts#CrimesOfGrindelwald#WizardingWorld#EmpireMagazine#EddieRedmaynepic.twitter.com/qwIRxa877J

— Fantastic Beasts News (@FantasticB_News) July 9, 2018
We get one more new image from the upcoming film from Entertainment Weekly.  It's a flashback to a younger Newt, in what looks like a class being taught by Professor Dumbledore.  Since Dumbledore was the Transfiguration teacher before he became Headmaster, we can assume this is a Transfiguration class—or can we?  Perhaps Dumbledore was subbing for an ailing Care of Magical Creatures instructor?  What is Newt transfiguring in this scene?  Was it something that perhaps wound up endangering human lives and got him expelled from Hogwarts?  We will find out on November 16.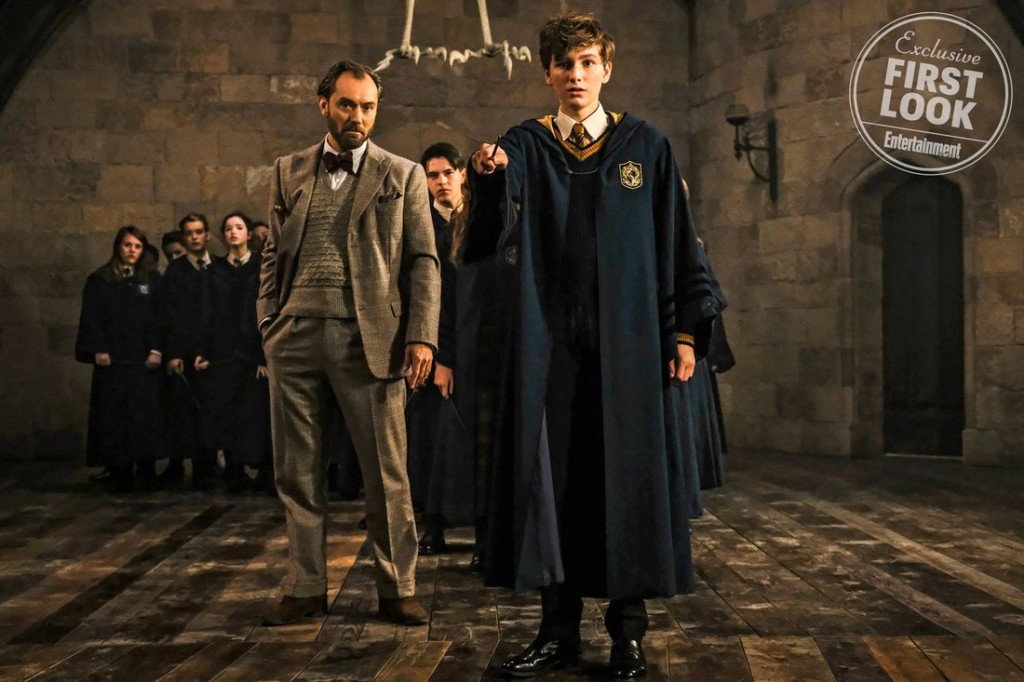 UPDATE (13/07/18): IGN have released a brand new image showing Newt Scamander (Eddie Redmayne), Jacob Kowalski (Dan Folger) plus new character – Yusuf Kama (William Nadylam)! See more – and Anna Brisbin's (Brizzy Voices) fantastic video with Dan Fogler – here.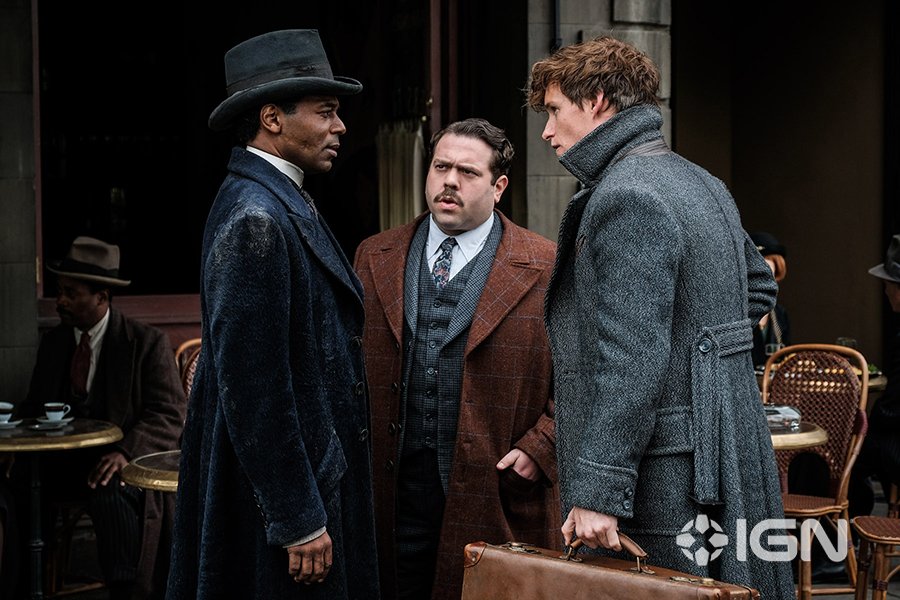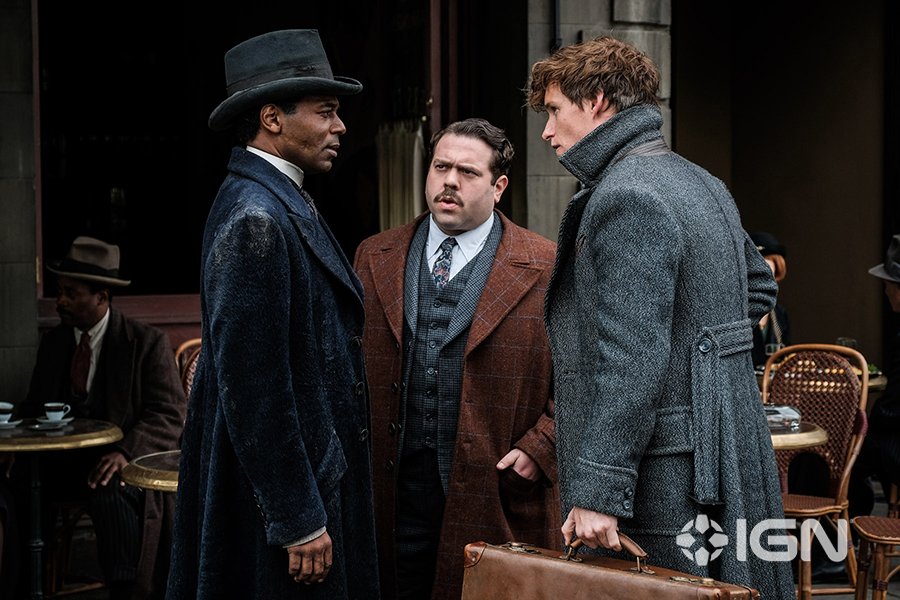 And don't forget that a new Crimes of Grindelwald trailer will debut at San Diego Comic-Con on Saturday 21 July.