A Conversation with Chris Rankin at LeakyCon 2018
Aug 16, 2018
After almost two full days of incredible guest panels, dozens of workshops, over 100 vendors selling magical merch and an evening of wizard wrock, Chris Rankin took the LeakyCon Mainstage for an hour of storytelling, candid conversation, and the importance of Potter in his life.
Devon Murray Panel + Exclusive Interview    |    Alison Sudol Panel   |  Acting As A Young Wizard & Antagonists Panels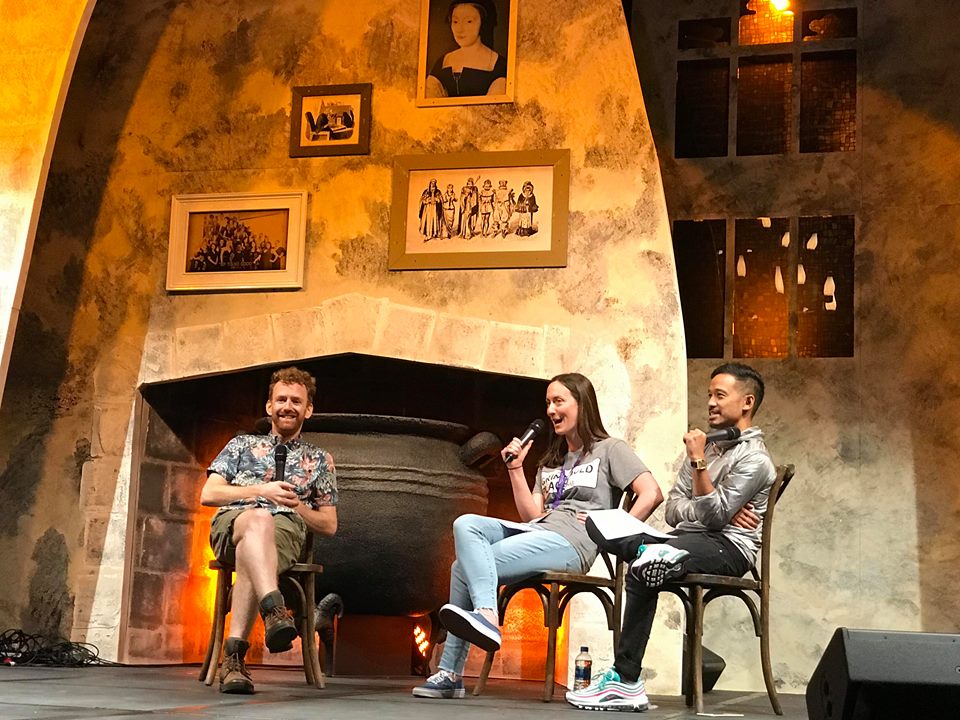 Rankin, who played the sometimes pompous prefect Percy Weasley, was welcomed to the session by Mallory Rubin and Jason Concepcion, hosts of the Binge Mode, podcast, who jumped right into questions about his audition and what drew him to the Percy's character. He said that besides being a ginger, a prefect at school, and just the right age to play the middle Weasley, he thought Percy would be the role he was most apt to get. He obviously didn't need any help from Trelawney's prophecies for that prediction to materialize. He shared his methods for portraying Percy's body language to convey his voice of authority, including what he deemed the "trademark Percy eyebrow". Rubin also asked about his actual audition and how he felt about improvisation during the process. Though Rankin said that in general, improv terrifies him, the first big laugh from the audience came when he told a story about a variation in the dialogue from the original script that dealt with the Gryffindor Common Room password. He kept his wits about him enough in the situation to stay in character and respond in classic Percy fashion,
"Dumbledore would have informed me if the password had changed!"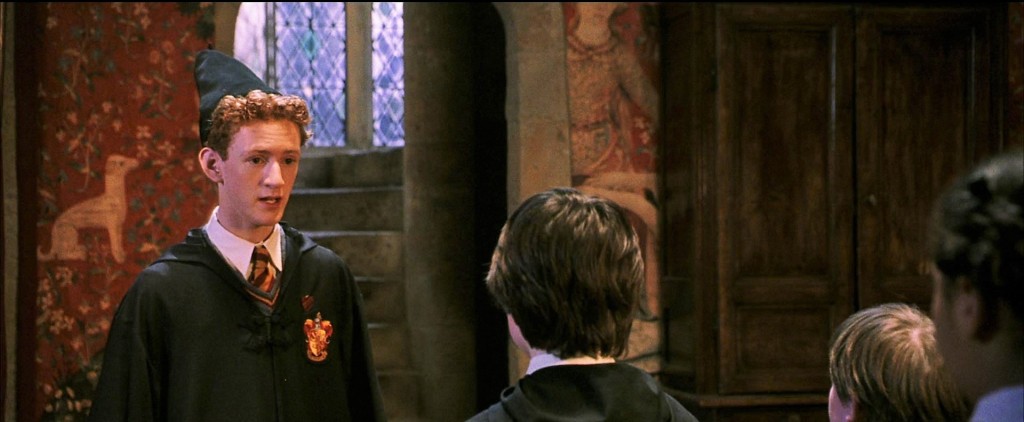 They then moved on to Rankin's favorite scene in the films, a story that included a few tips future actors. Rankin didn't appear in Goblet of Fire, so when he returned for Order of the Phoenix, he had transitioned from one of the Hogwarts students to the youngest of the adult wizards. He said although he didn't appear in the scene at length, one of his favorites was the Ministry courtroom scene in film five, because he had the chance to be on set with such acclaimed actors as Imelda Staunton, Michael Gambon, and Robert Hardy;
"I got to hang out with the really cool people."
He said he was nervous to speak with most of them, but would observe and listen during shoots, and it sounds like he honed this particular on-set talent which elicited giant laugh number two,
"Doing what I was taught to do best was to stand near the most famous person in the scene and then you can't get cut from the scene. It works, trust me!"
While filming the Order of the Phoenix Ministry Battle scene, Rankin reaped another of the benefits of working with these renowned actors. In between takes, he had the chance to chat with the late Robert Hardy, Minister of Magic Cornelius Fudge, who revealed that two of his professors at Oxford were C.S. Lewis and J.R. Tolkien–can you imagine? Later in the session Rankin said he would have loved to have spent more time with Jason Isaacs (Lucius Malfoy), Kenneth Branagh (Gilderoy Lockhart), and Emma Thompson (Sybill Trelawney).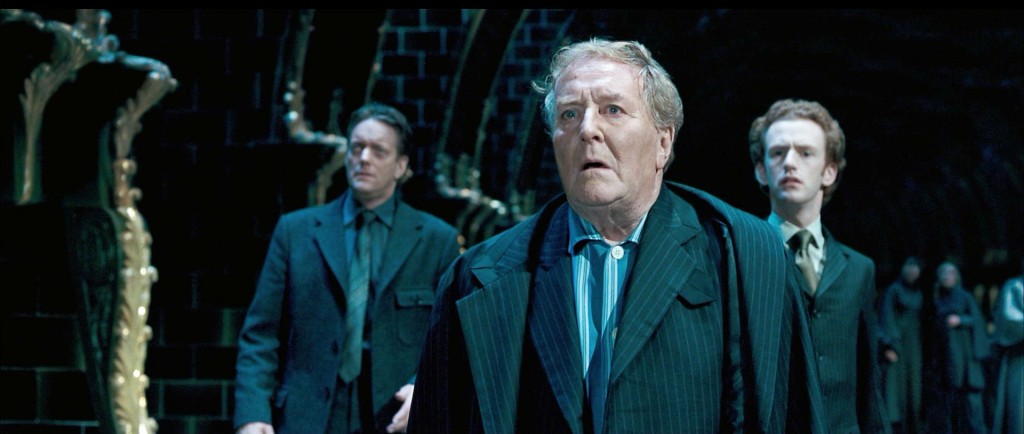 Rankin continued with more sage advice for the performer-to-be,
"Do you want to be an actor or do you want to be famous? Because there's a very big difference. If you want to be famous, be something else."
He went on to say that he had once heard that one in every 180,000 actors is working in the profession.
"If you want to go info the performing arts because you have to; because you can't imagine doing anything else but getting up in front of a group of people pretending to be something else for a living. If that's want you want to do, nothing should ever stop you, but don't do it because you want to be famous."
The conversation then took a turn back to Potter and a memory of when Rankin realized it had become a phenomenon,
"It was the first premiere, we all got out of the car in Leicester Square and it felt like a wall of sound hit you in the face. The whole of London was gridlocked because everyone was trying to get into London to see the Harry Potter red carpet. […] They knew who we were, but this was before Twitter and Facebook and this was huge! Then it was in every theater in the world. But then that becomes weirdly normal. You turn the TV on and it's on somewhere at Christmas and you have a whole channel of it and can watch it on an endless loop. It's like someone got your home videos from you when you were a kid."
On the topic of the Potter fandom, Rankin revealed he did his University dissertation in media production on "What Will Happen to the Harry Potter Fan Community When the Saga Ends?" with some help from Leaky's webmistress and Potter fandom expert, the author of the the New York Times bestseller, Harry: A History, Melissa Anelli. He admitted that the assumptions documented in the piece have certainly not come to fruition as a result of the many ways the franchise has been kept alive and well; Fantastic Beasts, Cursed Child, products, etc.
The hosts moved on to discussing Rankin's writing and the blog he started earlier this year, kicked off with a post on his love of drag. As Rubin told him, they were "moved by his openness and candor and how he expressed something about himself in a new way." Rankin said this about how his blog was conceived,
"It was basically going to be a blog going, 'I really like drag shows. I like RuPaul's Drag Race.' Then it turned into some kind of coming out blog, which wasn't anything but me coming out as me and not coming out at all. I learned stuff about myself I didn't realize and I started typing and words came out of my hands through my brain and I read it back and said, okay."
Rubin asked what advice Rankin would give to others on finding a way to express something they may find difficult to communicate, particularly regarding their identity. Here was his response,
"It's incredibly empowering[…] [His blog] turned into a very cheap therapy session. For me that's writing things down. Some people do that through vlogs or podcasts, or through singing or acting or dancing.[…]It's important that everybody have a way to get that stuff out. It's sorting life out, out loud in your head. Everyone should have an emotional outlet. Mine just happens to be writing and occasionally I think it makes enough sense that I think it could make sense to other people and that's why I put it out there."
Ironically Fantastic Beasts Alison Sudol had similar advice for LeakyCon attendees lucky enough to see her at her panel on Friday,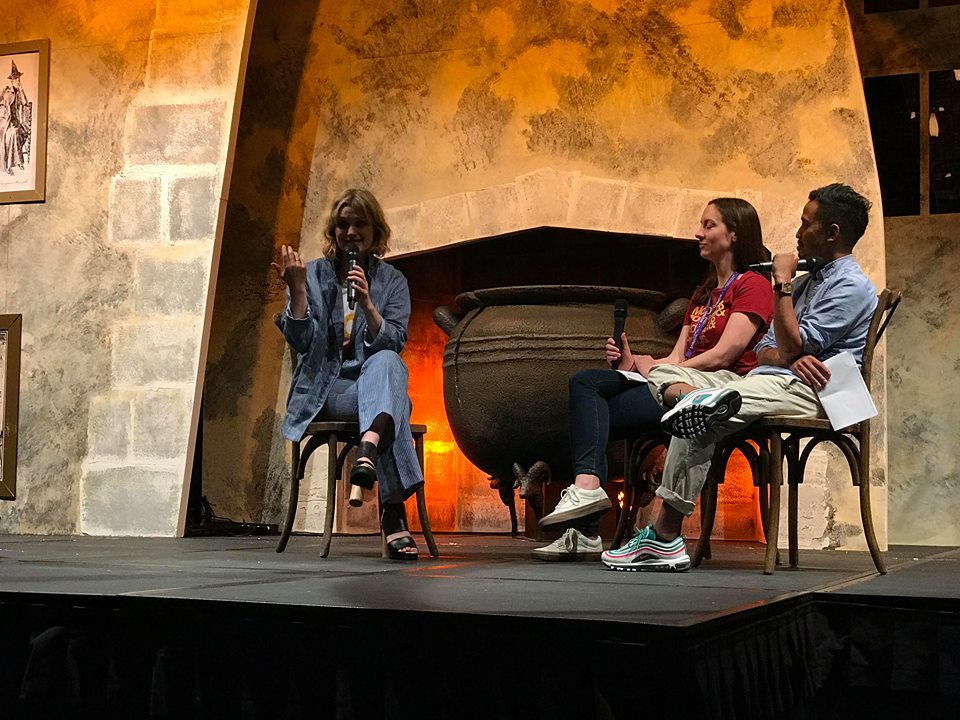 "When you're not using your voice – I don't just mean singing, it could be cooking, it could be this, it could be that you secretly want to play guitar – if you can cultivate that and allow that to pass through you, you'll just be so much happier in your life. As an artist and actress, the more that I allow myself to be, the more there is room for my art, and the better it grows"
Jason Concepcion asked about his experience being adopted which was another one of Rankin's recent blog post topics and how it affected the way he viewed Harry Potter. As Concepcion pointed out, so much popular fiction features a character that grows up without their birth parents. As he did in his blog last spring, Rankin shared his personal feelings on being adopted with the LeakyCon audience,
"I've always been totally cool with being adopted to which I give enormous credit to my adoptive parents for. I was eight weeks old when I was adopted .I was essentially adopted at birth, so I don't know any different. I have no idea who the person who gave birth to me is.[…] My adoptive mom and dad are my mom and dad. I've always know they weren't the people who gave birth to me, so that's my normal. People are like, 'What's it like being adopted?' and I'm like, 'What's it like not being adopted?' For some people it's an emotional thing but it's just who I am."
Rankin has connected with the Potter-inspired foster and adoption advocacy organization Transfiguring Adoption and recently supported the program's Elf Squad which aims to help foster/adoptive parents nurture children, often from traumatic backgrounds, something very familiar to Harry's story.
Elf Squad is a group which helps foster/adoptive families succeed. Membership kit helps to fund projects that resource families.
@chrisrankin (aka Percy Weasley in films) and Vanessa, unbox their Elf Squad Kits.
Get a kit: https://t.co/4IR8PuOgZl https://t.co/7MVSww1him

— Transfiguring Adopt (@TransfigurAdopt) June 20, 2018
Take a look at Leaky's recent interview with Transfiguration Adoption founder Darren Fink, on how the organization came to be, their relationship with Chris Rankin, and how it utilizes the power of J.K. Rowling's story of The Boy Who Lived to make a difference in the lives of foster and adoptive families. Towards the end of the session, Rankin graciously took a few questions from the crowded Mainstage Hall. One fan asked him how he was first introduced to Harry Potter. He enthusiastically shared the story of how his mother, who was an English teacher at his school, brought home Philosopher's Stone and Chamber of Secrets, on recommendation from the school librarian. He read both of them twice on a camping vacation and was completely hooked! As you can read in our coverage of the LeakyCon Antagonists Panel with Rankin, Louis Cordice (Blaise Zabini), Scarlett Byrne (Pansy Parkinson), and Stan Yanevski (Viktor Krum), Rankin was so enamored with the series he joined an online chatroom as under the alias Percy Weasley in 2000.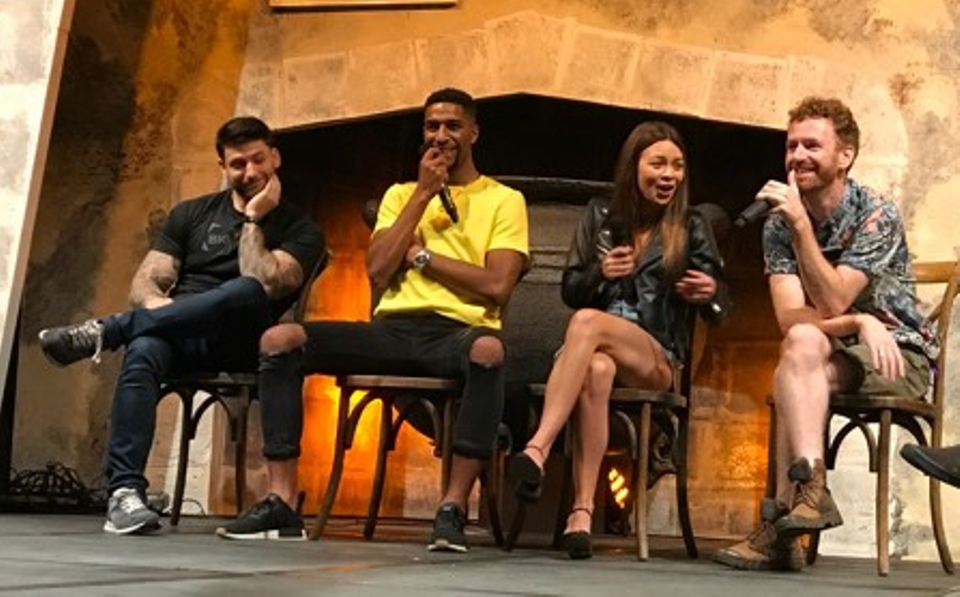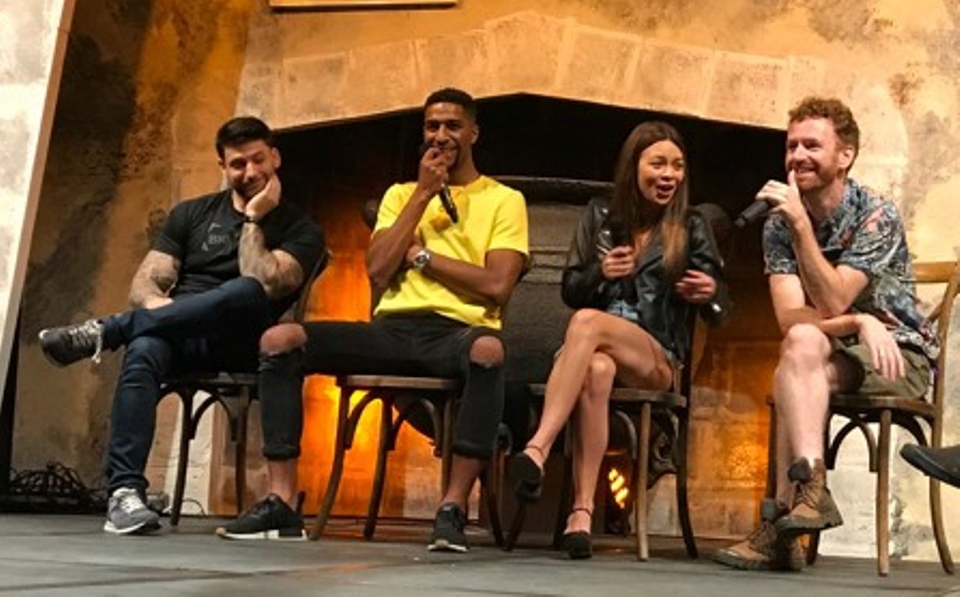 Rankin who shared the effect theater had on him growing up as a shy, sometimes teased child,
"I discovered when I got on stage I wasn't Chris anymore, I was someone else, and whoever that somebody else was, the people were laughing at them, they weren't laughing at me. They were laughing at who I was being and that was like this epiphany; that acting and being somebody else and getting stuff out by being somebody else is really awesome, I really enjoyed it and it's great fun and I'm actually alright with it. It was kind of a breakthrough moment and after that it's been easier."
He told another fan he would love to play the lead in the rock musical Hedwig and Angry Itch before he turns 40 and revealed that his drag persona, named Miss Demeanor, is "a bit of a flirt". You can read more about his experience on stage in Leaky's 2005 Rankin interview with Melissa Anelli here.
One of the last questions of the day addressed Rankin's opinion on what makes a good director, based on his experience working with three different creatives during the course of filming the Harry Potter series. Ironically Rankin said that he's recently had his first experience directing the short film Dad for the BBC. He explained his take on the actor/director dynamic: "let the actors make their decisions then direct them into making the film you wanna make. […]Directing isn't choreography. You need to let actors make their own choices and do what feels right for them."
Just after after LeakyCon, Rankin, who is originally from New Zealand, posted information on a new cause he's supporting in the effort to save the endangered kiwi bird :
As a #ProudKiwi, I'm joining @OldMoutCiderUK's mission to save the #kiwi bird, #NewZealand's national icon, which is in serious decline. Sign up here https://t.co/mI1twRSFDJ & @OldMoutCiderUK will donate 20p to @Kiwisforkiwis for every one of your signatures! #SaveTheKiwi <3 #ad pic.twitter.com/jh3mHLy7ty

— Chris Rankin (@chrisrankin) August 8, 2018
The two Binge Mode hosts followed up their session with an interesting after hours chat with Rankin. Check it out on their social media… only if Mrs. Weasley would approve!
Thank you to Chris Rankin for sharing his stories and his heart with the LeakyCon audience. Even though leaky cauldron bottoms weren't on the agenda, it was Prefectly magical having him in the Pub! Thank you as well to his hosts Binge Mode's Mallory Rubin and Jason Concepcion. You can check out their current Potter podcast here. And a tremendous thank you to Leaky correspondent Kathy Paz for the on-site coverage of all of the special guests.