Claudia Kim Discusses Auditioning for Nagini, New 'Fantastic Beasts' Wand Breakdowns & More!
Oct 12, 2018
In their latest issue, EW uncover the secrets of the Harry Potter series, reveal a rare J.K. Rowling interview, and give some exclusive insights into Crimes of Grindelwald! Latest reveals include an interview with Nagini herself, Claudia Kim, a breakdown of character wands in the film, as well as the cast's thoughts on working with J.K. Rowling:
When Claudia Kim was announced as Nagini, the fandom exploded and Leaky had questions! In a new piece by Entertainment Weekly, Kim discusses how she reacted to finding out the news that she was to audition for the role of Nagini.
"I think my jaw dropped. I was speechless for a little bit. […] I instantly felt heartburn, and then two minutes later I had to become a snake. […] I would act with Ezra and while we were doing the scene I would get directions like, 'Can you do 2 percent more snake? Or: 'Five percent more snake.' So that was challenging."
We can only imagine the shock she must've felt in that moment, but director David Yates notes that no matter what happened, Kim was absolutely the one for the role.
"The initial audition for all of the actresses who read for Nagini involved delivering a moving scene written by Jo about succumbing to a blood curse. Claudia read it in a more moving way than anyone else. She had a dignity, strength and a vulnerability."
Photo: Jaap Buitendijk/Warner Bros (via Entertainment Weekly)
Ezra Miller, who plays Credence in the films, had some very powerful compliments about Kim's role in the film:
"[She] is a living god. You're about to get your head blown off. There's going to be a venom in your veins that you'll feel just like love. Prepare yourselves for Nagini. This is a tragic and beautiful story that in some ways we already know the end of."
EW also released some exclusive new images of Crimes of Grindelwald character wands, with breakdowns by Head Prop Maker Pierre Bohanna (who Leaky had the chance to interview on set, and see speak about the wands at an exclusive fan event recently). The images include Theseus Scamander's "robust" and "statesman" wand, indicating a powerful wizard:
Another stand-out wand is Nicolas Flamel's, which certainly gives off an ancient vibe, and suits a famed alchemist to a T! Bohanna says on the design: "You can heat a horn and reshape it; you'll see it's had some work done to it in that way."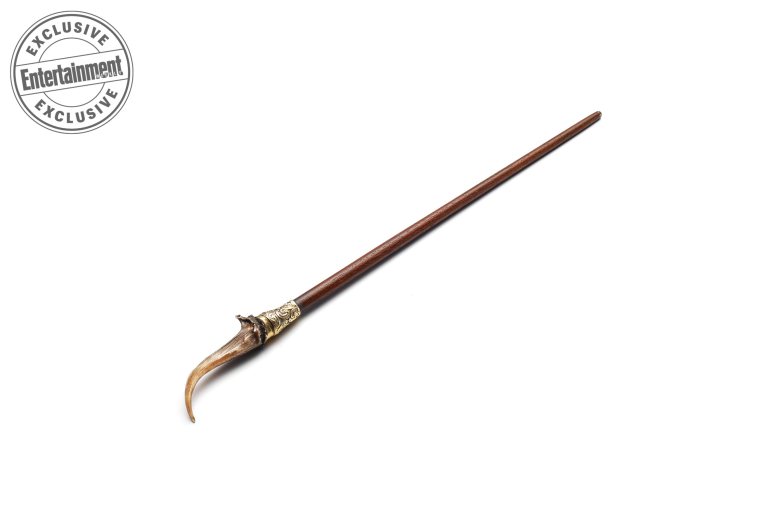 With Leta's wand, Bohanna explains that wands can be altered to suit a wizard or witch as they mature (Bohanna previously explained this to us, giving the example that Lucius  Malfoy's wand didn't always reside in a cane!). Leta's made her own adaptations to her aristocratic wand: "She made some aesthetic choices as she matured," he tells EW. "The wand that you had [as] a kid isn't necessarily the wand you want [when you're] older."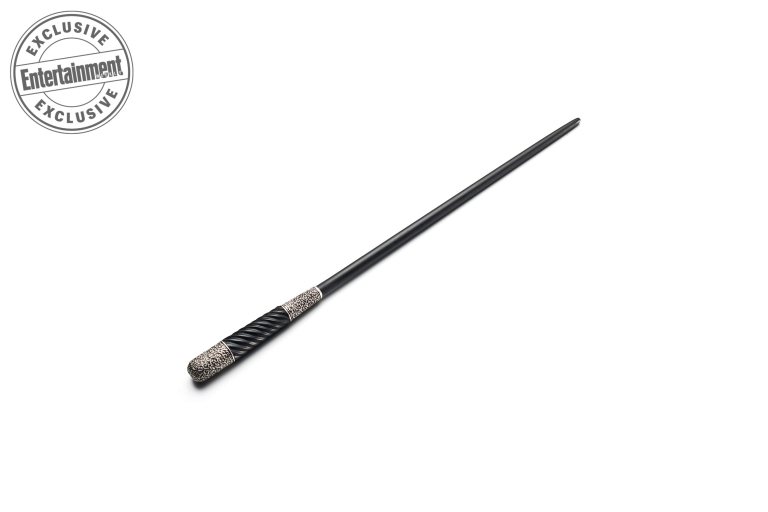 Dumbledore's wand is also featured, which includes a symbol with a meaning known "relevant only to Dumbledore. No one else knows what it means." – mysterious!
Take a look at all ten images here and find notes from Bohanna on Newt, Tina, Queenie and Rosier's wand, as well as the Elder Wand, which we know Grindelwald possesses in these films.
Finally, the cast of Crimes of Grindelwald discuss what it was like working with J.K. Rowling – who is, predictably, one of the most incredible people you'll ever have the pleasure to meet, let alone work with… In the video, Eddie Redmayne reveals that although Bunty, Newt's assistant (played by Victoria Yeates) only appears in the film for one scene, J.K. Rowling wrote a double-page spread on their history together! Watch the video below:
You can read more about the film in this week's Entertainment Weekly, now on news stands. Fantastic Beasts: The Crimes of Grindelwald comes out November 16th, and until then, we'd love to hear your thoughts on the character!