New 'Fantastic Beasts: The Crimes of Grindelwald' TV Spots Include New Footage!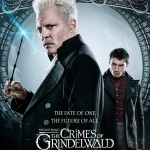 Oct 22, 2018
After the release of the third and final trailer before Fantastic Beasts: The Crimes of Grindelwald opens in theaters next month, fans probably expected Warner Bros. to keep all other revelations to a minimum in order to preserve as many secrets as possible–and produce the biggest fan response. But that has not proved the case!
Entertainment Weekly has since published revealing interviews with J.K. Rowling and cast, including Johnny Depp (Gellert Grindelwald), and tantalizing new photos of Leta Lestrange, Vinda Rosier and Nicolas Flamel's house. The official Fantastic Beasts social media account also published a spoiler-heavy video clip with commentary from Jude Law (Albus Dumbledore), Alison Sudol (Queenie), Dan Fogler (Jacob Kowalski) and J.K. Rowling, in which she confirms the reason the characters converge on Paris.
Now new TV spots are surfacing which also include glimpses of the film not seen in the trailers. Warner Bros. is being extremely generous with its footage, which can only serve to further stoke fervor within the fandom, spreading like wildfire ahead of the premiere, and leaves us both bewildered and excited–for that means Rowling and company must have larger secrets yet to unveil!
For now, watch the television spots below with an eye for discovering what clues may be found. The first does not contain anything new, but it is definitely a dramatic new cut of previously-released material from the trailers; it focuses on Grindelwald's vision and subsequent call to action and is among the longest of the clips, clocking in at a minute in length.
The second is a 30-second clip with no new footage. It focuses on Newt's mission–and that it will force him to "pick a side."
The third TV spot, also 30 seconds in length, reiterates that Newt must pick a side in the coming battle. This version emphasizes Dumbledore's conflict over the side he must chose as well, but here's where we start to see new scenes from the film subtly spliced in!
What we haven't seen is a brief shot of Newt and Tina running through the French Ministry of Magic. What–or who–are they running from? Are they running from the Matagot, magical creatures presumed to be guards of the most valuable secrets and treasures? Is this before or after they break into the archives room seen in the trailers? We know that Leta is "implicated by prophecy." Is it possible they are trying to obtain it without the proper permissions?
Whatever the reason, Newt and Tina are clearly trying to elude capture, either because the powers that be will hinder or endanger their mission or because capture could lead to a far more nefarious and deadly encounter than questioning. (Think Newt and Tina's interrogation and death sentence at the hand of Graves!)
The fourth TV spot, another 30-second clip, features a voiceover from Grindelwald entreating wizards to "rise up" and join him. It includes two new scenes!
First, you'll note more of Newt and Tina within the French Ministry of Magic–this time Tina uses her wand to light a dark room. Could this be the archives room? If so, where's Leta? And if it's not, what other secret, restricted place are they in? Does this scene precede or follow the shot from the third spot of them running, meaning, are they running to avoid detection as they seek out the room or are they running because they have already been found out?
Second, the clip shows an eerily-cool Grindelwald facing off with Queenie, who is on the defensive, appearing cagey and frightened. Has Grindelwald been pursuing her as well? Does she react the way she does because she fears him and his intentions or because she fears that she may be persuaded by them?
The fifth TV spot also runs 30 seconds and focuses on how Newt and Tina plan fight Grindelwald. And this is how Newt's fantastic beasts are introduced, because of course he's going to use his gift for magizoology and the creatures he knows so well to engage his foe!
First, we see more of Newt's attempt to win the Zouwu's trust–or, at least, its attention–by ringing a bell and brandishing something from the tip of his wand. Next, we see another creature, similar in size to a goggly-eyed pug, but with a tail like a large salamander and a tongue that flicks after insects like a frog, causing Jacob to flinch in disgust.
Intercut with these scenes and Dumbledore's voiceover is a shot of Credence skulking around a corner and an explosion of light, like fireworks. This leads into a rapid series of clips which show Newt emerging from his case to Tina's desperate entreaty, "Have you got anything in your case that might help?", followed by a glimpse of the case in the center of a room in the French Ministry of Magic surround by Madagot. Immediately afterward, the Zouwu shown earlier bursts from the case, presumably providing a necessary distraction, either so they can escape notice…or escape capture. This scene probably ties in with the new footage of Newt and Tina running through the halls of the ministry!
The sixth TV spot does not include anything new, but it doesn't fail to inspire excitement for the upcoming film!
So get your #wandsready, Potter fans, and watch this final promotional video encouraging fans to "Accio Tickets!" It includes new footage of Newt and his incorrigible Niffler who, scuttling after the gold foil on a wine bottle, unleashes the cork and goes sailing across the room!
Remember, you can also pre-order tickets now for early screenings of Fantastic Beasts: The Crimes of Grindelwald in cinemas across the U.S. and the UK on Tuesday, Nov. 13 ahead of the official release on Nov. 16!
Have you already purchased yours? What did you think of the new footage? Are you more excited than ever to accompany Newt on his next fantastic adventure?!