An International Crowd Turned Out for the UK 'Crimes of Grindelwald' Premiere–and It was Magical!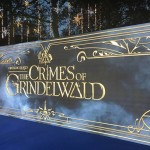 Nov 14, 2018
Yesterday was another day full of magic! After attending the Crimes of Grindelwald gallery opening at House of MinaLima (full coverage coming soon!), it was time for the U.K. premiere of Fantastic Beasts: The Crimes of Grindelwald. Our reporters' fingers turned as blue as the carpet, but senior editor Emma Pocock and correspondent Claire Kao braved the cold in London to bring you interviews with the cast, including exclusive talks with Jude Law, our new Dumbledore, Brontis Jodorowsky (Flamel), graphic design duo MinaLima, Thea Lamb (young Leta Lestrange) and William Nadylam (the mysterious Yusuf Kama).  We hope you were able to watch our livestream from the blue carpet in realtime, but if not, catch interview snippets below:
Brontis Jodorowsky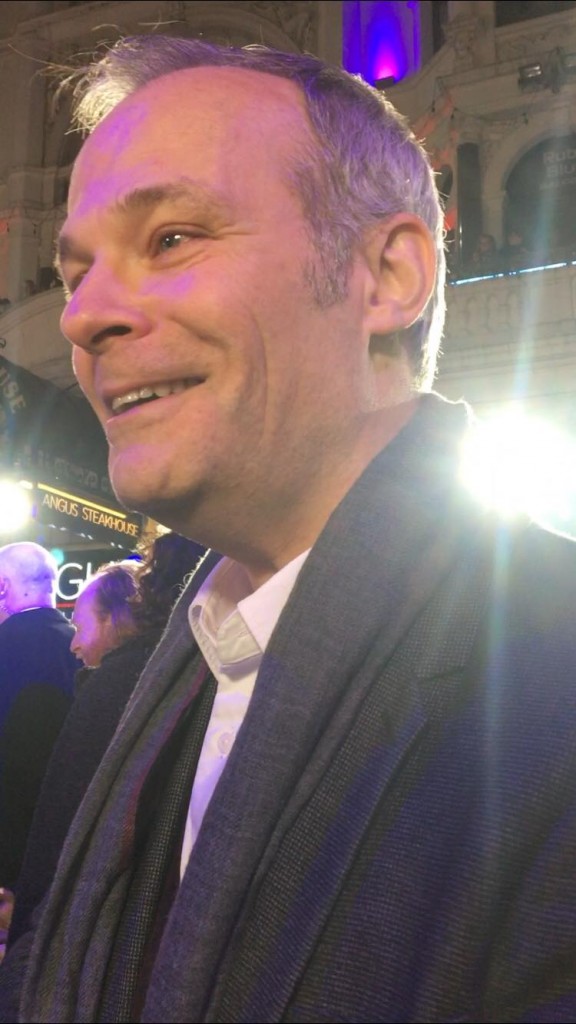 First up, Leaky spoke with Brontis Jodorowsky, who has the pleasure of portraying the age-defying alchemist Nicolas Flamel. Upon being introduced, Jodorowsky immediately recognized The Leaky Cauldron, and it was a happy meeting for all parties!
Emma dove straight in, pointing out that we know Flamel is the creator of the Philosopher's Stone from Harry Potter. That being established, she asked him to explain more about Flamel's role in this film and his relation to Dumbledore, as well as what he knows about Dumbledore's relationship with Grindelwald. Jodorowsky replied:
"I know what we all know, that he's a very good friend of Dumbledore's and good friends know stuff but the movie opens in two days right so I really feel like the secrecy is part of the magic. Discovering is part of the pleasure. The trailer already shows a lot of stuff so your hunger for knowing what it is-not spoilers but you've been fed a lot. Just wait two days and you'll see, small part, big part, but I really appreciate J.K. Rowling's stories. It's always a collective venture. That's very beautiful. You see the main cast, there are eight. And having a main characters is already incredible. Eddie red Maine is the main character of the movie but it's a collective adventure is.. Just like Harry Potter, you have Harry Potter and his two friends and the school and that's what's great about J.K. Rowling. It's never the hero alone against the world. It's the hero together against bad evil or whatever."
Claire jumped in, wondering: if Flamel had known what the stone would be used for in Harry's second year, would he have gone forward with creating the stone as a scientific endeavor?
"I, so I don't remember when he created the stone–he lived a long time but he doesn't have the faculties to predict the future at will, so for me as an actor, as I prepared for the part the philosopher's stone, yeah it's a stone, but in alchemy everything is a symbol, a symbol at a spiritual level, a level that opens you to a form of immortality. All this is symbolic right? You know I you know JK also works a lot with symbols and you must know a lot about that. It's not about having a stone properly, it's achieving a certain spiritual level. When I was preparing for the part, I said I never achieved that spiritual level but at least aimed to be someone who is there a just like the Buddha."
Emma found it interesting that he likened Flamel to Buddha, and Jodorowsky added that Flamel is like Buddha, in a way, but for now, "as far as I know, he doesn't levitate."
She also wanted to know which actor he found most interesting to work with, and he thoughtfully said:
"Frankly, I felt welcomed in a family–they're all, Eddie Redmayne, all these guys, they are people who are Oscar winners. They've already made Fantastic Beasts 1, which was huge…It was immediately, the pleasure of acting, the pleasure of serving the story. This story is darker, and it has a meeting. David Yates and JK Rowling are really trying to talk about something profound–human relations and also in a political vision of what's going on. Even if it's a metaphor. So when you feel like everyone's focused on a purpose you're not into individual little stuff."

Watch the interview below:

https://youtu.be/R_hs5Qh8xCE
Jude Law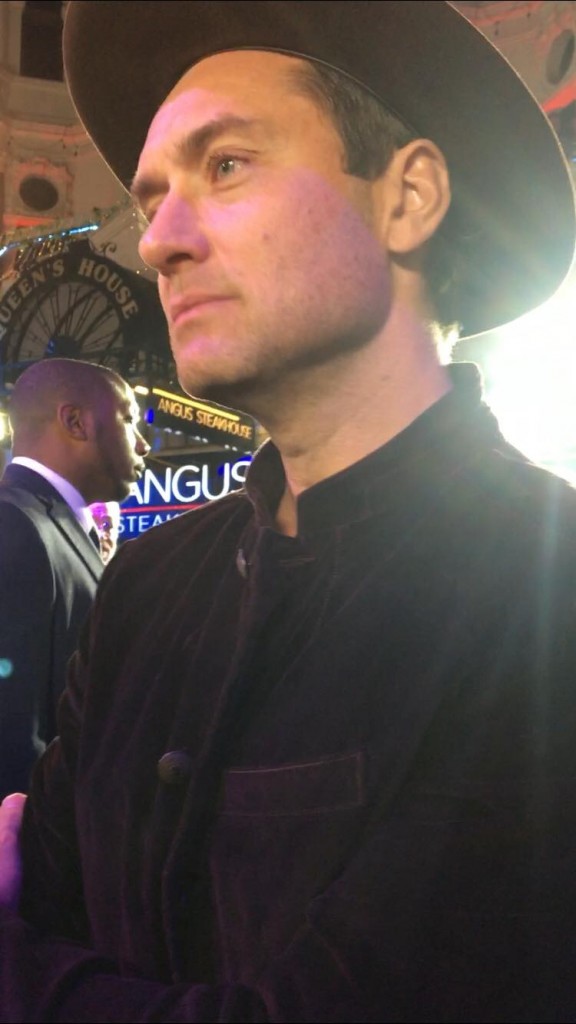 When we finally had the chance to speak with Jude Law again, we couldn't help levying a few thought-provoking questions while we had the chance. We noted that Dumbledore is said to be the greatest wizard of all time, but J.K. Rowling said that his and Newt's relationship is one of equals–and asked him to comment. He mused:
"Dumbledore doesn't see people at a lower tier to himself. I think he's respectful, he's democratic, and I think he enjoys the fact that Newt–morally and emotionally–isn't somebody who bows down to authority, or bows down to… irreverence. That immediately puts them on an even keel.

"I think there's a part of Dumbledore, too, that feels like he has demons, and inner turmoil, and I think he looks at Newt, and he sees a man who's pure, through and through. He admires that, and if anything, he almost wishes he had it. He knows that [Newt] won't judge him, because he doesn't judge monsters."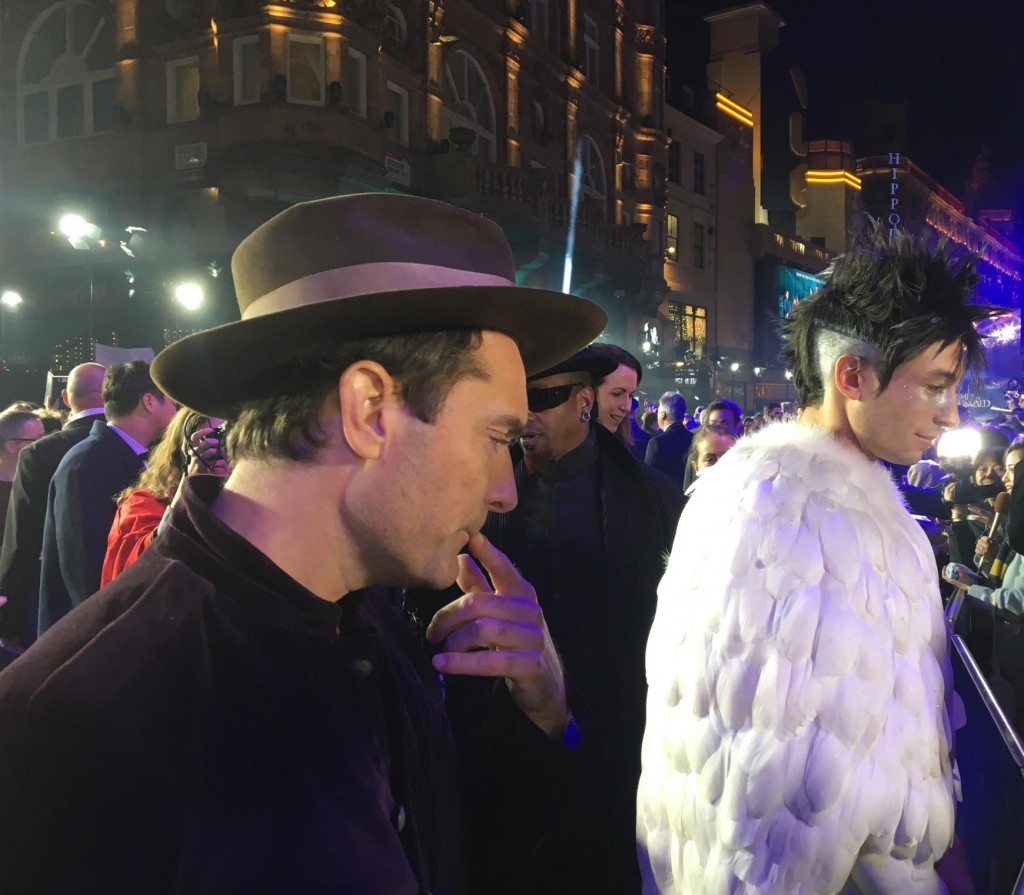 Law also told us he never imagined he'd be playing this role when reading the books. On what it's like to play Dumbledore now, he said:
"I'm genuinely excited to get into this narrative — I love all the detail!" 
As for whether Dumbledore's Boggart class in Crimes was inspired by Professor Lupin's class in Prisoner of Azkaban, Law answered:
"Yes. I had to get a little from the Potter films! That was why I think, originally, they wanted this kind of cyclical effect, for us to go 'WOAH', we've been here before! What it makes you think about, though, is that Dumbledore would've been a student being taught that same lesson when he was there. It's like a weird time loop!"
Mind. Blown.
MinaLima
As for the graphic visionaries of JK Rowling's story, we wanted to discuss more about their inspiration for the wizarding world of this particular era. Knowing that the series is heading towards WWII, we asked how MinaLima will incorporate this darkness into their often whimsical and fun art (we're looking at Weasleys' Wizard Wheezes, here). Mira explained:
"Obviously we know kind of where it's going, but we don't know where that is going to be, or what it's going to look like, or what's going to be demanded of us, but our job is to always respond to what the script is, so we will do our best to respond to each particular moment. I hope there'll always be those little chinks of fun for us to express that side of things. We can probably do dark, as well?"
She turned to Eduardo, and he agreed:
"We can do dark. Of course when you have something as big and fun as the circus, that's always something, but yeah–we can do dark!"
We also wanted to know about hidden details the fans should look out for in the film, and Mira replied with a laugh:
"You may have heard of a place called House of MinaLima? [referencing our visit earlier that day.] So when we go into the muggle French streets, there's a French version of that, called Maison M.L., so House of M.L.. You never know what you're going to see [on screen], but you can see that!"  
Look out for coverage of our visit to the Crimes of Grindelwald gallery at the House of MinaLima, coming soon!
William Nadylam
When we got to speak with William Nadylam, we acknowledged that we don't know a whole lot about Yusuf Kama. But, we DO know that he's taken an Unbreakable Vow, something we're familiar with from Harry Potter. With that in mind, we wondered what it's like being a part of the franchise? He reflected:
"That's a very big thing, an Unbreakable Vow. I've been trying to come to terms with that. When I first came aboard, I had no clue [that it was a big part]. I thought I was there for maybe two days or something, then more lines kept coming. Then I realised that I was being invited into a dance! I tried not to be too intimidated with all the fans around me, then I realised how lucky I was. If I could pick one part, honestly, I would pick Yusuf Kama. He changes a lot, he goes from one point to another, and the transformation is beautiful. There's a Phoenix side to it."

https://youtu.be/EZGO20HswyQ
Victoria Yeates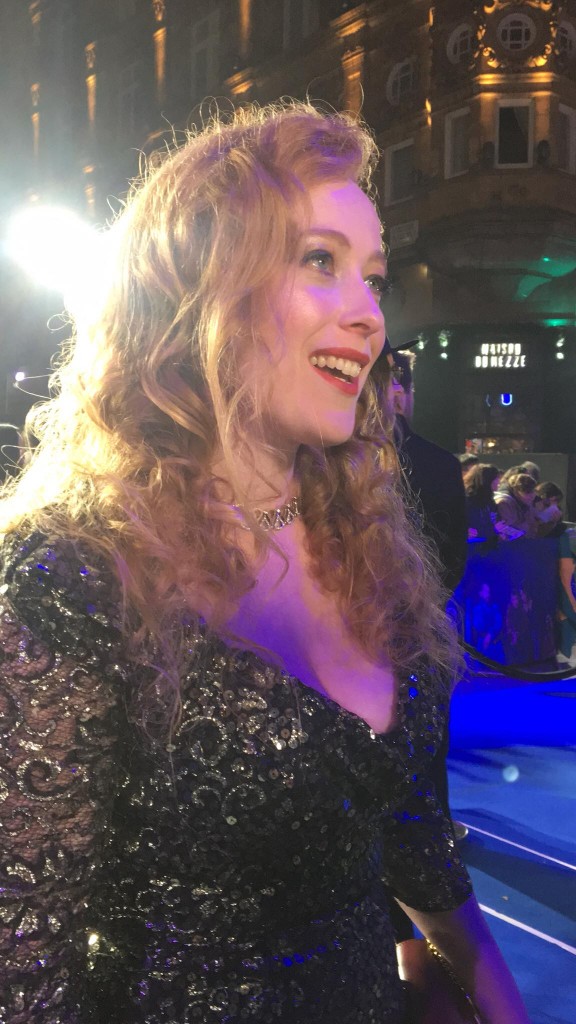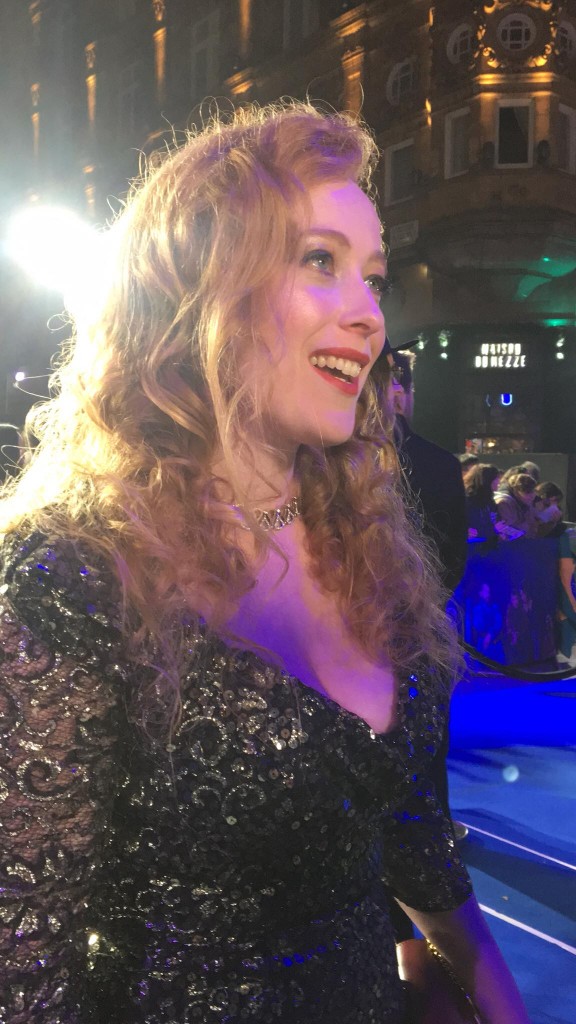 A brief interview with Victoria Yates (speaking to Snitchseeker) yielded a few more details about Newt's mysterious new assistant, Bunty. She said that "anyone that's experienced unrequited love" can relate. "[Bunty is] very sweet and she's bending over backwards for the man she loves."
That certainly complicates matters for Newt, who in all sincerity may have no idea how to respond–if he notices at all! And he's perfectly played by Eddie Redmayne, who Yates said "is the nicest man in the world." She added that David Yates is lovely and remarked, "The way they create the sets, it's an actors dream to get to work on something like this."
Callum Turner
Speaking of relationships getting more complex in this film–from Newt's working relationship with his assistant to his floundering romantic relationship with Tina to his shaky, estranged relationship with former close friend Leta–Callum Turner, who plays Newt's brother, Theseus, seemed perfectly poised to comment on that dynamic. He was able to speak to why Newt and Leta were drawn to one another in the first place, but also why Leta and Theseus are a better pair as adults. He observed:
"Leta and Newt are very similar. When they were growing up at Hogwarts they were outcasts themselves, and they found a bond with each other — it was a companionship. Theseus and Leta provide something that all couples provide for each other. There's a lot of love, there's acceptance. I don't think Theseus wants anything from Leta. He wants Leta to be her best self. And I think it works the same way. They're both incredibly supportive. You see it in the movie — they never argue, there's so kind to each other. That's why they're together."
Emma also asked Turner about helping Rowling with Theseus's character, but he said that while Yates keeps saying that, he knows nothing about it! She commented that he is a warm character, but that we'll be moving toward WWII soon, and he said,
"This is a good guy–does his job, works for the Ministry of Magic. He wants to save the world! He's a carer. He wants to protect the world."
Derek Riddell
Riddell, who plays Head of Magical Law Enforcement at the Ministry of Magic, Torquil Travers, in Crimes of Grindelwald, couldn't hold back his excitement over being involved in the series. He said:
"This is wonderful–I've never done anything like this at all!"
Emma asked him to elaborate on what it was like to be such a big part of this franchise, and he replied:
"I think I didn't realize quite how big deal it was. I loved the first film, so I was so delighted to be involved, to look at these amazing sets and stand on the bridge at Hogwarts and probably my best scene is in Hogwarts and seeing all these kids and thinking this must be the best gig for them."
She asked if he was familiar with the series before, and he answered:
"I'd not gotten all the way through Harry Potter but the first few–I'm not an Uber fan."
Emma replied that we could help him, and he admitted, "I've got to bone up on that." Then she asked if he had a Hogwarts house, and he said, "I have two small children I don't have time for that!" Of course, Emma replied that we need to get him Sorted!
As for his favorite person to work with on the film, Riddell commented:
"I was actually quite nervous on my first day that Eddie was so delightful, but everybody was. Eddie is a fantastic leading man in that he looks after everyone, and Jude was good, and it was very pleasant."
Alison Sudol with Lumos
After the cast assembled, Alison Sudol was asked to say something to the audience about Lumos' work. She graciously obliged, saying:
"There is a huge misconception about orphanages in the world. We think that when we give to an orphanage that were doing something positive. (Interrupted by cheers for Depp) We all have that desire to give to children, what Lumos is doing is reuniting children with their families, helping find community-based solutions, bringing families together so children can be raised in a loving environment. If you already support, most thank you very much, and if you are considering supporting an orphanage ,we would encourage you to support Lumos most instead. They're doing excellent work on the ground to help kids have a better chance at life."
Thea Lamb 
Thea will be portraying a young Leta Lestrange in Crimes of Grindelwald, and she spoke to us about Leta's growth throughout the film, portraying a bold female character, and getting to see Hogwarts – every fan's dream! She also revealed her Hogwarts house, and spoke about how amazing it was to be at her first premiere:
We spotted Zoë Kravitz on the carpet, too – the casting of the younger characters was incredible – they all have such understanding of their characters and how each of them grow. We hope there's a returning role for Thea in future!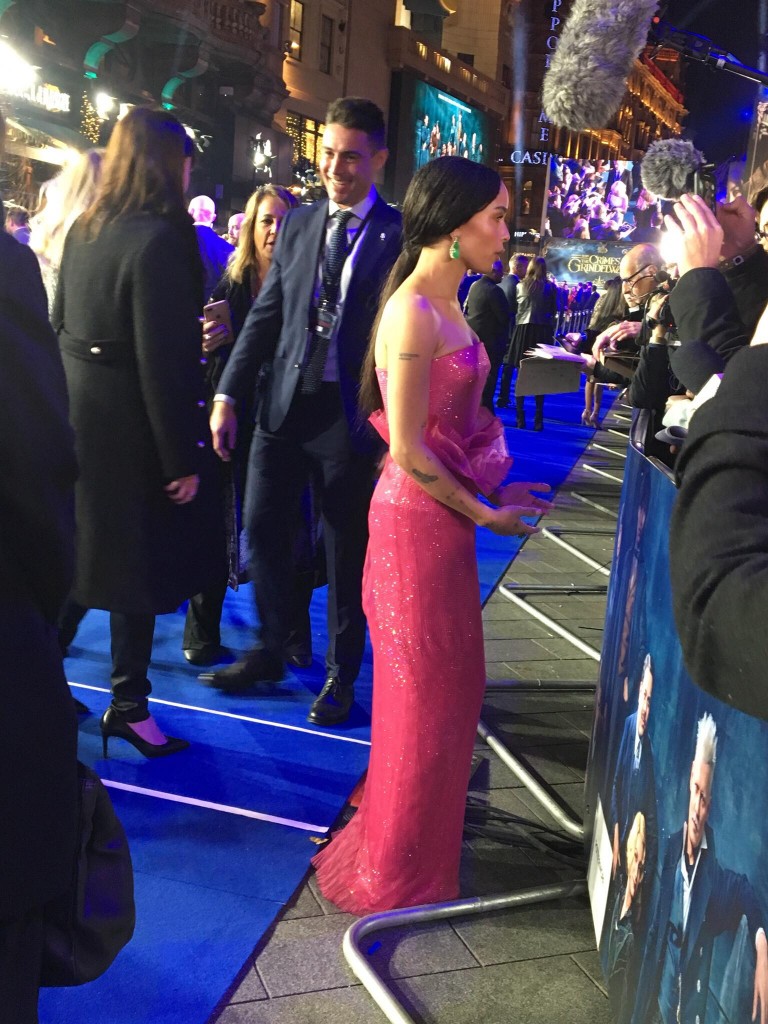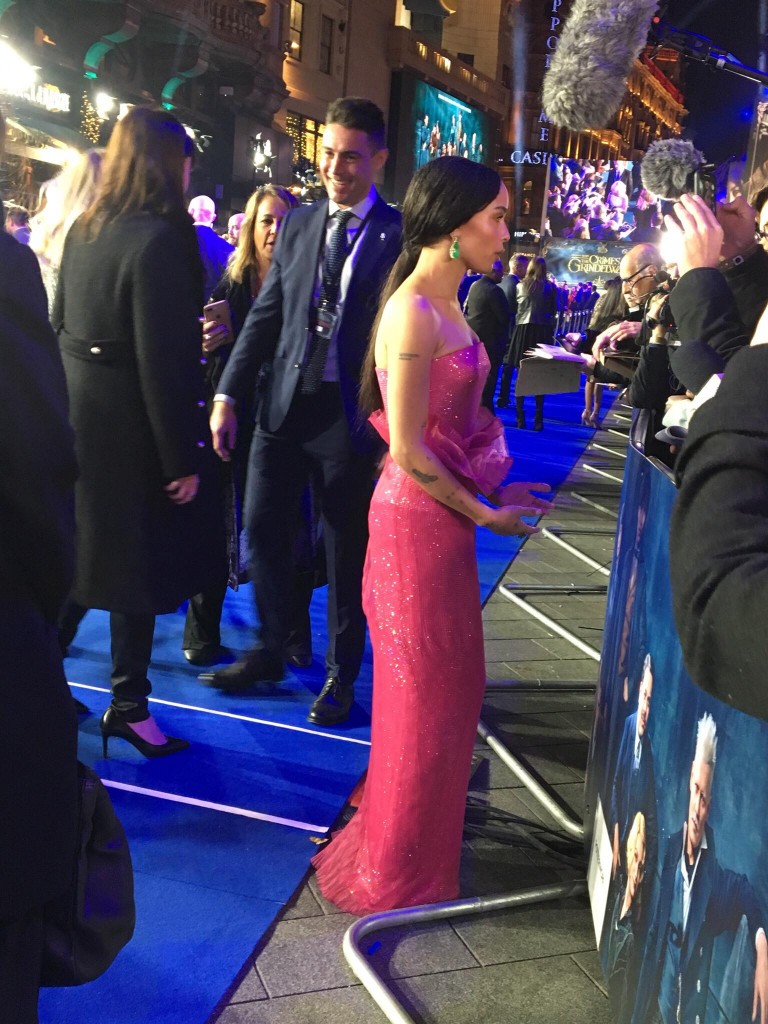 Johnny Depp made a huge entrance to the red carpet, and spent his time signing autographs for fans. We also spotted Claudia Kim (the Maledictus), Dan Fogler (Jacob Kowalski) and Ezra Miller (Credence), in an incredible Hedwig outfit! Katherine Waterston was also on the carpet, and had a wonderful announcement to make – she's pregnant! We wish her all the best!
The cast of #FantasticBeasts: The Crimes of Grindelwald meeting the amazing Wizarding World fans. pic.twitter.com/ONnUmZSpVB

— Fantastic Beasts (@BeastsMovieUK) November 13, 2018
Our resident wizards, witches and No-Majs are on the case! Eddie Redmayne, Katherine Waterston, Alison Sudol and Dan Fogler at the UK Premiere. #FantasticBeasts pic.twitter.com/O4pQzUhsKm

— Fantastic Beasts (@BeastsMovieUK) November 13, 2018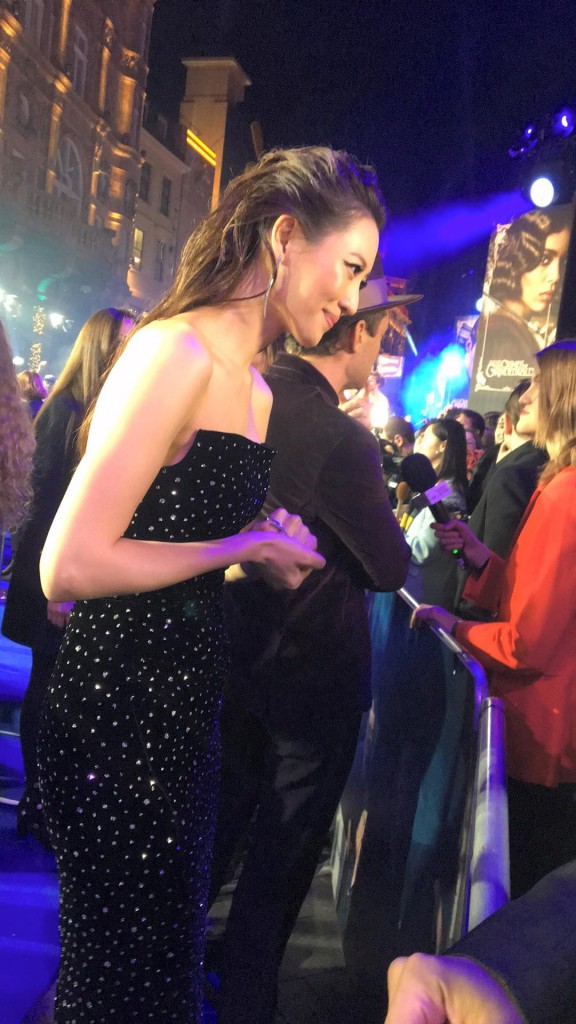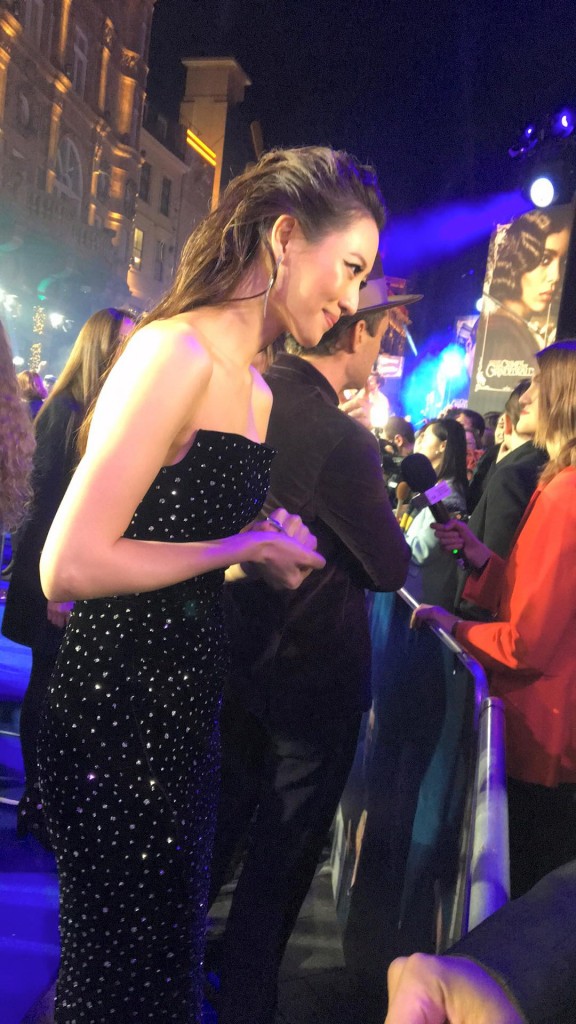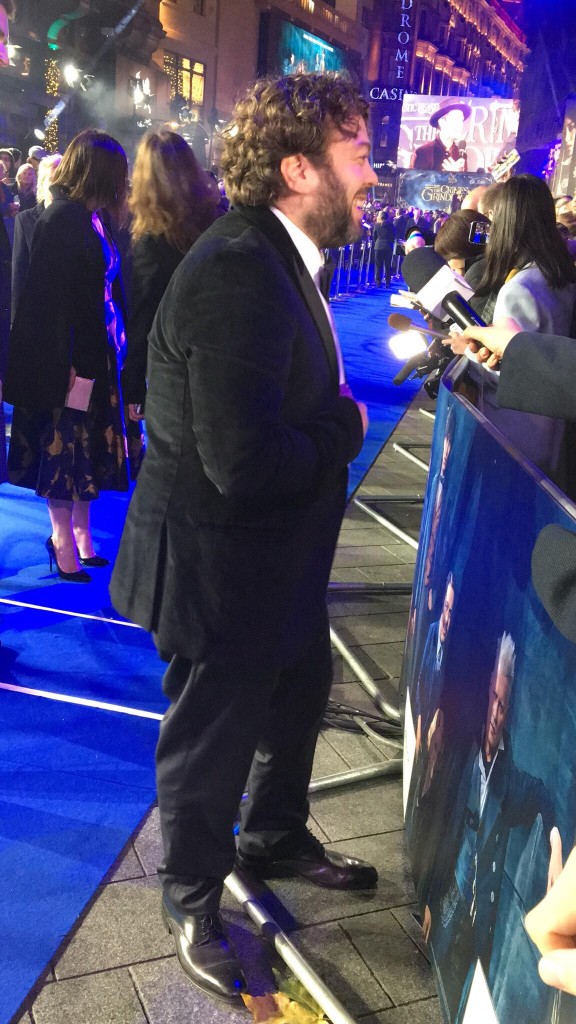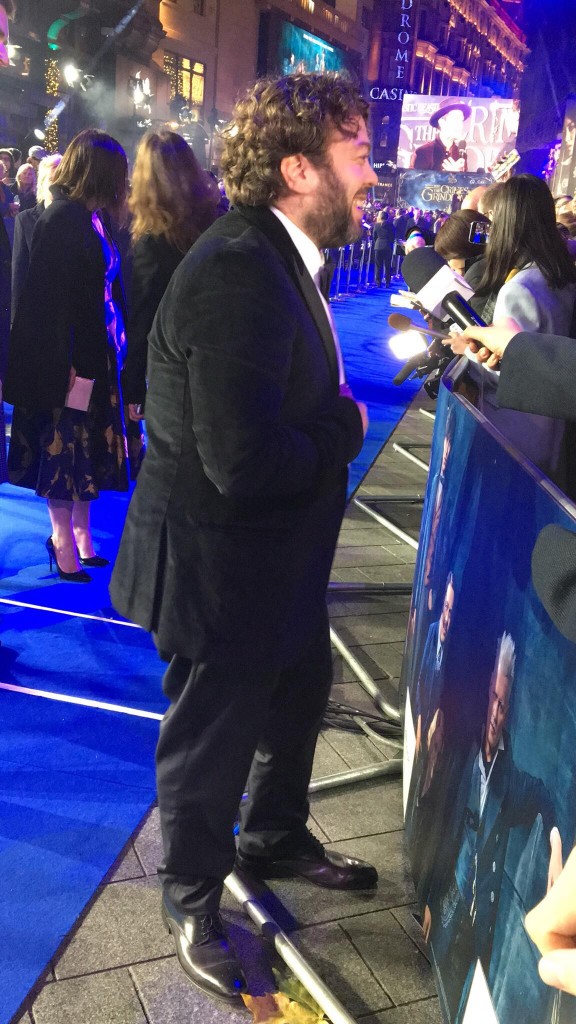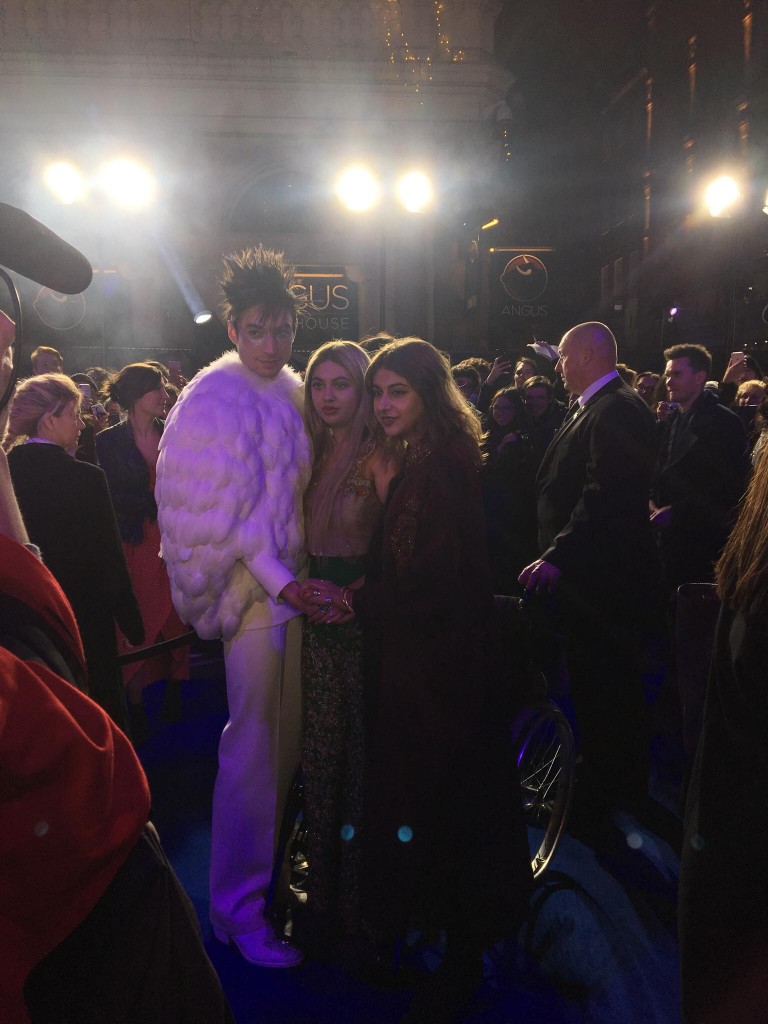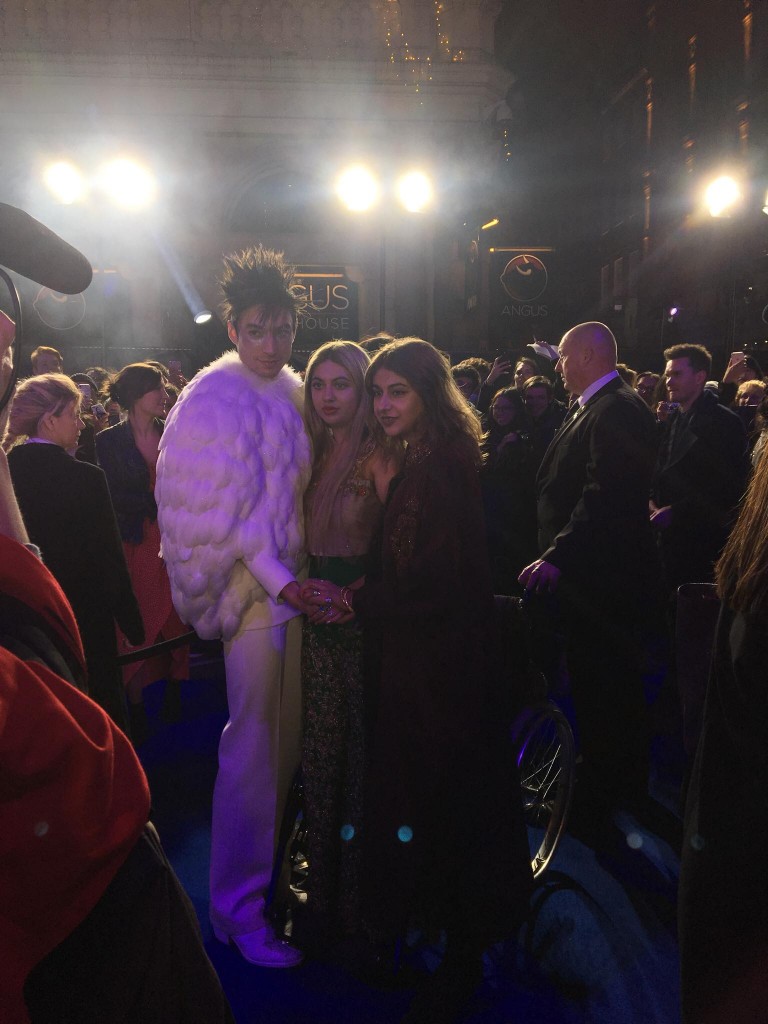 The West End cast of Harry Potter and the Cursed Child were also spotted on the red carpet yesterday evening, and they were all excited to see the film:
Everybody say 'Beasts'! The #CursedChildLDN cast are at tonight's #FantasticBeasts: The Crimes of Grindelwald London premiere! #CursedChild #ProtectTheSecrets pic.twitter.com/4BWZLkxsw7

— Cursed Child Play (@HPPlayLDN) November 13, 2018
A few of our favourite moments from last night's #FantasticBeasts: The Crimes of Grindelwald London premiere with the #CursedChildLDN company! #ProtectTheSecrets pic.twitter.com/fsr0fbkCjM

— Cursed Child Play (@HPPlayLDN) November 14, 2018
Of course, Jo Rowling was there, too!
.@jk_rowling at the UK Premiere of #FantasticBeasts: The Crimes of Grindelwald! 💫 pic.twitter.com/LGA7XWEntG

— Fantastic Beasts (@FantasticBeasts) November 13, 2018
The cast wrapped up on the main stage to introduce the film to those watching it in screenings. J.K. Rowling previously thanked fans for this return to the wizarding world, and producer David Heyman and director David Yates spoke a bit more about their experiences behind-the-scenes:
David Heyman
To the crowd, producer David Heyman exclaimed:
"It's great to be home. We've traveled the globe but it's great to be home where these stories began where we make all the films and continue to make the films all. It feels really special – what fans we have. Thank you all for coming out tonight and supporting us. We could not ask for more from you. And just a quick thanks to Warner Bros – thank you for allowing us and enabling us to make the films the way we do, and of course none of us would be standing here without Jo–thank you, Jo, for the gift of your books, your words, these screenplays. What a world it is, what a privilege it is. Your themes of tolerance, compassion and embracing of the 'other' feels particularly relevant today, but are actually timeless themes, and to be able to talk about that on such a grand and popular stage is a real gift, so thank you so much, Jo."
Heyman then went on and, by way of introduction, said:
"Last but not least, our leader David Yates, who's a brilliant director, a great friend, a great leader of men, and who makes everybody who works with him better…"

https://youtu.be/zkIWqIOo1_4
David Yates
In response to Heyman's lead-in, Yates enthusiastically welcomed the audience:
"I just want to say thank you for being here tonight. I walked down the line and I met people from Brazil, from Italy, from China, from Peru — from Streatham! [laughs] I felt like I walked around the world as I walked down this line, and the fact that these stories speak to so many people around the world, the fact that you've taken the trouble to come here and share this evening with us is really special and it's what makes us want to make these movies to connect it all together. Thank you for being here, and we hope you enjoy our film."
Read our review of the film, see interviews from the Paris premiere, and be sure to watch out for coverage of roundtable interviews with the cast and David Heyman, coming very soon. Fantastic Beasts: The Crimes of Grindelwald releases on November 16th – get your wands ready!
Find our full livestream from the blue carpet in London below: