Weasley Magic in the Midwest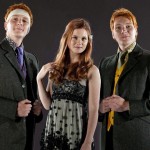 Apr 03, 2019
As we reached the summit of the escalator that transports us once a year from our everyday existence into the "Great Hall" of Planet Comicon Kansas City, a giddy sense of calm overcame us amidst the throngs of powder blue and neon green coated physiques, braided pink wigs, full body armor, weapon wielding warriors and of course, wizarding robes. There are some who might enter this sanctuary of stans, with it's 400K square feet of masked masses, and retreat for fear of sensory overload-induced nausea, but we, as proud members of one of the largest fantasy-based fandoms in the world, settled back into to that familiar multiverse lingo buzz and waft of convention fare, where unconditional acceptance is the doctrine of the day, and were reminded of something that Melissa Anelli, Leaky's webmistress and founder of major fan convention company Mischief Management, said recently about embracing your passion through fandom,
"When you find something that lights you up like that, your whole consciousness is telling you something about yourself and when you get those signals you've got to follow them[…] in whatever way you can figure out how to go down that line, and I do think happiness is almost always at the end of it. Maybe not career happiness. It may not be the thing that runs your life the way it thankfully has started to run mine, but something that sparks joy, something that gives you that little jump is a signal, it's a flashing sign."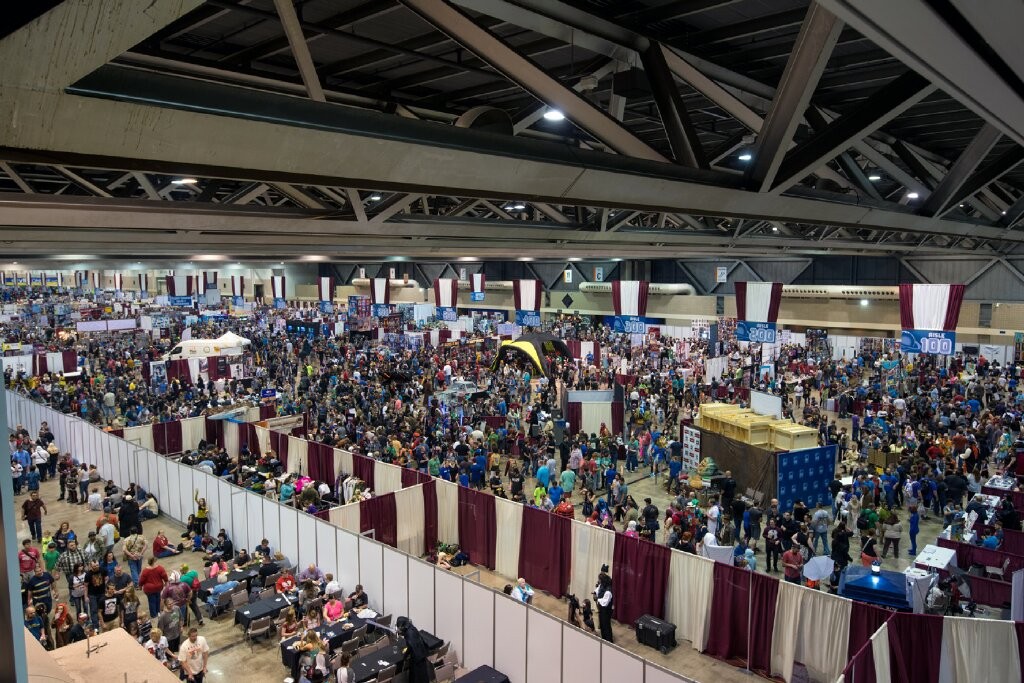 Picking up our press badge for the 20th anniversary of the largest annual pop culture celebration in the midwest was sort of like getting our letter for temporary acceptance to Hogwarts, something we think Anelli would celebrate right along with us.
We were on a very specific mission when we arrived at Kansas City's Bartle Hall to begin the late March weekend. Hit the floor, turn left and bolt a few football fields down to Celebrity Row to meet the special guests of the hour Bonnie Wright, and James and Oliver Phelps, there for the advertised mega Weasley family reunion. Leaky prepped for interviews with the trio, but that exclusive time was not to be, so we planned to wait in the autograph line with the rest of the decked out Potter fans in one of the best places in the hall to get great Potter cosplay pics.
Fortunately we were close to the front of the line and had a few minutes to chat with the lovely Bonnie Wright, who Potter fans know as the youngest Weasley sibling Ginny, about her activist work for the environment and creating awareness of the negative impact of single-use plastics. She shared the kind words below for Leaky readers and we were able to give her a little Weasley-esque gift from the site that recently came out exclusively for Emerald City Comic Con and Barnes and Noble from Funko.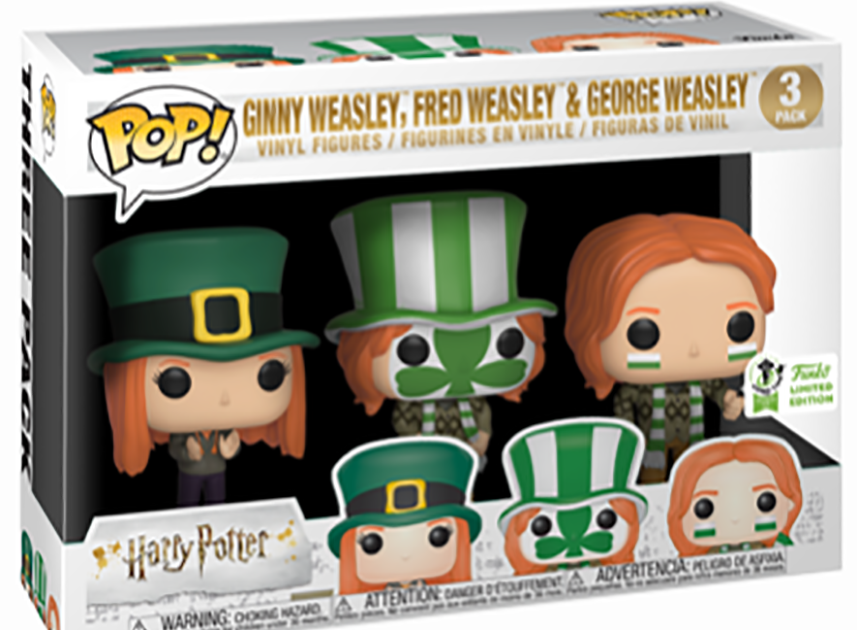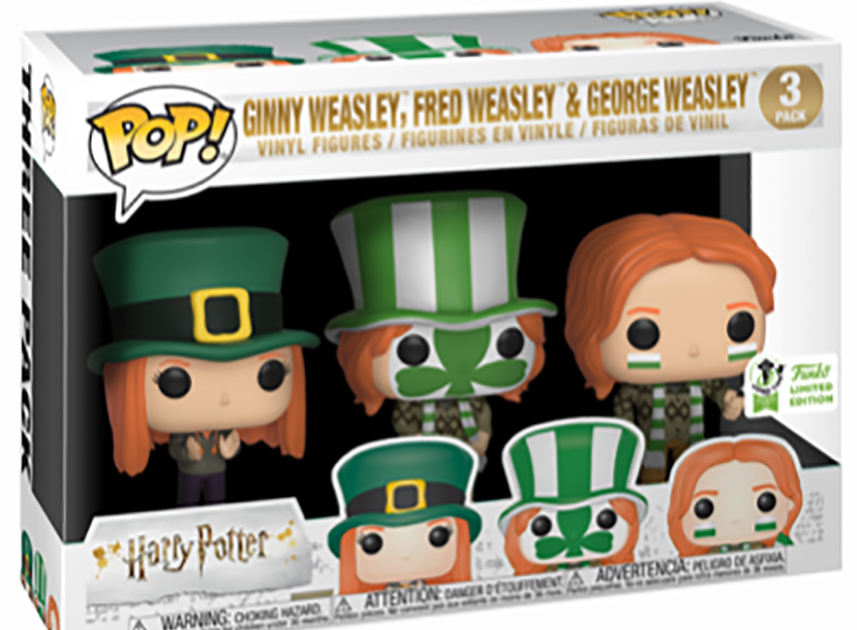 Next we apparated into the Phelps line which was conveniently positioned just next door. Both James and Oliver were truly delightful and very gracious when they received our gift. We had a few moments to discuss two projects we hadn't heard much about lately; their YouTube audiocast Double Trouble, which they said would hopefully be back this year, and their proposed travel reality series Twin Cities which still happens to be atop Oliver's Twitter. They didn't have an update on that one, but said it might be time to take it down, so it may be on hold at this point.
They were also happy to send a note to Leaky followers thanking them for their support and were excited to receive the timely Funko 3-pak commenting they hadn't seen it before that evening and definitely didn't have their own yet.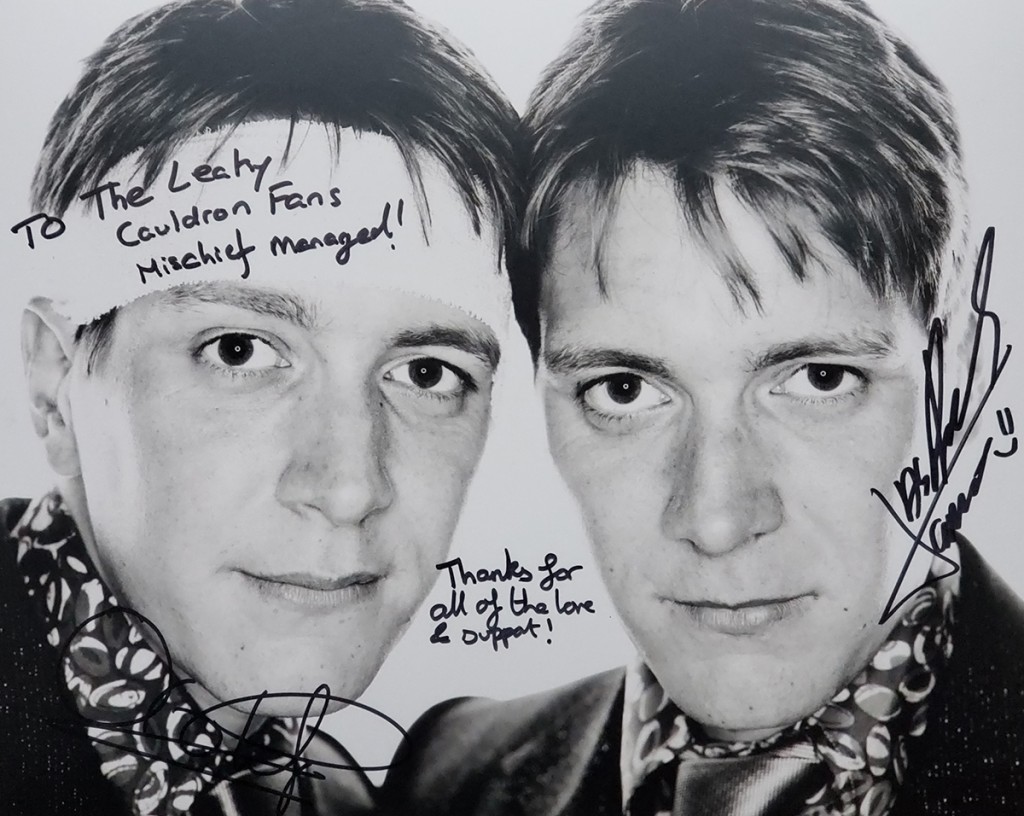 After those spellbinding encounters, we headed back towards the hundreds of vendor booths, spying out all of the wizarding world merch we could find and storing their locations in our Pensieve for Saturday. We did stop to chat with the magical craftsman of Gipson Wands, who we think might have been an apprentice of Mr. Ollivander's, as well as the nice folks from Popminded by Hallmark, sellers of those wonderful Harry Potter holiday ornaments and cuddly Itty Bittys.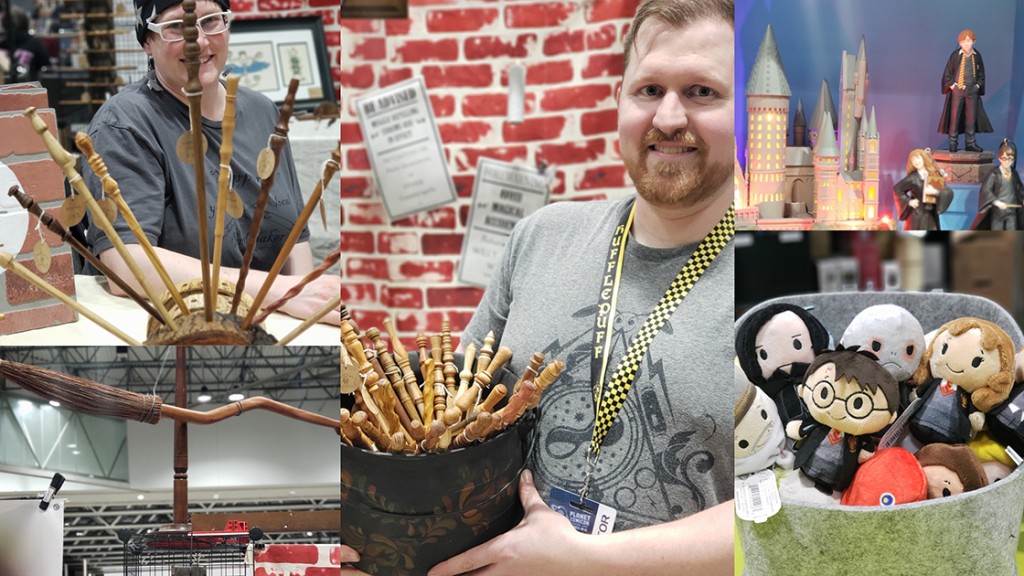 There was no need for a Time Turner on Day 2 of Planet Comic Con since the Weasley panel was scheduled for later that evening, so we had plenty of time to browse the wizarding merch and mingle with Potter fans. There was a plethora of trinkets, woodwork, mugs, and candles oh my, as well as a tasty and quite busy shop reminiscent of Honeydukes, called Patronum Deliciosa, helmed by a very unlikely pair of witches: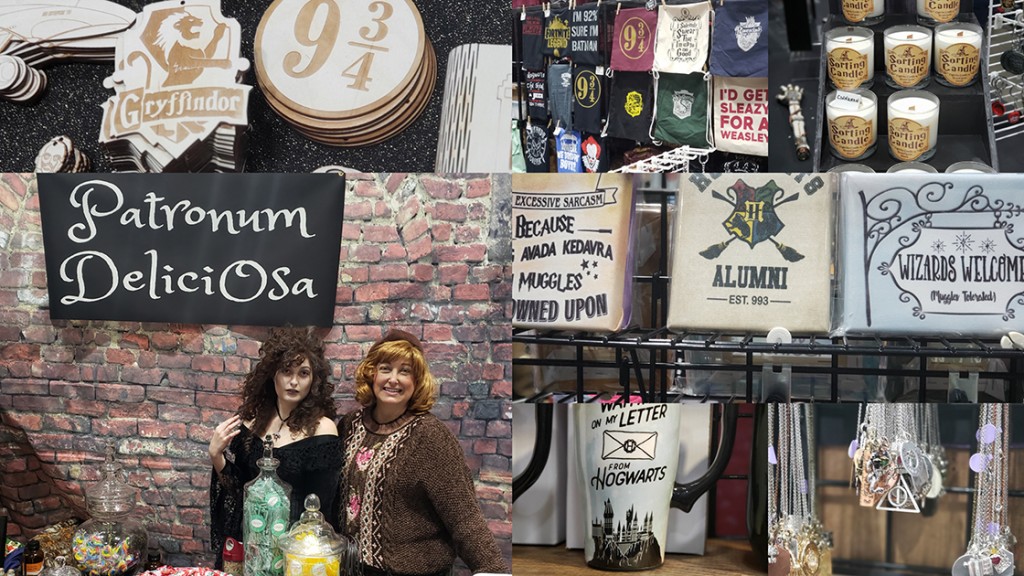 We ran into some amazing Potter cosplayers on Saturday who may have scored a dose of Polyjuice Potion for the event: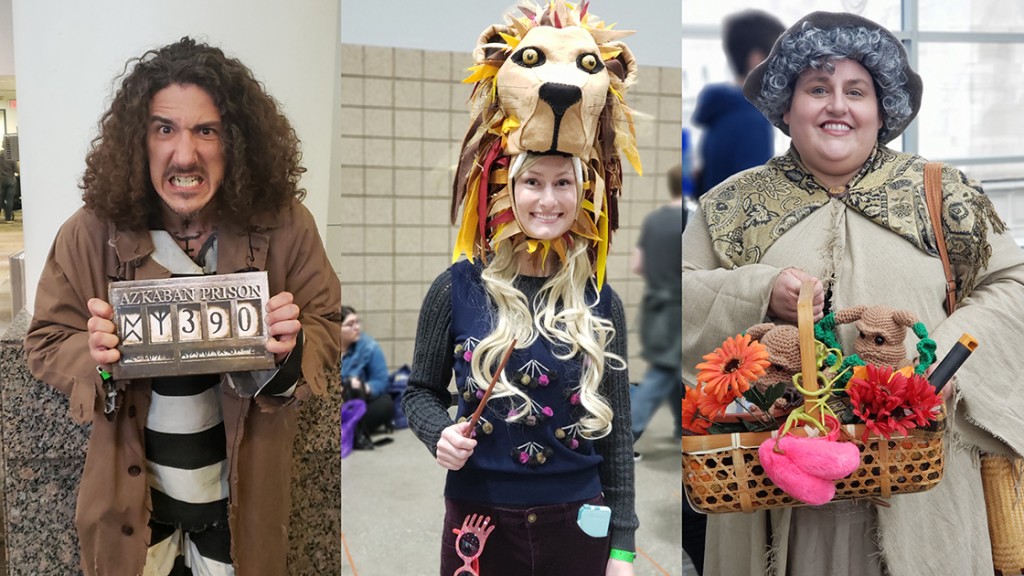 And we were sure not to miss the spellbinding setup for local wizarding superfan group KC Potterheads, who had their own booth ready for Potter-themed photo ops and other weekend Con magic.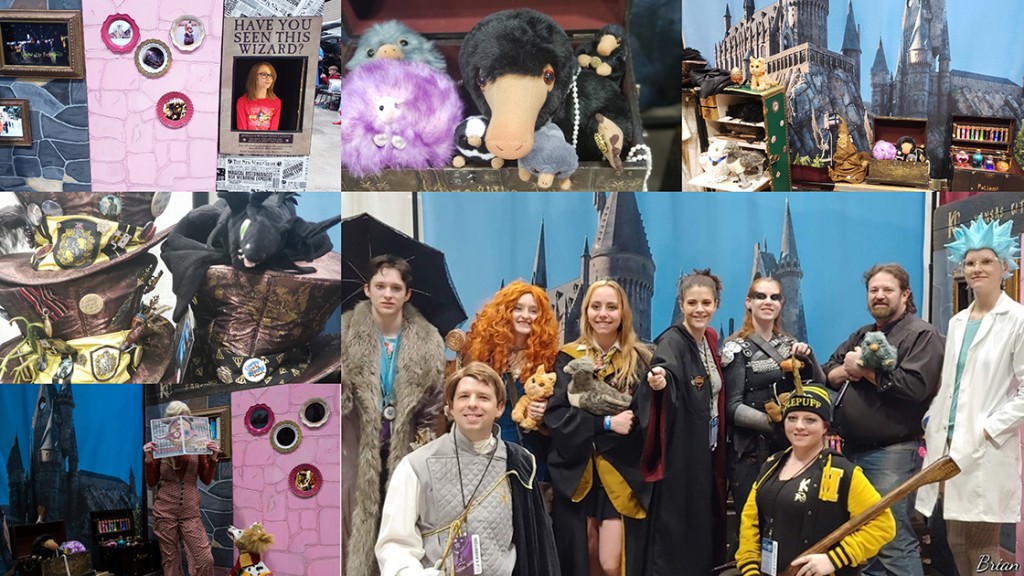 After a full day of fun, and some worn down trainers, we traveled by Portkey across the bridge to the Grand Ballroom for the Weasley reunion panel. There was no doubt it would be one of the largest sessions of the weekend, even with big names for the 20th anniversary like William Shatner of Star Trek fame and Henry Winkler, "The Fonz", so we made sure we were there early. We managed to get a seat fairly close to the stage, but the view wasn't ideal for photos, so we made a plea to a Comic Con staffer who took pity on us as maybe the only Potter outlet in the room and directed us to a spot on the floor next to the stage–incredible luck without a drop of Felix Felicis!
Moderator Kid Cadet welcomed three of our favorite Harry Potter actors to the stage, in front of a packed and very excited crowd. She began the session by asking what it was like to see every chair filled and James said,
"I'm not gonna lie, it's awesome."
The host then asked what was the biggest change that the three of them thought their characters went through from the first to the last film. Of course laughter erupted from the audience referring to Fred's death and James indicated he was just going to leave.
Bonnie said that Ginny began the series as a nervous little sister, who ran away at the sight of Harry, and then ended up by his side, so that was a big change in the story arc for her.
Lastly Oliver responded,
"An ear"
to more laughter from the audience.
Next the host ask the actors to compare their onset years to the experience at Universal's Wizarding World of Harry Potter and what it felt like for them to visit the theme park.
Bonnie said,
"When you're on a film set, you step off the film set and you see the edges of the set, so you see the scaffolding and the plaster and it sort of breaks the world that you're in, whereas at the themepark it almost felt more real than the sets because the world is completely enclosed and you're in it and we never got to have anything that tasted like Butterbeer or any of the drinks, so for us it was more of a world than the film sets."
To the attendee's delight, the panel moved quickly into questions from the audience.  The first Potter fan to the mic asked if the actors took anything from the set, and Oliver asked if her name badge said Warner Bros. security on it! Oliver said he took George's ear, a bag from Weasley's Wizard in wheezes, and a nosebleed nougat. James said he also had a nosebleed nougat and a Puking Pastille, the only things in his house that he has on display from Potter.
Bonnie said the only thing she took was Gringott's money that accidently ended up in her pocket, but she said it turns out it doesn't work in the real world!
The next question was about dying their hair for the movies. James revealed that not only did they have to dye their hair,  it had to be done every three weeks! You know we'll be using that as a trivia question in the future! He said the worst part was dying their eyebrows. James had no trouble with it, but an intern once dyed Oliver's eyebrows, left the bleach on too long, and it burned off his entire brows so they had to be drawn on.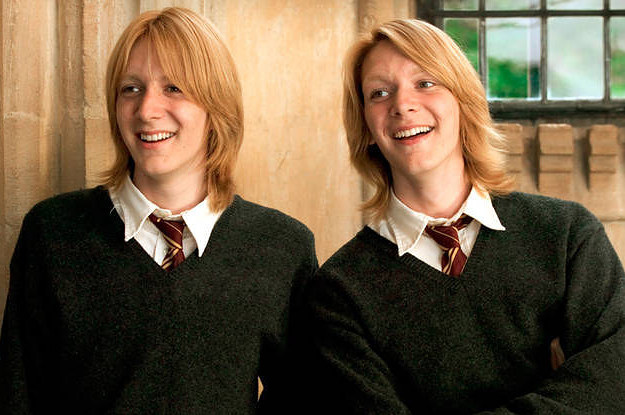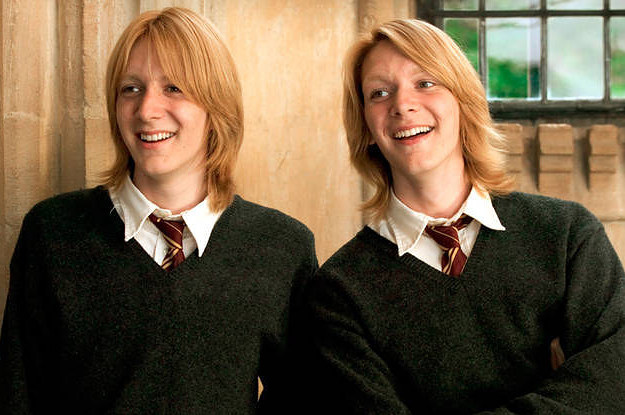 Next it was Leaky's turn to pose a Wizarding World question to the trio. We asked how they would like to see the Weasley family tree fit into the Fantastic Beasts series; might we see a young Auntie Muriel or Great Aunt Tessie in her dress robes, and who would they like to see play the role. It didn't seem they were too well versed yet on the prequel series, but Bonnie replied for the group,
"I think it would be cool to have some of the Weasley family in the series and I like the way there's certain things woven in with the history of certain characters that will explain certain relationships like Dumbledore's relationship was really explained in the last film, but I also quite like, I'm more interested personally in the new characters that are coming through ,because it's a whole new world. It deepens the whole magical world. I really like the newness of it and it's so nice from being so in the world, it's quite nice being an audience member just experiencing it and watching it without any knowledge."
We had hoped they wanted to talk a little theory, but we can understand their perspective as well.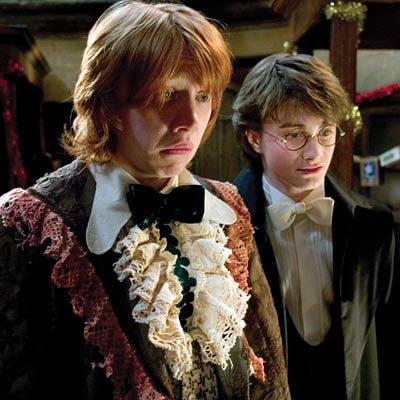 The next attendee asked about which part the three originally auditioned for and if they attempted to win a certain role in the film. Bonnie said she was definitely going for Ginny and James dryly said so was he! She also said that Jenny didn't have any lines originally, so when she went into audition, she had to read Hermione's lines. James and Oliver didn't know who was going to play Fred or George until the day of the first all cast read through of the script. Five minutes before, they asked the casting director who was going to play which character. She went around the table and talked with director Chris Columbus, producer David Heyman and J.K. Rowling and returned with,
"James you're Fred and Oliver you're George".
They had no idea how the decision was made, perhaps by the flip of a coin!
Before the next question could be asked, there was a problem with the microphone and James graciously hopped off the stage and handed his mic to the participant. She asked what the actors relationships are like with the other cast members, since they spent so much time together, to which Bonnie kiddlingly replied,
"I only like Weasley cast members."
Then she went on to say,
"it was just like schoolmates that you have in school that share this specific, unique experience. There's something so beautiful in the sense that we shared something often quite difficult to explain to other people so from finishing the films and coming out with a new perspective after reflecting back, it's really nice to see each other because you have that shared experience that doesn't need explaining. We (the Weasleys) spent a lot of time in the Burrow".
She said that she was good friends still with Evanna Lynch who played Luna Lovegood and Katie Leung, Cho Chang. Via Instagram we also saw that last year she attended the wedding of Afshan Azad who played Padma Patil.
Oliver said that it's like a big class in school, but there are different friendship groups within that class. He said Bonnie and her group would be over doing "cool, sensible, artistic things" and Rupert and he and James would be someplace else doing really silly things. He continued,
"At one point they gave us a dartboard just to keep in this one dressing room and we would practice darts, which was all great until Rupert walked in one day with a crossbow and said he was there to play with that which was, I'm pretty sure, the day J.K. Rowling came in the room and Rupert said, 'We've got a crossbow. Let's play darts.'"
Think J.K. Rowling remembers that one? We can't even imagine the shenanigans that went on!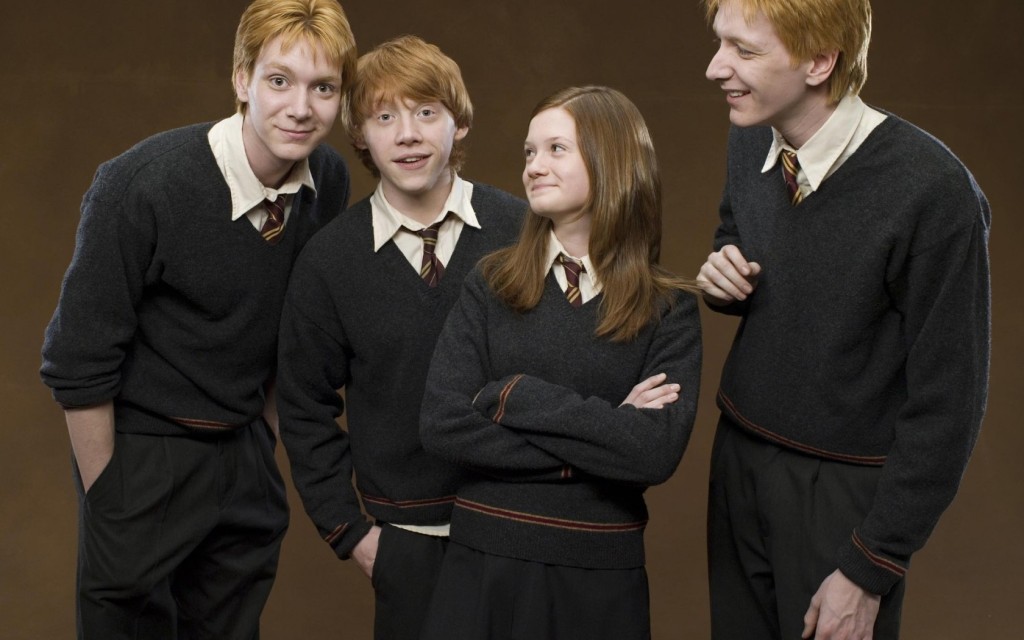 The next person in line had recently visited Warner Bros. Studio Tour London and asked about the actors favorite sets from the films. Oliver said his was Weasley's Wizard and Wheezes. He explained that sometimes the interior and exterior sets from the same scene are separate, but the joke shop was all one set, which made it feel very realistic.
James said that he really loved the Great Hall. When Harry walks into the Great Hall for the first time in the film, it felt exactly like that for them onset. And no surprise here; when it was empty they would use it to play football/soccer.
To the same question Bonnie responded,
"Stuart Craig the designer is so talented. We were really really lucky because not much imagination ever had to be used. Everything was so well designed. For me, because of the significance for my character the Chamber of Secrets, even though I pretty much just lay on the floor dead, I felt quite fully spooked out as a kid, so the set did its job there. The Burrow I loved because every year they would make some additions to it. It was always kind of a character in itself that was always evolving and changing and there was not one straight line in the house. Everything is slightly slanting."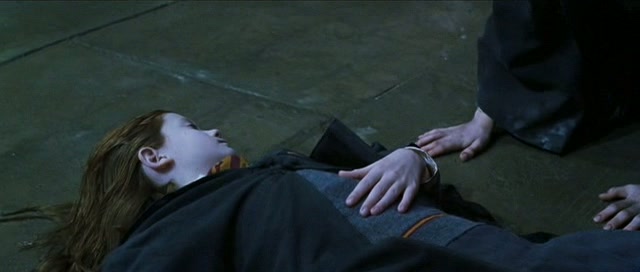 The trio were asked about offset activities in between scenes. They mentioned that when they were younger, they had a full game room and Oliver recalled,
"I remember being hustled by Emma Watson in table tennis. She would show up and just murder everyone. It was pretty soul destroying."
Could table tennis be a missing Horcrux? What about Hermione??
The next attendee asked which movies were their favorites. Oliver said Goblet of Fire because they moved quickly from scene to scene and were introduced to the new Triwizard Champion actors who were all close in age to the twins. James said Prisoner of Azkaban because of the Marauders Map scene, and Bonnie said she really enjoyed filming the Battle of Hogwarts because is required many of the actors from the previous films to return to the studio.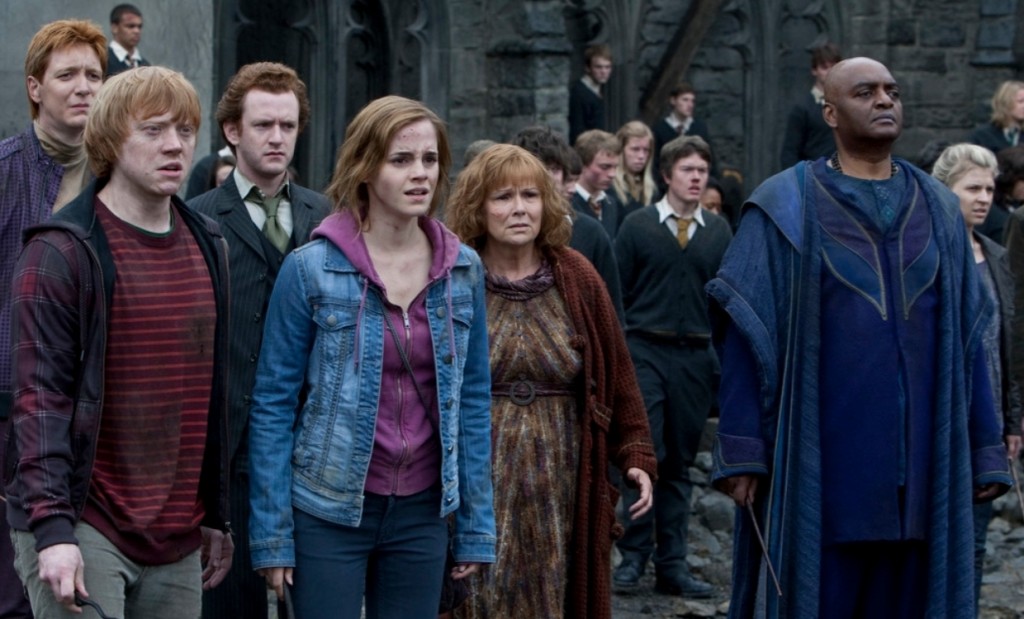 The next question came from a twin who said that they grew up pulling a lot of pranks, which opened up the chance for James and Oliver to tell some stories. They had a pair of walkie-talkies onset and this is how they decided to use them one day according to Oliver,
We realized they were doing a building site over the road from the studios. British Telecom were building some new office buildings about half a mile away and these walkie-talkies could actually reach that building site and we figured out what the network frequency that they were on was, so we were messing around and I'm to blame you for the main part (pointing to James) We were just messing around saying, 'What's going on over there?' and I swear it was you that came on (looking at Bonnie) and said, 'You can go home now guys, thanks greatly.' about midday on a Friday, so you hear everyone saying, 'Oh great, okay' and then ,'Who the bleeep is on this circuit?' and we were pretty sure if we said the Weasley's did it, he wouldn't know what we were going on about."
And we thought these guys were acting when they played Fred and George!
The next question was about their careers and what they would like to do now if they hadn't chosen acting.
Oliver said that he loved doing things like this; meeting new people, traveling to different places, and eating really good barbecue, which happens to be a Kansas City staple. They went to see a college basketball game and some other sightseeing, so doing things that they can only do in this part of the world.
James said when he was a kid he wanted to be a fireman and Bonnie said that she would be a director, which is the path her career has taken since Potter. She also mentioned that she loves production design. The host asked if Bonnie developed those passions during Harry Potter, to which she replied,
"We had such a huge crew, much that you don't obviously get to know so much about, that were so giving of their time and also talented with what they do. All of the craftsmanship that went into the films and why they look so good and why we love the world so much is because of the people that went into the work. When I wasn't catching up on schoolwork and the hours I wasn't shooting, in my summers, I sometimes did something like work experience with the crews, so I worked with the editors, the production designer, the costume designer, the creature effects that do Dobby and everything. Before I went to film school that was my little film school. I was super curious to understand all of the elements that went into making the films and that's kind of why I do what I do now."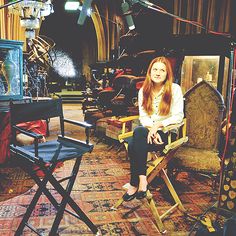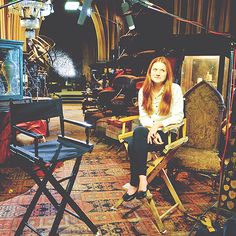 At this point James and Oliver decided it was time to stretch their legs for the last round of questions. Bonnie said she was afraid they were going to pour a pitcher of water on her head when they got up from the couch. After many of the stories we heard, we were less than surprised she felt that way! The three were quizzed on their favorite book, favorite character to be on screen with, and Hogwarts Houses; more info to expect on Leaky trivia polls to come!
Books:
Bonnie: Order of the Phoenix
Oliver:  Goblet of Fire
James: Prisoner of Azkaban
Character:
Bonnie: Mrs. Weasley
Oliver: Fred
James: Death Eater #2 –really George
Hogwarts House:
Bonnie: Gryffindor
Oliver: Gryffindor
James: Hufflepuff, said to deafening cheers from the Badger in the house! James was the only one to find out his Patronus which is an Osprey.
Then someone inquired about the most interesting thing they've had been asked to sign. Bonnie answered,
"It's quite scary when someone asks you to sign their arm and then they say they're going to go have it tattooed straight away. I always ask, 'Are you sure?'"
She also said that it was really weird to see the cast's faces tattooed on fans.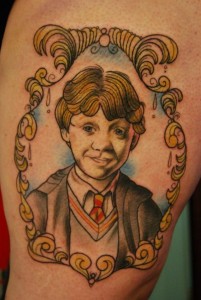 James said one day they received a very heavy box in their fan mail and it said, "please sign and return" and they opened it and it was actually a watermelon!
As we neared the end of the session, someone asked what the best part of being a Weasley was, and James answered,
"Having a great sister like Bonnie"
Bonnie retorted,
"Having all the brothers in the world you could possibly have."
Bonnie said that she liked that they had so many more scenes because they were in the Weasley family,
"It was amazing being a Hogwarts student, but the fact that we got all the Weasley scenes was kind of a bonus."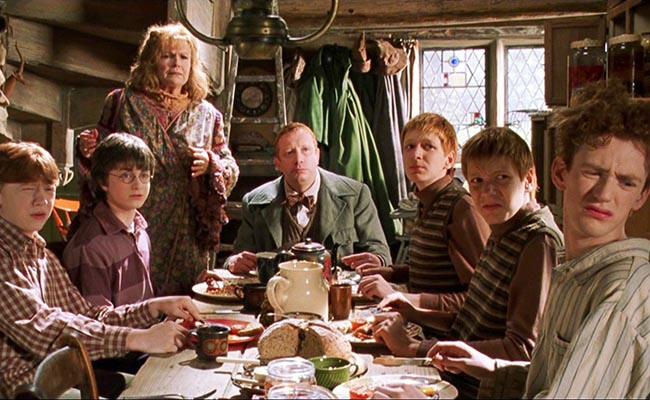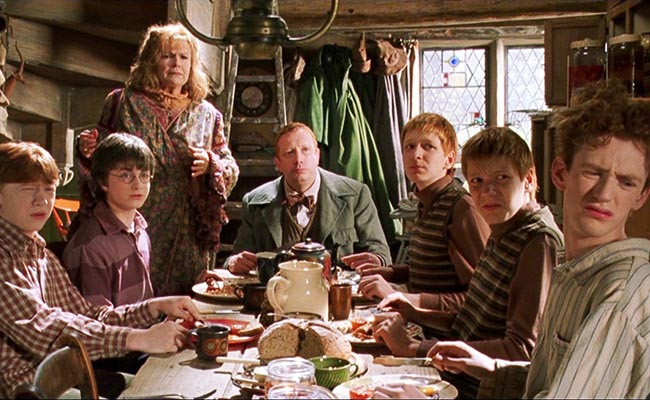 Oliver said that now when he's in public, people perceive the Weasley's as being very approachable, so they can chat with fans, but when they're out with Tom Felton, fans aren't as nice to him. Based on Tom's huge social media following, we're guessing that's probably not really the case, but it made for a pretty funny answer.
The next question was how they use their massive platform as a positive force in the world, which gave Bonnie the opportunity to talk to the group about her work as an environmental activist and promoting the decrease of single use plastics. In her words,
"…to inspire people to create a bit less waste and live in a more circular economy."
She said that of all the campaigns she's worked on, that this issue has received the most attention and most positive response and that social media has been a very powerful tool for the cause.
The last question of the panel was appropriately enough about Fred's death scene. Oliver said that they were in Japan when the last book was released. When he reached the "Seven Potters" chapter and George lost his ear, Oliver thought to himself, "things could've been a lot worse."  eyeing his brother.
Then James shared that he was riding on the bullet train in Japan when he got to the death scene and explained that he was in shock because of the scene itself, and "in shock at how in shock I was." At that point the conductor was trying to take his ticket and James responded,
"Mate I just died here, give me a minute!"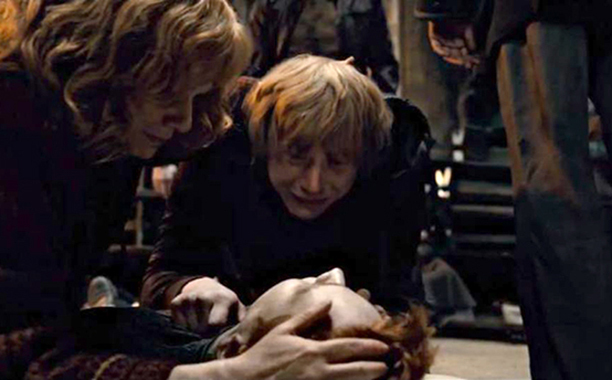 On that note the session wrapped up and our spellbinding experience came to an end. After the panel, the three Weasley siblings had this to say to their Planet Comic Con fans:
A special message from the #Weasley family! #pckc #planetcomicon #kansascity #potter #weasley pic.twitter.com/vLoDUXD9C0

— Planet Comicon (@PlanetComicon) March 31, 2019
And Oliver had his own message to convey to the No-Majs he met in Kansas City,
Thank you so much everyone in Kansas City who I met this past weekend. I hope you can understand what meeting such kind and happy faces means to me. You're all awesome and have filled my soul with joy. x?

— Oliver Phelps (@OliverPhelps) March 31, 2019
Thank you Bonnie Wright, James and Oliver Phelps, and Planet Comicon for a most magical weekend. We look forward to taking that ride back up the moving staircase next year and entering this extraordinary world again. We'll keep our fingers crossed that more wizards will make their way to the Midwest in 2020!