Harry Potter: The Exhibition opens in Valencia, Spain today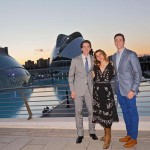 Apr 13, 2019
For its 20th stop on its worldwide tour, Harry Potter: The Exhibition opens at the Museu de les Ciències at La Ciutat de Les Arts i Les Ciències in Valencia, Spain starting April 13, 2019.  You can purchase tickets here.
This is the exhibition's second sojourn in Spain, its having visited Madrid in 2017.  Over 5 million people have seen the exhibition as it has made its way around the world since its premiere in Chicago in 2009.  Cities visited thus far include: Boston, Toronto, Seattle, New York, Sydney, Singapore, Tokyo, Edmonton, Sweden, Cologne, Paris, Shanghai, Brussels, Madrid, Amsterdam, Milan, and Berlin.  Over 460,000 people saw the exhibit in Madrid, and organisers anticipate the Valencia location will be just as popular.  Robin Stapley, Vice President Design and Creative at GES Events, which created the 1,500-square-meter experiential exhibition, said:
"We are excited that the twentieth tour stop of Harry Potter: The Exhibition will be in the beautiful city of Valencia.  The exhibition was a great success in Madrid and we hope fans new and old will have a chance to visit this exhibition and relive their favorite moments from the films."
The exhibition starts with a sorting hat experience, and then moves into exhibit rooms that replicate famous locations from the films, including the Gryffindor common room and boys' dormitory; classrooms including Potions and Herbology; and even the Forbidden Forest.  Each location is filled with authentic props, costumes, and creatures used in the films.
The exhibit includes several interactive elements.  You can toss a Quaffle ball in the Quidditch area, pull up a squealing Mandrake in the Herbology classroom vignette, and even tour a re-creation of Hagrid's hut and sit in his enormous armchair.  An audio tour is also available, which features behind-the-scenes commentary from the producers, prop designers, and costume and creature designers.  Timed entry tickets are required, which cost € 13,90 exclusive of  service charges.
Tonks (Natalia Tena), along with our favourite dynamic duo, Fred and George Weasley (James and Oliver Phelps) went to Spain to promote the exhibition.  Here they are being interviewed (in English) on La Resistencia:
Opening for the #harrypotterexhibition in Valencia was unforgettable. The Spanish fans sure know how to greet people from out of town! @ Ciutat de les Arts i les Ciències – Ciudad de las… https://t.co/1JA5NeTs6b

— Oliver Phelps (@OliverPhelps) April 12, 2019
Are you going?  Let us know in the comments and post to social media using the hashtags below.
Facebook: @harrypotterexpospain @CIUDADDELASARTESYLASCIENCIAS
Twitter: @harrypotterexpo @CACiencies
Instagram: @harrypotterexpo_spain_ @ciudadartesciencias
#HarryPotterExpoValencia #HarryPotterExpoCAC