Pottercast Ep 290: Accio Hagrid: Harry and the Potters on their New Album "Lumos"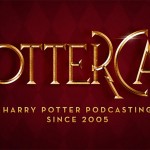 May 24, 2019
The fathers of Wizard Wrock, Paul and Joe DeGeorge of Harry and the Potters, joined Pottercast on their latest episode to share their brand new album Lumos and take a dive into the Pensieve with Melissa, John, Frak.
#290: Accio Hagrid (with Harry and the Potters!) @hatp https://t.co/aKcsNeYJjk pic.twitter.com/N4HseY8Luu

— PotterCast (@pottercast) May 22, 2019
Before getting a chance to hear a few cuts from the Deathly Hallows-inspired album, Melissa spends some time with Leaky senior editor Emma to talk the latest in Wizarding World news. As our readers know, the biggest event in the Potterverse recently was the reveal of the new Wizarding World Digital platform and the Wizarding Passports that went live last week. Emma gives the lowdown on what we know to date about the website and speculation on where it may head in the future. She also talks about Leaky's field trip to see Emma Watson in conversation with Dr. Denis Mukwege on dealing with sexual violence, as well as Fantastic Beasts Alison Sudol heading out on tour later this year with her new music.
Post news, Paul and Joe join the podcast trio and dig into the new album, the duo's first in 13 years, to hear clips from their new songs and share some background on the creative process. After you listen, tell us if you're not as curious to hear the track about fishing as we are. While taking the new disc for a spin, this group can't help but take a walk down Privet Drive too; Were you there for the first Leakycon in 2009? Raise your wand if you remember bacon grease??
To launch their new album Harry and the Potters held a Kickstarter with some pretty magical prizes and by the looks of it the campaign was a giant success:
WOWOWOW! Thank you so much! This record only exists because people keep coming to see us play and sharing our music with friends. We're very excited to bring this new album into the world and eternally grateful for your help in making that possible. ??THANK YOU ?? pic.twitter.com/Z6NedBPT4X — Harry & the Potters (@hatp) May 24, 2019
We'll have a chance to hear the new music in person later this year when Harry and the Potters join Draco and the Malfoys, Tonks and the Aurors and Lauren Fairweather wrock the mainstage at both Leakycons this year!
THE WROCK LINEUP IS HERE! Your favorite wizard rock bands are bringing the party to Friday night at LeakyCon Dallas and LeakyCon Boston!

? @hatp @laurenfairwx @TonksNtheAurors @datm ? pic.twitter.com/rKoBNMIrBw

— LeakyCon (@LeakyCon) May 21, 2019
Thanks to Paul and Joe DeGeorge for hanging out on the 290th episode of Pottercast. Their new album Lumos comes out June 21. Check out their tour schedule including Leakycon 9 ¾ in Dallas August 9-11 and Leakycon10 in Boston October 11-13!