'Harry Potter' Book Bearing Daniel Radcliffe's First Autograph Smashes Auction Estimate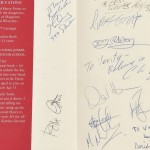 Jun 28, 2019
The hardback copy of Harry Potter and the Philosopher's Stone bearing Daniel Radcliffe's first autograph sold at Vectis Auctions in Thornaby, Stockton on Wednesday, June 26. When the hammer finally fell, the high bid came in at £2,600. Like a bludger to an unsuspecting chaser, the price smashed the initial estimate, coming in at over five times the projected £300-£500.
According to BBC.com, the buyer will also pay a 25 percent commission, bringing the Harry Potter lot's total to £3,250. The book and other memorabilia came to Vectis Auctions from original owner Verity, a young extra on the film adaptation of the book. She appeared in scenes in the North Yorkshire village of Goathland.
As previously reported by Leaky, she approached Radcliffe on set and struck up a conversation. Having the book with her, she eventually asked him for his signature. According to her account, he replied that it was his first ever autograph and happily complied with her request, writing: "To Veraty – best wishes – Daniel Radliffe."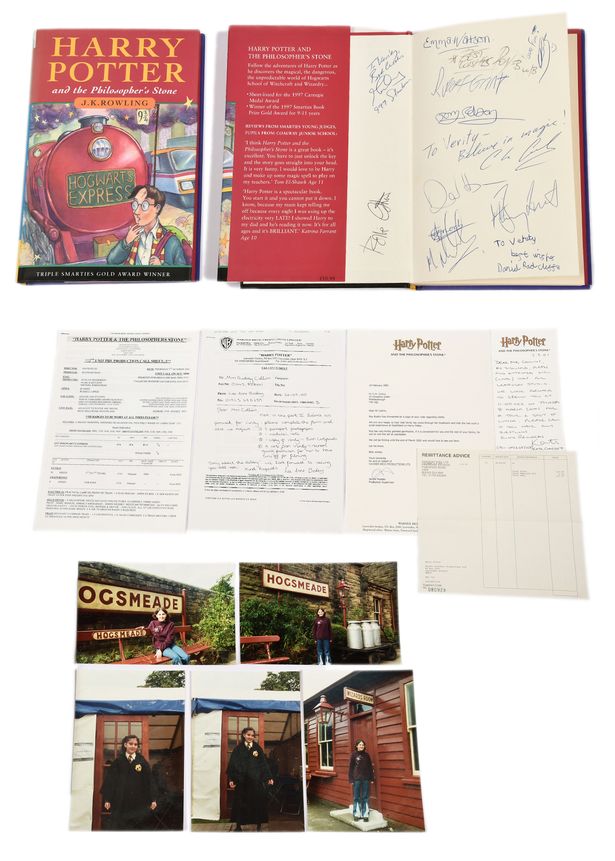 After news of the book broke, fellow Potter actor Chris Rankin, known for portraying Ron's older brother Percy Weasley, confirmed the authenticity of the claim in a tweet:
"I can confirm that I was there that day, and I'm 99% sure that the auto in the top right corner is mine. This was our first ever day filming. It is almost certain that none of us had signed a HP book before!"
In addition to Rankin's and Radcliffe's signatures, Verity acquired the autographs of director Chris Columbus, who advised, "Believe in Magic," Rupert Grint, who played Harry's best friend, Ron Weasley, Emma Watson, who portrayed third member of the Golden Trio, Hermione Granger, Tom Felton, instantly memorable as Slytherin Draco Malfoy, and Robbie Coltrane, beloved for his take on half-giant Hagrid, the Keeper of Keys and Grounds with a penchant for unusual and often dangerous magical creatures.
The lot was rounded out with cast sheet documents, filming instructions, photographs of Verity in her Hogwarts uniform, her payslip and a letter from Warner Bros. productions executive Roy Button inviting her to Leavesden Studios.
Read BBC's update on the auction here.