LeakyCon Boston Day Two: Celebrating 19 Years of Leaky, Interviews With Dan Fogler and Luke Youngblood and Chris Rankin Rocks Game Show Hosting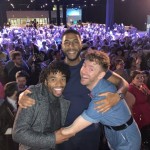 Oct 13, 2019
Leaky Con 2019 Boston opened at the Seaport World Trade Center Friday, and the unexpected Nor'easter sweeping the city couldn't dampen the joyful mood of fans here to celebrate Harry Potter and the spirit of love and strength his story embodies. Leaky Cauldron editors were all on hand to cover Day One, which opened with Stan Yanevski (Viktor Krum) on the MainStage, followed by a stirring Welcome Ceremony, a panel with Louis Cordice (Blaise Zabini), the "Podcasting with Potter" panel and many other inspiring panels of interest, and ended with a blazing Wizard Wrock concert featuring Lauren Fairweather, Draco and the Malfoys, Tonks and the Aurors and Harry and the Potters.
It was a magical opening day, and that magic still hung palpable in the air on Saturday as fans mingled in lobbies, elevators, stairways and eateries. The Marketplace was packed as soon as doors swung wide, and when Day Two's programming began at 10:15 a.m. with the "Wizarding World Actors" panel, the MainStage buzzed with excitement.
Moderators Melissa Anelli, John Noe and Frankie Franco were joined by Chris Rankin (Percy Weasley), Luke Youngblood (Lee Jordan), Stan Yanevski (Viktor Krum), Louis Cordice (Blaise Zabini) and Dan Fogler (Jacob Kowalski).
They're here! (@mrdanfogler just tried to walk through the Diagon Alley brick wall ? #leakycon@leakyconpic.twitter.com/7JTBz9L0f3

— The Leaky Cauldron @ LeakyCon ?? (@leaky) October 12, 2019
Anelli opened by asking the actors if they were enjoying Boston. Youngblood started to speak up and then stopped himself, saying he always speaks first, then he went ahead and commented on the weather anyway, likening it to England with a nostalgic: "This feels like home!"
Quickly bringing the conversation around to Potter, Anelli asked the actors to confirm their Hogwarts houses before moving on to discuss current projects. Fogler, of course, is currently shooting The Walking Dead! Unfortunately, he couldn't tell us anything about that. Youngblood, likewise, indicated that the details of his work have to be kept under wraps as well, but he did reveal that he has seven voiceover projects underway–and at least one is connected to a big franchise that fans will be very excited about!
Anelli turned the discussion back to wizarding world, prompting the actors to talk about their current relationship with Harry Potter. Rankin commented thoughtfully:
"It matures I think. I've been doing this a long time. I've probably met every single one of you before…2011 was the last film. I've just started rereading the books for the first time in forever. I haven't read them since filming.

"…And it's really interesting to see that it's still as good as I remember it being. But I'm noticing different things now that I'm 35, not 14. But it's great. It's still there and it's still relevant."
Rankin didn't stop there, however, and took the opportunity to raise the critical, enduring questions inspired by the book series, such as why wizards don't use regular pens? Why don't they learn math? Why don't all the muggle-born wizards bring their pop music to Hogwarts? Why isn't there any electricity?! (He's clearly spent A LOT of time thinking about this…)
Anelli also raised the question of fanfic–for the benefit of Yanevski, who hilariously described the "after-midnight" fanfiction that exists about Hermione and Viktor Krum–and Rankin chimed in.
It was about Scorpius Malfoy and Percy Weasley… I read it aloud in its entirety. (Had you read it aloud beforehand?) Chris: Nope. ? This was @mrdanfogler's face the whole time ? #leakyconpic.twitter.com/I09ZuoLtjq

— The Leaky Cauldron @ LeakyCon ?? (@leaky) October 12, 2019
Fantastic Beasts 3 DID come up. Fogler had no secrets to divulge other than to confirm that they begin filming in February! He did say:
"Last we heard, [J.K. Rowling's] been writing furiously. Everyone was really happy with what she submitted and we're just waiting for the new script." 
He also acknowledged his recent weightloss and speculated on how that might fight into the plot of the upcoming film, musing:
"I've lost a significant amount of weight…so I think it'd be funny if, you know how [Queenie] put a spell on me to follow her? What if she also put a spell on me to get fit and forgot to take it off?"

"[Or] it would be interesting if, we're in the middle of the Depression, what if he's on a bender of loss? He's lost his appetite."
Other highlights included Youngblood addressing the Lee/McGonagall ship, and Rankin sharing some deep thoughts on Percy Weasley's motivations.
. @melissaanelli just asked @luke_youngblood about @hpsacredtext's Lee / McGonagall ship: 'I mean, I wouldn't put it out of the question. Who knows what they were talking about in that tower before the games started…' #leakycon pic.twitter.com/zKk62KkWwY

— The Leaky Cauldron @ LeakyCon ?? (@leaky) October 12, 2019
'He works really hard to be as good as his brothers…Percy has a really ambitious streak. I think he struggles with the difference between right and power, good and power.' @leakyconpic.twitter.com/nhpB6YULRO

— The Leaky Cauldron @ LeakyCon ?? (@leaky) October 12, 2019
Taking us further behind the scenes of the series, Rankin leaked some secrets about the first film and the stench onset after food in the Great Hall sat out for three weeks in order to maintain continuity. They drilled holes into the tables and installed a steam machine to make it appear "fresh and piping hot." Cordice added that they kept re-oiling the turkey! (That sounds anything but magical…)
Taking the series in another direction, Anelli asked the actors to elaborate on expansion ideas, and Rankin mentioned that he and the other Weasley actors always thought it would be marvelous to have an old-fashioned family sitcom. (He's clearly thought about this, too!)
Youngblood thought a series on Lee Jordan and the Weasley twins could gain traction, and Cordice suggested a "Black Widow" storyline that included his mum.
Finally, Cordice and Rankin reflected on the legacy of Potter and what it means to them personally.
. @chrisrankin : I mean, 20 years on, essentially, we are in a room in Boston with thousands of people, and that's remarkable. How many things do that in life? #leakycon@leakyconpic.twitter.com/1h5AIpqWBt

— The Leaky Cauldron @ LeakyCon ?? (@leaky) October 12, 2019
Meanwhile, Leaky editor Amanda Kirk stopped by the "Marauder's Maps and Forbidden Forests: A Conversation on What Harry Potter Can Teach Us" panel.
Which character inspires you the most? Luna, Hermione & McGonagall were popular answers at the "A Conversation on What Harry Potter can Teach Us" panel @LeakyCon 2019 Boston.
Who inspires you? Tell us in the comments. pic.twitter.com/muGBnbYtzS

— The Leaky Cauldron @ LeakyCon ?? (@leaky) October 12, 2019
Senior editor Emma Pocock and resident social media guru and editor Kim McChesney attended the "Snitchwiches Infomercial" panel–which was exactly what it sounds like!
Thanks to @hatp & cast for bringing pure Chaotic Energy to @leakycon with the 5* @Snitchwiches informerical! ??? #leakycon pic.twitter.com/1NVWAUo9nU

— The Leaky Cauldron @ LeakyCon ?? (@leaky) October 12, 2019
'If you still want to learn more about @Snitchwiches… if you aren't satisfied with an hour's worth of content, there could be a feature length documentary in your future!' ? #leakyconpic.twitter.com/PlQbzBOkH1

— The Leaky Cauldron @ LeakyCon ?? (@leaky) October 12, 2019
Leaky editor Dawn Johnson apparated over to the "Wandlore: An Ancient and Mysterious Magic" panel to hear the maker of Hungarian wands, Greg Laslo, discuss mythology, wand woods and properties, theories and more! Of particular interest was a discussion on inherited wands and the comparison between the magical prowess of Ron Weasley and Neville Longbottom before and after getting new wands matched and suited to them.
As for theories, Laslo's got plenty! For starters, he thinks Dumbledore probably used the Elder wand to help "fix" Hagrid's wand and help him out. He also believes the wand doesn't just choose the wizard, it also chooses how it's going to look, explaining that, as a wandmaker, you can't force it into a particular design because you have to consider knots, density and other inherent properties to determine it's shape.
Perhaps the most interesting question that came out of the panel was whether Snape had two wands! He called one the "help Harry" wand and the second Snape's "do everything else" wand because, as a double agent, Voldemort could have used Snape's wand to fact-check his accounts.
Kirk also attended a special event for Transfiguring Adoption with sponsor Chris Rankin. Rankin was adopted himself and brought some children currently in foster care or the adoption process to LeakyCon 2019 Boston to be sorted into their Hogwarts houses! He offered encouragement, moral support, empathy and gave the kids pins telling them that they've "met the 7th best Weasley." (We think you're selling yourself short, Percy!)
Foster & adoptive children get their turn w/the Sorting Hat at the @TransfigurAdopt event @LeakyCon. @chrisrankin asks what house they are in & signs their badges. Chris was adopted himself so he has a special connection with these little witches & wizards. pic.twitter.com/5dcIcGeSw9

— The Leaky Cauldron @ LeakyCon ?? (@leaky) October 12, 2019
At the "Decreasing World Suck: Fan Activism Across the Globe" panel, Kirk also heard about how Harry Potter inspires change around the world.
Learning about how #HarryPotter inspires positive change around the world at "Decreasing World Suck: Fan Activism Across the Globe" led by Dr. Adrielle Mitchell.

"We have the gift of touching anything and converting it into something beneficial…" pic.twitter.com/WwR8UYyKtt

— The Leaky Cauldron @ LeakyCon ?? (@leaky) October 12, 2019
Then we had a fantastic one-on-one interview with Dan Fogler, and the continuing beastly weather couldn't dampen our spirits!
Guess who we just interviewed ? Find out more in our exclusive interview with @mrdanfogler, coming soon! ??? #leakyconhttps://t.co/jH1I6lljEW

— The Leaky Cauldron @ LeakyCon ?? (@leaky) October 12, 2019
We discussed the connection between the Fantastic Beast series and other multi-part franchises like Star Wars, venturing to suggest that the fandom may be kinder to Crimes of Grindelwald, as a "middle film," after the five-part series is complete and the whole story comes together–in much the same way that fan response to Empire Strikes Back was much more positive after the release of Return of the Jedi.
We brought up comments made in the morning actors' panel in which Fogler said that getting the part of Jacob was the "miracle" he'd been wishing for, hoping he could land a job that would provide more stability for the sake of his family. Feeling that sense of desperation and need for stability, the need for a miracle moment that would provide direction and purpose, was also a connection that Fogler could make with the character of Jacob Kowalski, who also genuinely needed his own "miracle moment."
The interview touched on The Walking Dead and on the Christmas album that was originally due to release last year. Fogler explained that they decided to hold the album for a time when it wasn't competing with the films and was less likely to be overshadowed. Hopefully, we'll soon hear news of a Christmas release!
Look for video of the full interview on our social media channels soon!
Following our chat with Fogler, we made our way to the Harborview Ballroom for the "How Harry Potter Influenced Us" panel featuring authors Melissa Anellia, Claudia Gray, Mark Oshiro, Jackson Bird and Preeto Chhibber.
Time for the How Harry Potter Influenced Us session with @jackisnotabird@claudiagray, @runwithskizzers@MarkDoesStuff and @melissaanelli! ??? #leakyconpic.twitter.com/bbYl3LBhVL

— The Leaky Cauldron @ LeakyCon ?? (@leaky) October 12, 2019
Anelli began the discussion asking the other authors to relate how they discovered the Harry Potter books. Claudia Gray recounted how she got hooked on the series:
"I was in grad school at the time Prisoner of Azkaban was coming out. It was in EW. It wasn't on the front page, it was in the book section!… I had some spare time, read Harry Potter and there was this huge twist… in a kid's book?"
Jackson Bird had different reasons for picking up the book, but found it no less compelling. He said:
"What really got me was an interview with the kid who played Anakin Skywalker in the Nickelodeon where he said his favorite book was Harry Potter and the Sorcerer's Stone, so that's what I got at the next Scholastic book fair!"
Mark Oshiro came to the series later on but has no problem admitting now that he's glad his preconceptions were unfounded!
'I got to experience the Harry Potter fandom after it was done…I loved being wrong about what I thought the books were.' ?? – @MarkDoesStuff#leakyconpic.twitter.com/7CTpZgjt2J

— The Leaky Cauldron @ LeakyCon ?? (@leaky) October 12, 2019
They continued to discuss the impact of Harry Potter, touching on political and social lessons learned in Potter and how progressive the fandom community has become.
'"I'm not sure there is any other community doing it at the same level as the Harry Potter community does. Any fandom is always going to be more progressive than its creators. Once it's out in the world, you can't control what other people bring to the text." – @MarkDoesStuffpic.twitter.com/COLDRYKMIA

— The Leaky Cauldron @ LeakyCon ?? (@leaky) October 12, 2019
The authors agreed that Harry Potter was, and is, a cultural movement, dealing with deep topics like death, trauma, bullying and oppression in a way that children can process, and the messages and story-telling create stories they are willing to read regardless of length. The books revolutionized children's literature, for the better!
Next up, we were pleased to sit down with Luke Youngblood for a more in-depth chat about his upcoming projects and his experiences as Lee Jordan and with the wizarding world as a whole.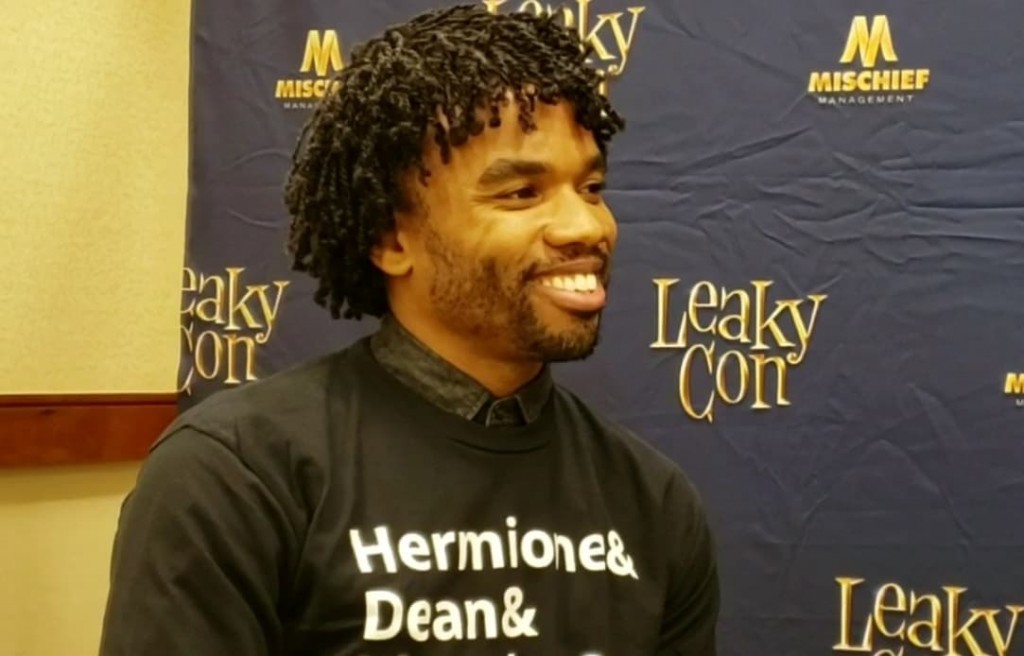 We got Youngblood to give us a sample of his voiceover work and heard from "Do," an adorable little owl. He reiterated how excited we will be to see his voiceover work unfold over the next year or so; it includes five works of animation and two other projects.
Turning the conversation back to Lee Jordan, we talked about onset pranks with James and Oliver Phelps and the potential in a Lee Jordan/Weasley twin spinoff before suggesting Potterwatch might also provide some excellent source material for an expanded backstory. We also asked Youngblood to explain what about the character of Lee Jordan he relates to the most, and he said, by far, he most closely relates to Jordan's outspoken nature.
We talked about Youngblood's experience with LeakyCon and Universal, and he shared that his favorite part of the Wizarding World of Harry Potter in Orlando is the queue to Forbidden Journey. He confirmed that it is so rich in detail that the castle queue immerses him into the world as if he were on the original set.
Finally, we asked him what other franchises peak his interest. In much the same way that Fogler has a love for Star Wars, Youngblood revealed that he has an enduring affection for the Jurassic Park series and finds the tagline "Six million years in the making…" especially compelling. (And we have to agree, it's a good one!)
Look for video of the full interview on our social media channels soon!
After concluding our delightful interview with Youngblood, we rushed back to the MainStage where Chris Rankin had taken up his post (an unexpected one at that!) acting as host of the "Name That Character" panel, also known as "The Ultimate PotterCast/MuggleCast Showdown."
. @chrisrankin (in his @TheHPAlliance T-shirt???) is hosting the @pottercast@mugglecast showdown on the mainstage, joined by @louiscordice (and @Snitchwiches). ? pic.twitter.com/ XKMND9WWrp

— The Leaky Cauldron @ LeakyCon ?? (@leaky) October 12, 2019
In the first round, the two teams battled over their ability to identify Potter characters. In the second round, they played "Wizarding Feud," and in the third round of the showdown they played a modified version of Fishbowl, selecting topics for an on-the-spot three-minute podcast.
MuggleCast, along with special guest Louis Cordice, improvised a podcast on candlesticks and poptarts, while Pottercast had to combine a "decent lobster bisque" with pumpkin pasties. PotterCast won the approval of the crowd and came away with 197 points to MuggleCast's 54!
I'm so grateful that @mugglecast were such great sports at our showdown @leakycon with @PotterCast today – that was a ton of fun and we should do it more ??? @mjtbaum@spielerman@jnoe@frakfraco

— Melisscare An-owl-i ? ? @LeakyCon! (@melissaanelli) October 12, 2019
Finally, it was time for members of the Leaky editorial staff to converge in the Cityview Ballroom for our own "19 Years Later" panel!
?? L'équipe de @leaky parle du site, qui se fait vieillissant à l'approche de ses 20ans… Ça vous rappelle un autre site ? ? #HarryPotter#harrypotterfansitepic.twitter.com/KsGQ46ecun

— Gazette du Sorcier (@GazetteSorcier) October 12, 2019
Leaky Cauldron founders and co-owners Melissa Anelli and John Noe joined senior editor Emma Pocock, editors Kim McChesney, Dawn Johnson and Amanda Kirk, contributing artist Sydney Dean and writer and videographer Lauren Osborne to discuss the enduring fansite, taking attendees on a journey from where it began to where it's going in the future.
Anelli and Noe reminisced about the earlier years of the site and what it was like covering the book releases, prompting us to speak about our own experiences covering big reveals, such as the Times Square rebranding campaign for Cursed Child. This also led to the big reveal that Leaky Cauldron is getting a new look–check out these pins!
The Leaky Cauldron team hosted a panel on the history of Leaky and thoughts on the future of fansites at @leakycon, and shared our big news: Leaky is getting a 20th Birthday relaunch! ? Thanks to all for coming, and look out for updates over the next year! ? #leakthesecrets pic.twitter.com/YQhJjp8uxQ

— The Leaky Cauldron @ LeakyCon ?? (@leaky) October 13, 2019
We discussed our approach to maintaining integrity in reporting while also providing the entertaining, reliable coverage fans have come to value from Leaky. Fans shared some of their own memories of the website, while telling us about aspects of the site they would like to bring back!
Finally, we each shared our major point of connection with the Harry Potter series, whether it was love for a particular character or the way certain themes, like mortality, love and friendship, challenge and engage us to fond memories sharing Potter with friends and family at a point in life when that was really special, and needed.
It was a wonderful reunion of colleagues and an encouraging time with readers, just the kind of magical connection with the Potter community that LeakyCon taps into so well, and the perfect lead-in to the night's closing Esther Earl Ball.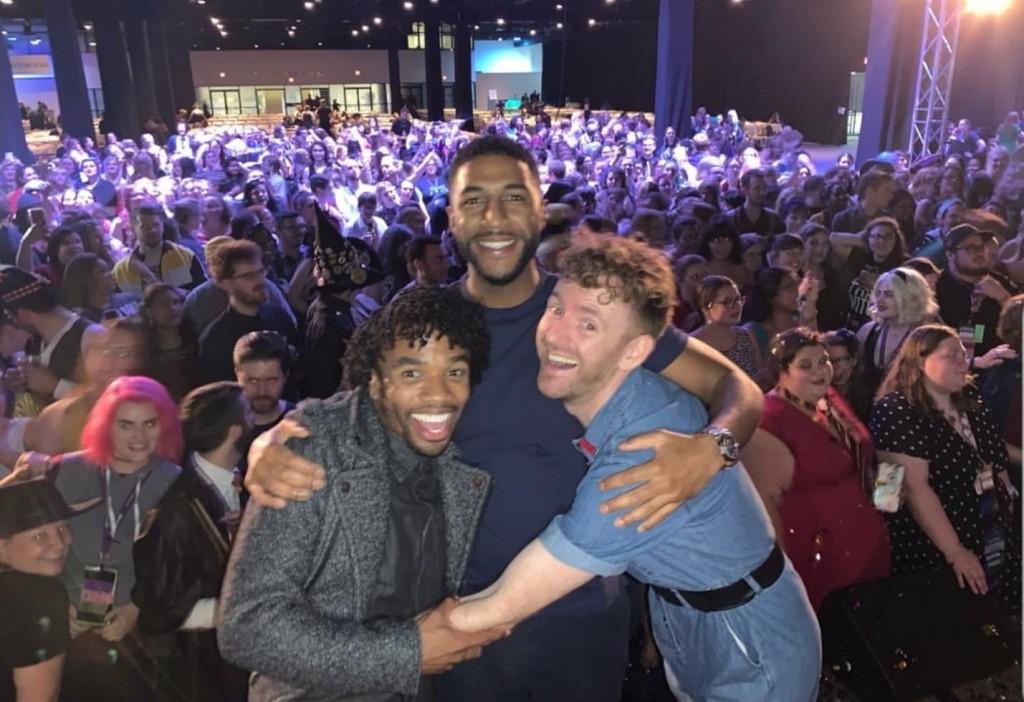 At 8:00 p.m. fans decked in their finest cosplay and dress converged on the MainStage, cleared of chairs to serve as a dance floor. For the next three-and-a-half hours, fans mingled, laughed and rocked the night away. Even Harry Potter stars Luke Youngblood, Louis Cordice and Chris Rankin joined the masses in celebration of Esther Earl and the Potter fandom. 
We're rocking the night away at the @leakycon Esther Earl Rocking Charity Ball ???????? #leakycon pic.twitter.com/fDxWcTzcG0

— The Leaky Cauldron @ LeakyCon ?? (@leaky) October 13, 2019
Minutes before 11:30 p.m., Mischief Management staff took to the stage, a LeakyCon tradition begun years ago, to lead the throngs of fans in a heartfelt rendition of "Total Eclipse of the Heart." When it was over, fans weren't satisfied with hearing the song just once and called for an encore with cries of "Again, again!" echoing through the room.
Nothing I can say… A total eclipse of the heart ??? #leakycon@chrisrankin@louiscordice@luke_youngblood@melissaanelli@MischiefMgmtpic.twitter.com/LdmEzmji1a

— The Leaky Cauldron @ LeakyCon ?? (@leaky) October 13, 2019
It was a stirring end to another magical day, and we'll be back at LeakyCon Boston Sunday for the third and final day of the convention, so stay tuned to all our social media platforms–Facebook, Twitter and Instagram–for the latest details on panels, interviews, copslay and merch. We will be covering a selection of panels, including MainStage panels with Luke Youngblood and Dan Foggler, the return of Potter Pals and much more!
Read our recap of LeakyCon Boston Day One here.