Jim Kay talks drawing magic from nature with the New York Times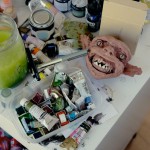 Nov 08, 2019
We originally got to know artist Jim Kay's work when he was chosen by J.K. Rowling to provide the illustrations for a new edition of the Harry Potter series.  This lavishly illustrated edition will be available in over 20 languages using the same art.  The first book in the series, Harry Potter and the Philosopher's Stone, was released in 2015, with over 100 illustrations drawn by Kay.  Harry Potter and the Chamber of Secrets followed in 2016, and Harry Potter and the Prisoner of Azkaban came out in 2017.  The illustrated edition of Harry Potter and the Goblet of Fire was just released in October, accompanied by a release tour, as reported by Leaky, and Kay is working on the art for Harry Potter and the Order of the Phoenix now.  He took a break from his easel to talk to the New York Times about his experience illustrating the magical and Muggle worlds.  Leaky was lucky to be able to interview him prior to the release of Prisoner of Azkaban, and Philosopber's Stone.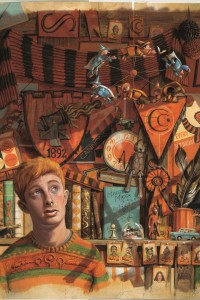 The interview took place in Kay's Sussex studio, which he explains is surrounded by National Trust land so he has plenty of wildlife around for inspiration.  He said he is particularly drawn to hares ("They're quite freaky looking") and crows ("They're straight from Edgar Allan Poe and Gothic horror").  He keeps a collection of toys in his studio that he has been accumulating since he was a child ("I've never grown up, that's the problem").
"I collect loads of leaves. I'm working on an illustration at the moment that's predominantly green. On the floor I have all these different leaves and acorns from oak trees around the garden."  It seems appropriate that the natural world stimulates Kay's creativity given its prominent role in the Potterverse.  Before he draws a magical creature that cannot be found in the Muggle world, he tries to "make it out of clay or plasticene. I'm not one of those illustrators who can pull stuff out of my head, I'm afraid. I'm not that good."  We beg to differ!  But Kay insists, "I really struggle with drawing, still, so it's great to have something in front of you."
Drawing characters who are well-known to most readers from the films is also a challenge foe Kay: "It was very difficult because I'm very fond of the films. The only way to do it was to start from scratch."
Read the full interview, and find out which character Kay finds most difficult to draw, here.