Weekly Round-Up: Helena Bonham Carter at 'The Crown' Premiere, Robert Pattinson on 'Batman' & More!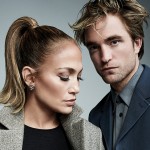 Nov 17, 2019
Holiday magic is beginning to appear worldwide. Warner Bros Studio Tour is getting ready for the Christmas season and the perfect gift for any Harry Potter fan, Wizarding World Gold, has launched. A Utah fan built his own miniature Hogwarts and Diagon Alley and the Hamburg cast of the Cursed Child was revealed.
This week in our Harry Potter and Fantastic Beasts Actors Round-Up Robert Pattinson talks The Lighthouse and Batman with Jennifer Lopez for Variety Studio: Actors on Actors, Helena Bonham Carter walks the red carpet at The Crown premiere, Gary Oldman signs on for AppleTV series Slow Horse, Evanna Lynch receives online innovation award, Ezra Miller is named one of Time's 100 Next, Dan Fogler drops a new podcast, a new trailer for Michael Gambon and more!
Robert Pattinson Featured in Actors on Actors
Robert Pattinson, Harry Potter's Cedric Diggory is featured in the season 11 lineup of Variety Studio: Actors on Actors. In his interview he sits down with Jennifer Lopez to swap questions and stories on their latest film projects. He asks her about the recent crime drama Hustlers, while she delves into making The Lighthouse and how he's chosen films since the Twilight series.
Pattinson said,
"I sort of fell into acting, so I've still got the mentality that any job might be your last one so if it's gonna be my last job I want it to be something I think is cool."
Lopez continued on asking about his choice to play DC's next Caped Crusader,
"With Batman, it's a strange one with me," Pattinson said. "Even my agent was like, really?"[…] "I was very, very focused on it, and I don't know why. It just kind of kept coming back into my head."
Don't miss Pattinson's full interview from Variety Studio: Actors on Actors below:

Helena Bonham Carter on on The Crown Red Carpet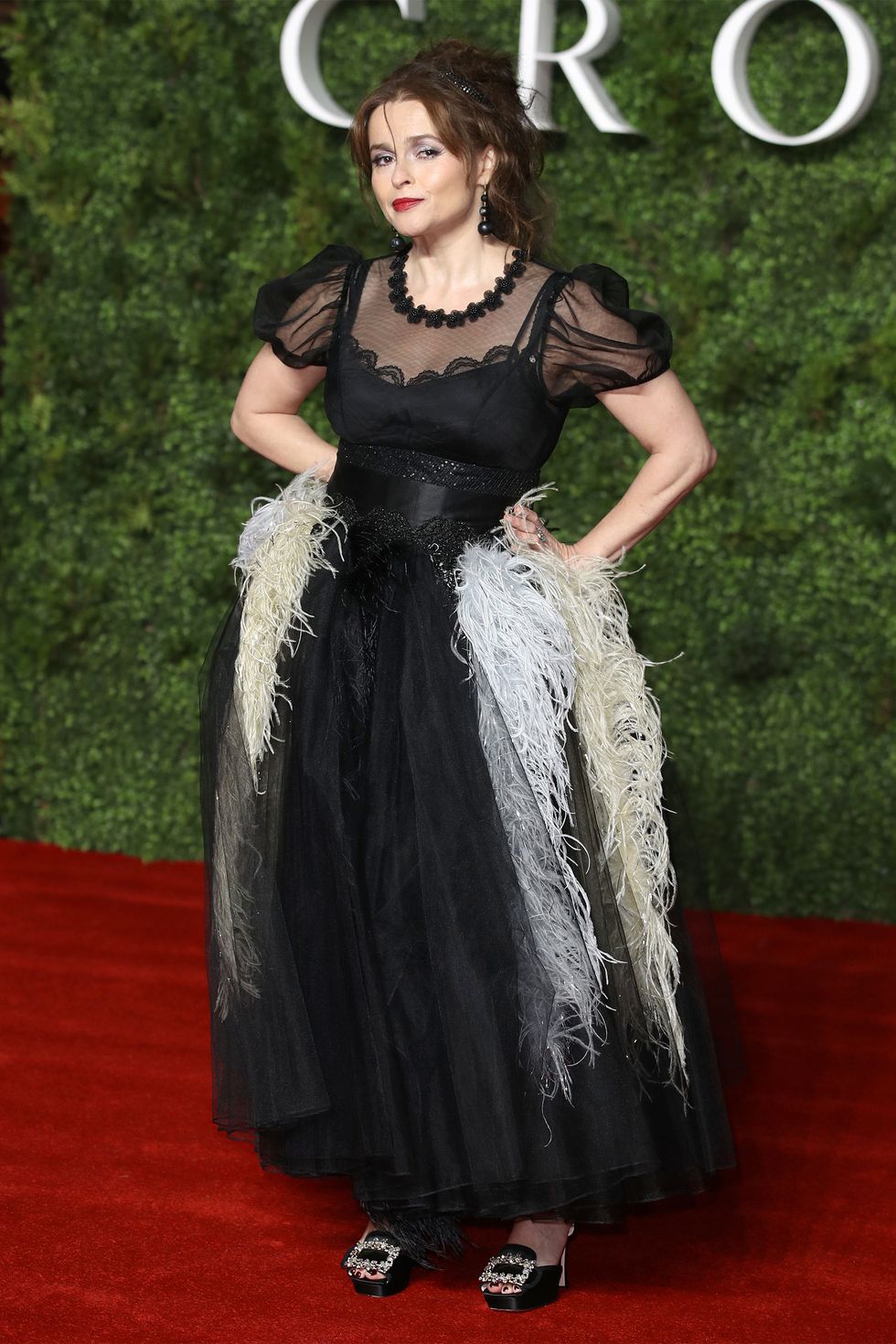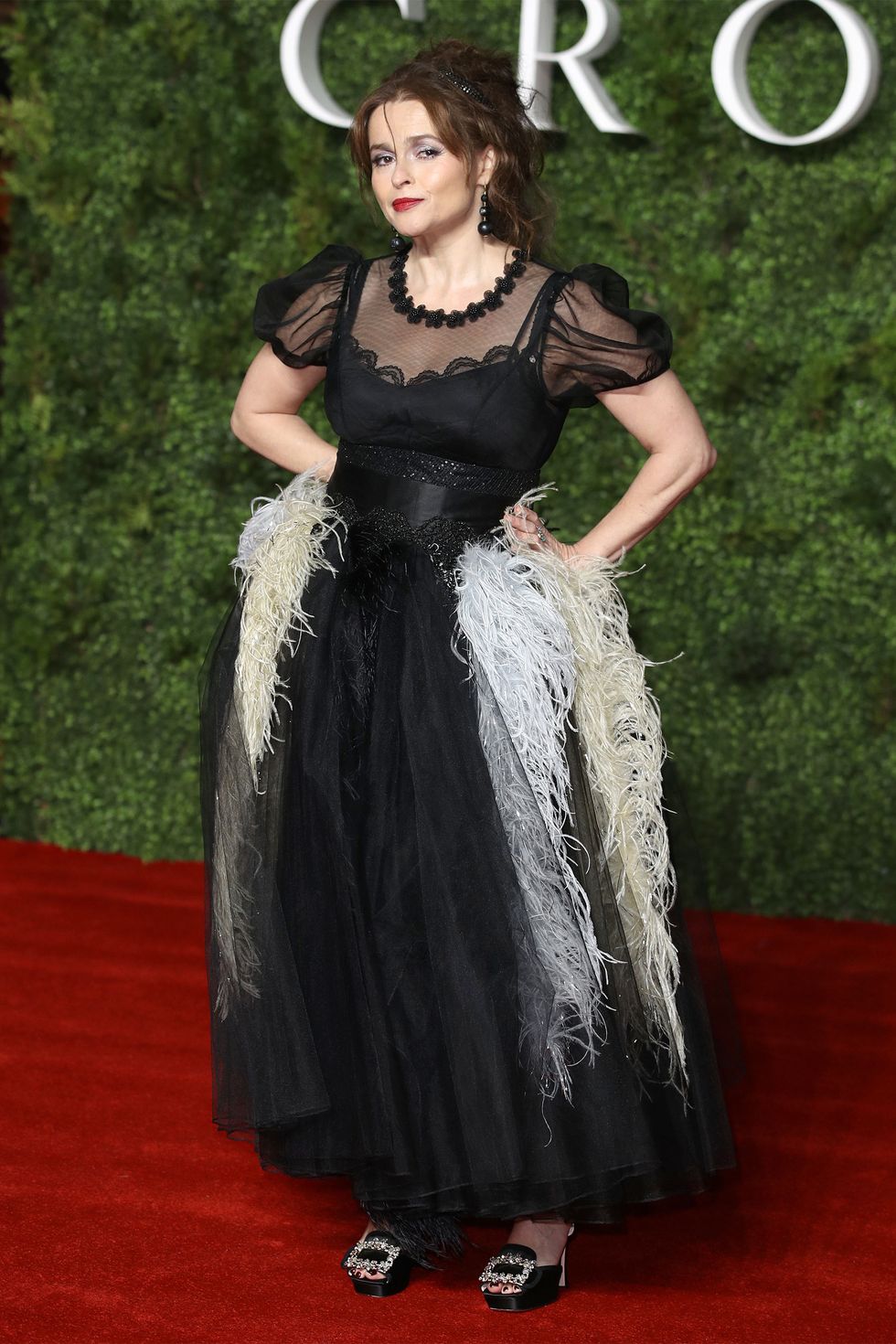 After a two year hiatus, the popular period drama The Crown returns this Sunday. This season brings a whole new cast including Harry Potter's Bellatrix Lestrange, Helena Bonham Carter. The former Death Eater will play the next chronological iteration of Princess Margaret in the series for at least the next two installments. Earlier this week the cast walked the red carpet in London for the season three premiere. Fans can see Bonham Carter in The Crown when it streams November 17 on Netflix.
Evanna Lynch Receives Award for Digital Achievements
After her years playing Luna Lovegood in the Harry Potter films, Evanna Lynch has spent time on the London and New York stage and even on television last fall competing for Dancing with the Star's the Mirror Ball Trophy. She's also taken her passion for a vegan lifestyle to the airwaves with her podcast The Chickpeeps. It's this streaming audio series, co-hosted with Potter alum Robbie Jarvis, young James Potter, Tylor Starr from the Protego Foundation and Momoko Hill, along with the social media promotion of her cruelty free beauty subscription service that garnered her recent recognition. Earlier this week, Lynch received the award for Special Achievement from the Lovie Awards which recognize,
"European innovators who have changed the possibilities for digital work and use the Internet in pursuit of a better world."
Take a look at Lynch's acceptance video with a glowing intro from Jarvis, to hear her take on the relevance of the internet on the vegan movement:
"I really think the internet is the driving force behind veganism because I think it's about spreading knowledge." 
Lynch and The Chickpeeps  gang recently started season two of the vegan podcast and are releasing episodes weekly.

Finally, read a recent interview with Evanna on therapy, self expression, and being a childhood hero, in which she says she struggled with her sense of self worth after the Harry Potter films:
"I struggled to find a sense of self worth after the films," she says, "because it was like, 'Oh wow, I had my huge break at 14. Am I ever going to be able to do anything that will top that or am I always going to live in the shadow of my 14-year-old self?'"
Find the full interview below:
Loved chatting to Rowena for @bustle about praise and people's strange aversion to it 👏🏻 I am fully convinced reluctance to accept praise isn't modesty, it's inverted arrogance. It would be nice if we could all just get over ourselves and accept the odd compliment. 🤷🏼‍♀️ https://t.co/fk8tb5a1MT

— Evanna Lynch (@Evy_Lynch) November 15, 2019

An AppleTV Series for Gary Oldman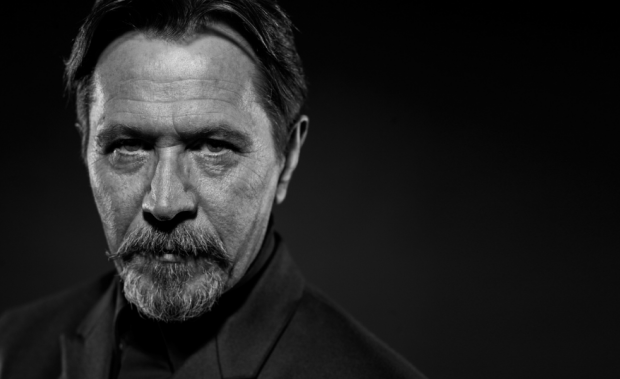 The actor who played Harry's beloved godfather Sirius Black, Gary Oldman, is set to take on in his first regular television role. The Oscar winner will star in TV adaptation of Slow Horses, the first of the Slough House novels by Mick Herron. Here's Variety's description of the project and Oldman's character,
"the show follows a team of British intelligence agents who serve in a dumping ground department of MI5 – Slough House. Oldman will star as Jackson Lamb, the brilliant but irascible leader of the spies who end up in Slough House due to their career ending mistakes.
We are unbelievably excited to see Gary Oldman in a TV series. Slow Horses will air on AppleTV.
Ezra Miller Named One of Time's 100 Next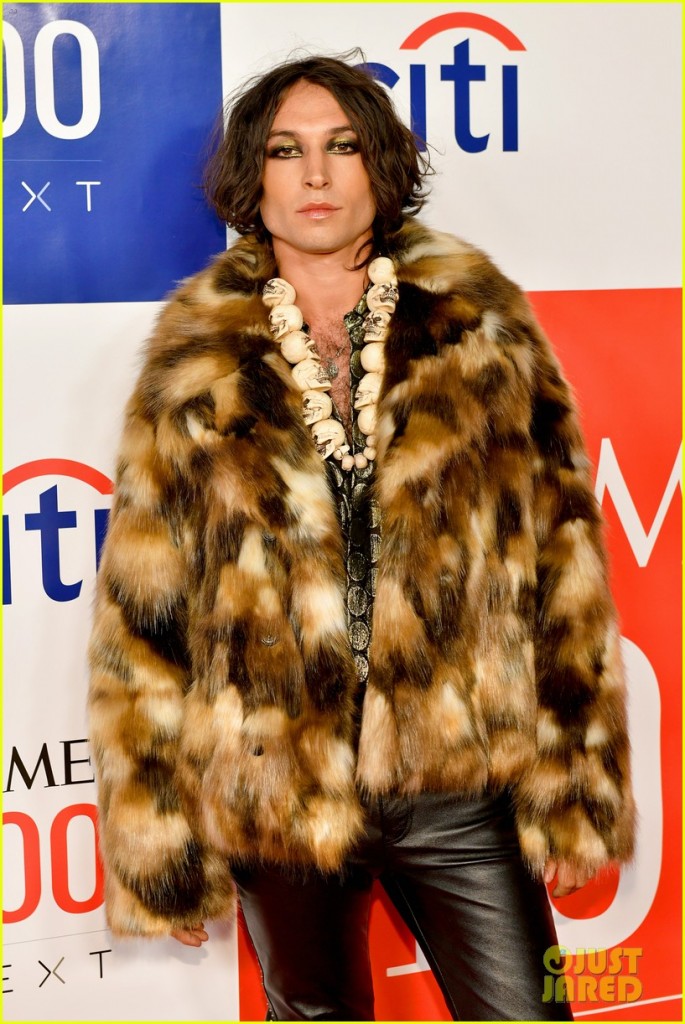 Image credit: Getty
Ezra Miller, Fantastic Beasts infamous character with dual identities, has been named to a prominent new list by Time Magazine. He joins 99 other "people who are shaping the future of their fields," as described by the publication, on their 100Next.
Miller attended the inaugural gala for the new collection of issues earlier this week and walked the red carpet in style as usual.
Time described via Just Jared why Miller was a candidate for their new franchise,
"fully [embracing] and [broadcasting] the pieces of his life that set him apart."[…]"That he's been this open while playing as iconic a superhero as the Flash makes him a new type of role model—and a champion of young nonconformists everywhere."
We are in complete agreement and send Ezra Miller our congratulations. We can't wait to see him again in Fantastic Beasts3!
A New Trailer for The Death and Life of John F. Donovan Starring by Michael Gambon
Anytime we have the opportunity to see Michael Gambon on screen it's as much of a treat as getting an Albus Dumbledore Chocolate Frog Card. After his role in the recent critically acclaimed biopic Judy, Gambon can be seen and heard as the narrator in The Death and Life of John F. Donovan. He stars alongside Game of Thrones Kit Harrington and award winners Natalie Portman, Thandie Newton and Kathy Bates in the drama described this way by Deadline,
"Heartthrob film and TV star John F. Donovan (Harington) died alone and unexpectedly following a series of scandals. One particular fan, 11-year-old Rupert Turner (Tremblay), has some singular insight because he and Donovan were secret pen pals for five years. The adult Rupert (Schnetzer) writes a book as an adult about his experiences, providing a rare look into one man's life."
Take a look at The Death and Life of John F. Donovan below. The film opens in theaters December 13.

Helen McCrory and Katie Leung in BBC/PBS Series Roadkill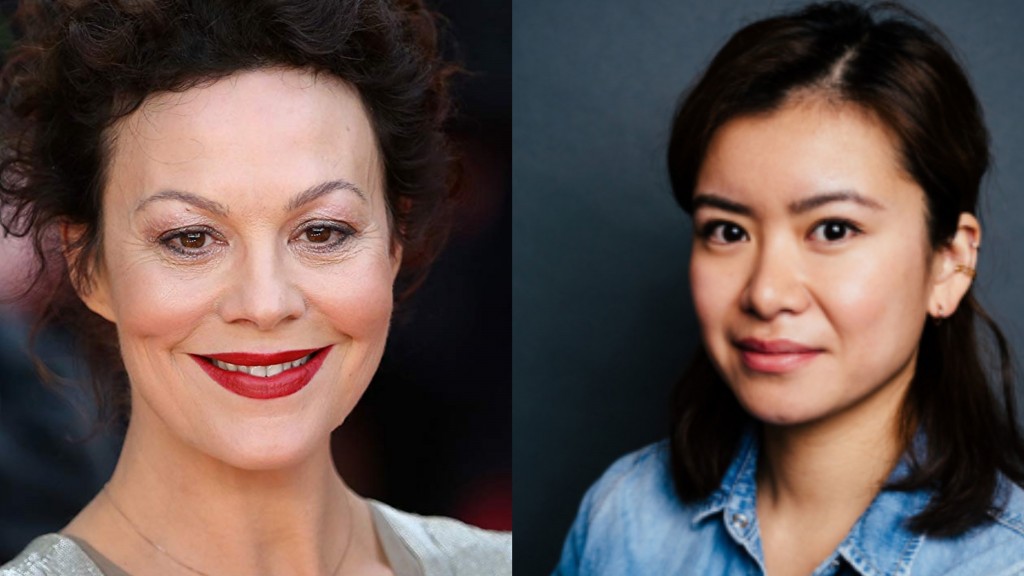 Helen McCrory, Narcissa Malfoy in the Harry Potter films will take on the role of British Prime Minister in the upcoming BBC/PBS series Roadkill opposite Hugh Laurie. Here's another synopsis from Deadline for the four-episode political drama,
"The thriller is about self-made, forceful and charismatic politician Peter Laurence (Laurie). Peter's public and private life seems to be falling apart – or rather is being picked apart by his enemies. As the personal revelations spiral, he is shamelessly untroubled by guilt or remorse, expertly walking a high wire between glory and catastrophe as he seeks to further his own agenda whilst others plot to bring him down. However, events show just how hard it is, for both an individual and a country, to leave the past behind. With enemies so close to home, can Peter Laurence ever out-run his own secrets to win the ultimate prize?"
No word yet on Leung's character or when Roadkill will air.
Harry Melling in War of the Worlds
Harry Melling, who Potter fans know as Harry's cousin Dudley Dursley, is fighting a Martian invasion in the upcoming screen adaptation of H.G. Wells's War of the Worlds. The modern version of the classic will air in 3 parts beginning November 17 on BBC One.
Dan Fogler's Latest Podcast
Among other things, like appearing at Leakycon, Fantastic Beasts star Dan Fogler hosts his own podcast when he's not filming in the Wizarding World. He recently dropped the latest episode after an outing to The Joker. Take a listen at the link below.
https://t.co/jlCnpsstCV NEW! @4DX_USA @DanFogler4DX

— Dan Fogler (@mrdanfogler) November 14, 2019
And how about a holiday message from your favorite No-Maj baker? Also this week Fogler shared that he's now scheduling personalized cameos. What a great holiday gift for any Fantastic Beasts fan! Check out the info at cameo.com/danfogler
Hey all! Want me to record a personalized video shoutout for someone special in your life? Check me out on Cameo! https://t.co/oaj7AxA2iK — Dan Fogler (@mrdanfogler) November 15, 2019
A Trailer for Chris Columbus's Scoob
Director of the first two Harry Potter films, Chris Columbus is the creative producer behind the upcoming big screen version of Scooby Doo, Scoob! Take a look at the nostalgic first trailer below that gives some backstory to Scooby and his four mystery solving mates. Jason Isaacs, Potter's Lucius Malfoy, takes on the voice of another baddie, cartoon villain Dick Dastardly, in the new film, but there's no sign of him yet in this first sneak peek. Scoob! opens in theaters May 15, 2020.

A New Shakespeare Adaptation for Brendan Gleeson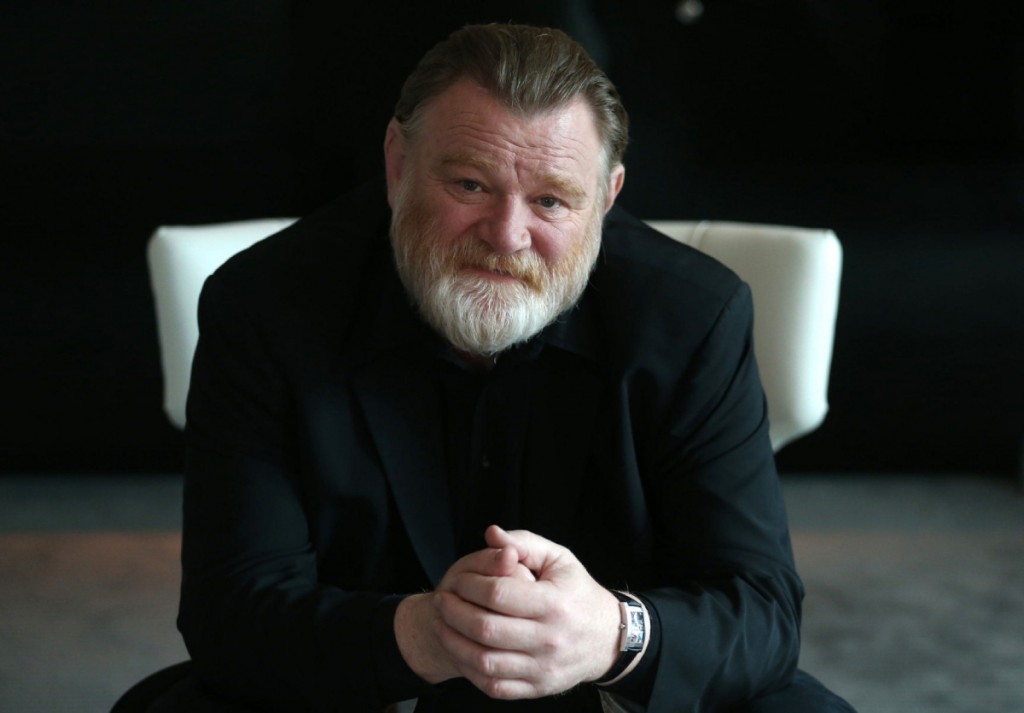 Irish actor Brendan Gleeson, who's best known to Potter fans as Auror Mad-Eye Moody, is in talks to join a high profile adaptation of Macbeth. The newest re-envisioning of the classic stars Oscar winners Denzel Washington and Frances McDormand, and is helmed by Academy Award winning director Joel Coen. According to Collider. Gleeson may play the role of King Duncan, a part taken on by Harry Potter alum David Thewlis in the 2015 version. Macbeth begins production early next year. We'll keep you posted on Gleeson's casting.
David Tennant Surprises Good Omens Audience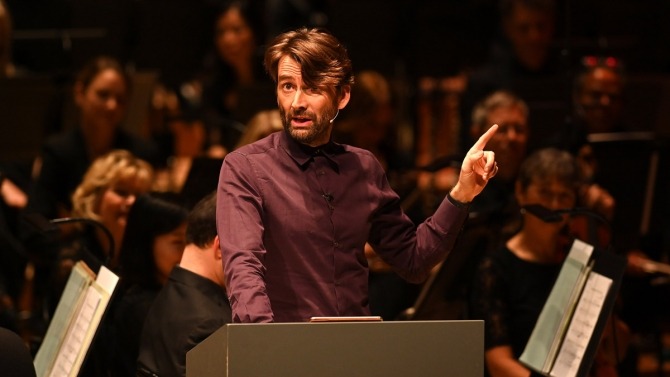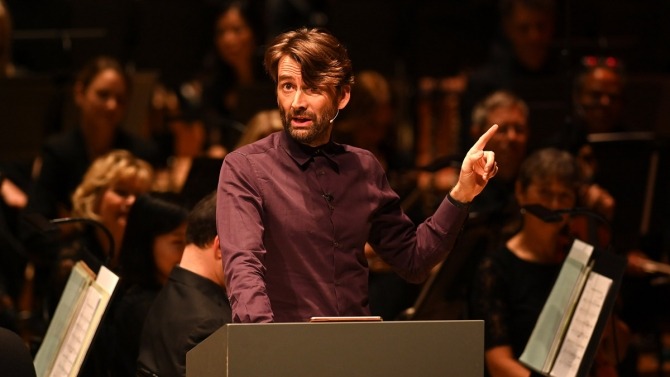 Image credit: BBC Mark Allan
Earlier this week, famed author of Good Omens, Neil Gaiman, performed a reading of some of his work with the BBC Symphony Orchestra at an event called "Playing in the Dark". To the delight of the audience, when Gaiman read the word demon, David Tennant, Demon Crowley in the 2019 TV adaptation, appeared on stage. The actor who played Barty Crouch, Jr. performed the scene in Good Omens when he and his partner in crime Aziraphale overindulge in the Angel's bookshop. What an incredible surprise for those in attendance!
David Tennant can be seen next in the Channel 4 drama Deadwater Fell beginnng January 4, 2020.
A New BBC Radio Project for Kenneth Branagh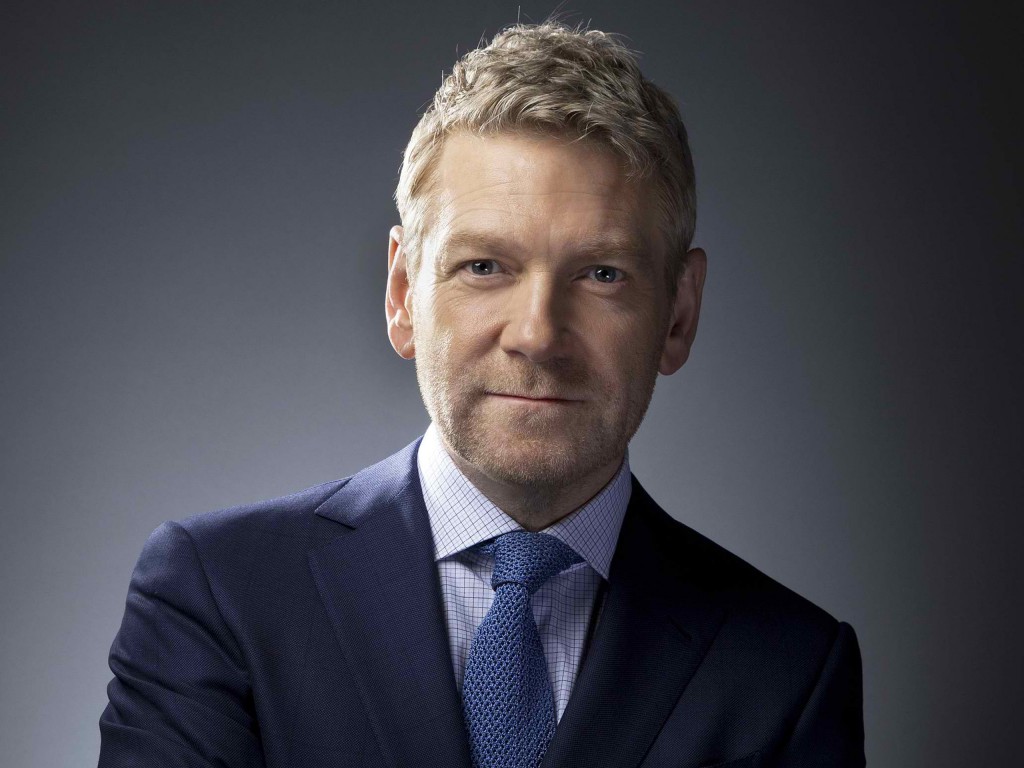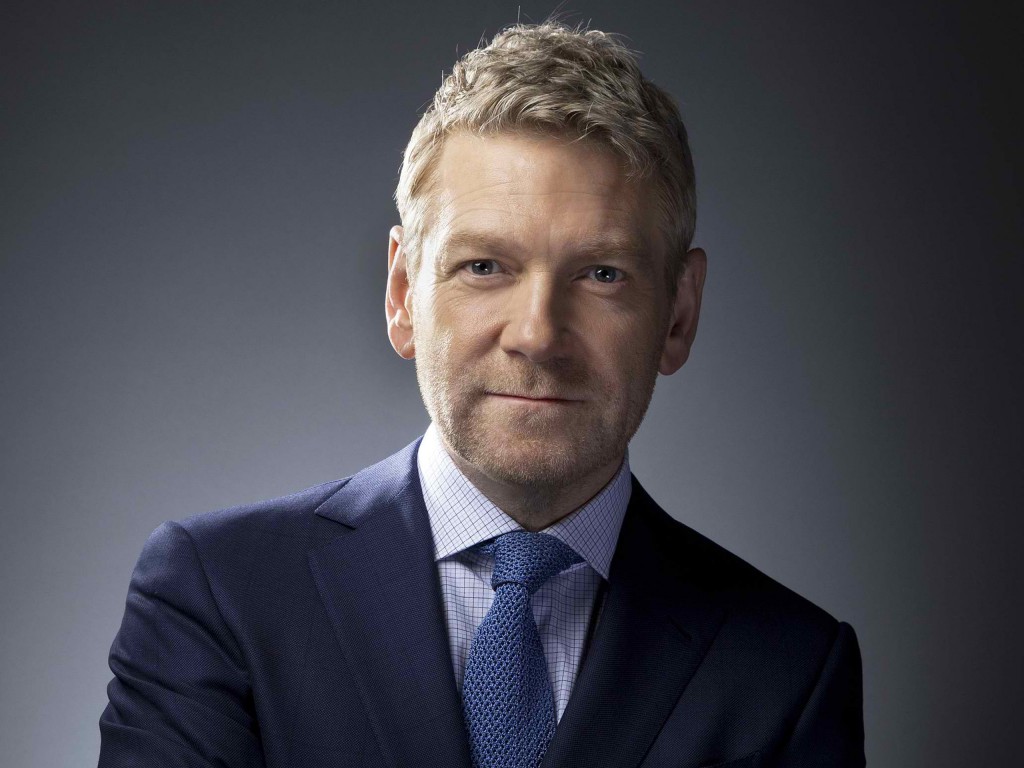 Veteran actor of stage and screen, Sir Kenneth Branagh, can heard in an upcoming radio program about the Battle of Stalingrad. Branagh who played year two Defence Against the Dark Arts Professor Gilderoy Lockhart, had this to say to the BBC about the two-part audio production,
"Stalingrad is unique radio, and a true privilege to work on. A gripping panorama of the human experience in an epic Russian context, but with a universal, and very personal connection for listeners. I'm so grateful that the BBC have given us this masterpiece in audio, and proud to have played a small part in a phenomenally talented and committed cast and production team."
Stalingrad will air November 30 and December 1 on BBC4 Radio.
That wraps up the Harry Potter and Fantastic Beasts Actors news for this week. Stay magical and we'll meet you back here next time!