Harry Potter and the Sorcerer's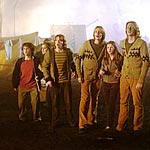 Jan 10, 2002
Harry Potter and the Sorcerer's Stone has been nominated for best film by the Producer's Guild of America. The 13th Producer's Guild awards will be handed out March 3.
Harry Potter and the Goblet of Fire is number one on Newsday's list of best selling books for the week. In addition, Prisoner of Azkaban is #10, Chamber of Secrets is #11, and Sorcerer's Stone is #12.
Coming Soon! has posted a brief interview with Warwick Davis, where the actor discusses his roles in Star Wars and Harry Potter.