JKR Simpsons: NOT Tomorrow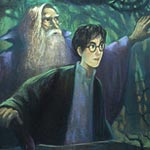 Nov 01, 2003
Uncategorized
It has been elsewhere reported that the JKR's Simpsons Epsiode will be tomorrow, on the Simpsons' Treehouse of Horrors XIV. This is not true. The episode summary for her appearance has nothing to do with Halloween, and the summary for tomorrow's doesn't mention it.
As we reported from a BBC report a while ago, JKR's voice will appear this month or next.
A Simpsons rumor site says:
EABF22 – The Regina Monologues – Tentative airdate: November 23, 2003

Written by John Swartzwelder

Mr. Burns loses a thousand-dollar bill that is quickly turned into the main display at the Museum of Modern Bart. After Burns shows up to reclaim his money, Bart realizes he still earned enough from charging admission to take the Simpsons to England. When they arrive, Marge begs Homer to make this an incident-free trip, which he actually succeeds at until he accidentally runs into the Queen. Now the only thing that will earn Homer a stay of execution is whether he can uncover the plot to poison her majesty. (Will likely air as the season premiere, following the annual Treehouse of Horror episode.)

Guest starring Tony Blair, Ian McKellen, Jane Leeves and J.K. Rowling as themselves (I'm actually unsure of who Jane Leeves is playing).
It does say it will appear after Treehouse of Horror but the listings say tomorrow's second episode will be a repeat. Plus, it hasn't been advertised; it's more likely that "after the season premiere" report was an early, tentative report that was never revised.