Pettigrew Portrayer Plays Poe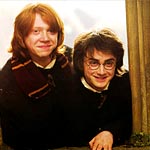 Nov 05, 2003
Uncategorized
Sue Upton sent us this article from Ananova stating that Timothy Spall, the actor due to play Peter Pettigrew in the upcoming Prisoner of Azkaban will take the role of Mr. Poe in "Lemony Snicket: A Series of Unfortunate Events". He will be joining Jim Carey (Count Olaf), Jude Law (Lemony Snicket), and Meryl Streep (Aunt Josephine).
Spall can also be seen in The Last Samurai as translator for Tom Cruise's character.
Perhaps now that we're hearing about at least two of Spall's future movies, we will get our first look at his portrayal of Pettigrew quite soon.