Philip Pullman on Potter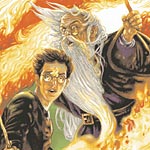 Nov 05, 2003
Uncategorized
Despite appearing in "Harry Potter and Me", Philip Pullman has only read one of the five Harry Potter books according to an interview with The Independent:
Harry Potter or The Lord of the Rings?

Mel Robertson, by e-mail

Um. This is one of those Archbishop of Canterbury 12-second silences. I can't really answer the question. I read The Lord of the Rings when I was a teenager and I didn't really like it. I have tried to read it since, but it doesn't really say anything to me because the characters have no psychological depth. The only interesting character is Gollum. And I've only read one Harry Potter book, the second one, and it wouldn't be fair to comment on that basis, although I thought it was funny and inventive. Neither are my particular favourites.