Emma Thompson Talking (Literally) Trelawney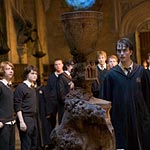 Nov 06, 2003
Uncategorized
Thank very much to Simon for sending us this audio file of Emma Thompson on Parkinson where you can hear her mocking her own portrayal of Trelawney:
Parkinson: And also you are doing Harry Potter.

ET: Yes

P: You have done that have you?

ET: I have done that, yes. I am playing Professor Trelawney the professor of Divination.

P: I see

ET: As in fact as I discovered to my horror half-way through my scene, I am chanelling Alastair Sim!

P: You're chanelling Alastair Sim?

ET: Yes. Suddenly I suddenly realise (puts on Trelawney voice) I am Alastair Sim in St. Trinians. I thought (cups hands to mouth makes a shocked sound) he was coming through my body. It was extraordinary. I love Alaistair Sim, he is my great hero.