Harry in Hangul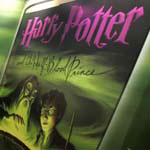 Dec 06, 2003
Uncategorized
From TLC reader Glenn:
Seoul's Kyobo Bookstore (the biggest and nicest one in Seoul) now has Order of the Phoenix in Hangul (the written language for Korean). The HP books in Korea (and some other Asian countries) are broken into multiple volumes, presumably to make the cost seem less. (it doesn't if you read the whole book, and who would stop in the middle?) The first two HP books were two volumes each, book three was three, book four was four, and five is five.
Anyonghaseyo! (Korean for "so long!")
Thanks for the info, Glenn!