Translators Gather in Paris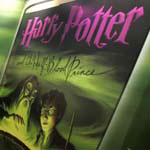 Dec 09, 2003
Uncategorized
The Guardian has a few paragraphs on those who translate Harry Potter:
A Catalan translator said that she had lost the assignment after rejecting what she considered to be an inadequate royalty deal, but most delegates were getting more money from HP than they had ever earned before. While Warner Bros put pressure on them not to change the names of characters, several continued to try to find equivalents in their own languages for Rowling's wordplay. But they all regretted that they could not get in touch with her to check queries.
Click the link and scroll down for more, and thanks to Robert for the link!