Hagrid and Fang: A Boy and his Dog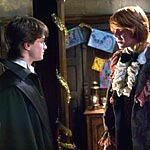 May 19, 2003
Uncategorized
According to today's Daily Star & Daily Express papers, Hagrid actor Robbie Coltrane has settled in nicely with the 12-stone neopolitan mastiff named Luigi, playing the role of Fang.

Daily Star
Luigi, a 12-stone Neapolitan mastiff, has finally taken the lead role alongside Coltrane after playing back-up in Harry Potter, The Prisoner of Azkaban.Trainer Julie Tottman, 32, is on location in Glencoe with Luigi, who munches his way through £10 of chicken, tripe and steak every day.

She said: "He's already done his first scenes and is a natural. Luigi is Hagrid's new dog and the two are getting on very well on set. Luigi did everything the director wanted."

Daily Express

Animal trainer Julie Tottman, 32, gave the £1,000 hound a home and job after its owner took ill. He already played back-up in the second Potter film and this is his first time as lead dog.

A second mastiff named Hugo has retired as Hagrid's pet, with a third, Bella on the sidelines.

Julie, who runs Herefordshire-based Birds and Animals, said: "This breed is very strong willed and don't make good family pets, but they can be very loving."

Animals are all over the Harry Potter set, including a fox, raven, snowy owls and budgies. A Warner Brothers spokesman said: "Two other stand-in mastiffs were also rescued, one as the result of a divorce, the other because of bad treatment".
If anyone has a copy of the pictures we'd love to see them.