Barnes & Noble announces Book V Campaign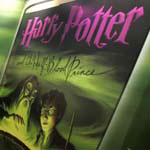 May 20, 2003
Barnes & Noble, today, announced that most stores will be open the night of Friday, June 20th for the release of Harry Potter and the Order of the Phoenix. (Editor's Note:: Most likely those stores within malls will have to negociate the mall staying open. I'm inclined to believe that all standalone stores will be open – more news as we have it.)
Beginning June 1, Barnes & Noble will kick off its Harry Potter and the Order of the Phoenix Sweepstakes. Customers can pick up a special decoder card at any Barnes & Noble store and log on to Barnes & Noble's special sweepstakes Web site, www.harrypottersweeps.com, to win hundreds of prizes. The grand prize is an all-expenses-paid trip for four to Harry Potter's England. No purchase is necessary. Four decoder cards make up the collector set, and the sweepstakes winner will be announced on July 1, 2003.

During the Memorial Day weekend, Barnes & Noble stores will look like a scene out of a Harry Potter novel with larger-than-life Harry Potter signs and banners, letting customers know that they can reserve their own copy of Harry Potter and the Order of the Phoenix for pick up on the day it lands on the shelves, midnight on Friday, June 20th.

On June 20th, many Barnes & Noble stores nationwide will be transformed into "Harry Potter Town," staying open past midnight to accommodate fans and planning special parties complete with costumes, games, and wizardry of all kinds. A special treat for those who attend is a free keepsake photograph of you with Harry Potter in a specially designed frame. Tens of thousands of children and adults are expected to be on hand as the clock strikes midnight to ensure that they get their copies of Harry Potter and the Order of the Phoenix as soon as possible. Parents are encouraged to bring their children for a night of magic, stories and Harry Potter.