New Site: Harry Potter MeetUp And Read-In (MUARI)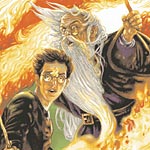 May 20, 2003
Well folks, I've been hinting liberally over the past couple weeks of a big project I've been working on to bring you the maximum amount of fandom participation in the upcoming launch of Order of the Phoenix – I wanted to wait until we had exactly 30 days to go and so I have – it's here:
The Harry Potter MeetUp And Read-In (MUARI) at http://www.muari.org.
Together with most of the top Harry Potter sites on the Web (including SugarQuill, FictionAlley, HPANA, Godric's Hollow, The HP Lexicon, Nimbus 2003 and many, many more), we've created a central location to participate in a number of activities thanks to assistance from MeetUp.com, the American Booksellers Association, the American Library Association, and Scholastic.
Here's what you can expect to find on the site:
The Meetup: It's 6pm
on Friday, June 20th and you're [insert nervous habit here] while
trying to figure out how to wait 6 more hours to get a fix you've
been waiting 3 years for. What do you do? Why not MeetUp with fellow
fans and share the angst and the countdown together.
The Parties: There's
hardly a bookstore in your area that won't be having a Potter Party
Friday, June 20th. Whether you prefer a big chain or a small independent
store, all books go on sale at 12:01am on Saturday, June 21st –
find where you need to be here
The Read-In: Now that
you've got your hands on one of the most coveted tomes in the world,
share the experience of breaking into a world you've only been talking
about for the past 3 years. Read along with friends, family or fellow
fans and be a part of the magic that is.
The Exchange
– Spread the Joy: Have some extra copies of Order of
the Phoenix? How about the other 4 books in the Harry Potter
series? Commit a random act of kindness and release your books into
the wild for someone else to discover and enjoy.
The Events:
Now that you've read Book V more times than you can count,
attend some of the many events going on at libraries and museums
around the country.
The Symposium
– Nimbus – 2003: The "place to be" in July 2003
– sign up for the first and currently only Harry Potter fan conference
and academic symposium in the world.
The Store – (Coming Soon):
Contribute your artistic talents to our MUARI Store and see your
design all around the world for the coming months. We're looking
for a logo that we can put on CafePress t-shirts, hats and more
and when the store opens up, you can buy your "fan identifiers"
and wear them to MeetUps, parties, events and Nimbus – 2003.
Keep in mind this is a work-in-progress and there's a whole lot of events, parties and news we'll be adding to the site. But check it out, make some comments, send us some information and maybe make a button, banner or even some art for our MUARI-Gear contest.
Enjoy!