Don't forget the libraries! Oregon library stocks up.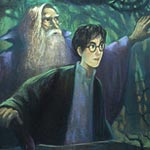 May 24, 2003
Posted by Melissa Anelli
According to The Oregonian, Multnomah County libraries have ordered over 700 copies of OotP to meet the over 1000 people on a waiting list for the book. Find out how you can help your library if you buy an extra book or two.