Canada Publisher Raincoast Books Uses 100% Recycled Paper for OotP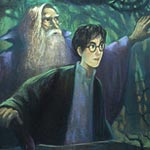 May 27, 2003
Uncategorized
According to the Milwaukee Journal Sentinel, local Badger Paper Mills has made 3 million pounds of what's known as post-consumer paper for 935,000 copies of "Harry Potter and the Order of the Phoenix" being published in Canada by Raincoast Books.

And if Canadian readers don't appreciate the recycled pages they're turning – all 768 of them – the publishers do. The special paper is costing Vancouver-based Raincoast an extra 3% in production costs.

"By underwriting this initiative, we're eating the cost on the back end just in terms of hard dollars," said Tessa Vanderkop, publicity director at Raincoast. The added cost is about $200,000 Canadian, or nearly $150,000 U.S.

The use of 100% recycled paper in book publishing is as rare as surviving a tussle with He-Who-Must-Not-Be-Named. It's even rarer to use 100% post-consumer paper – which is recycled consumer wastepaper – as opposed to industrial scraps from paper mills, converting plants or printers.
(Editor's Note: Uber-kudos to Raincoast for taking the step of using the rare 100% post-consumer paper to make a book that will sell hundreds of thousands of copies. No dead trees there! Feel free to drop them a note to express your appreciation for their thoughtfulness – and taking on the added cost.)