MUARI: Single-Digit Countdown, Bookcrossing Stickers, and Meetup/Read-In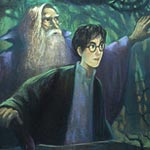 Jun 11, 2003
With only 9 days left we have 2, 284 people signed up in 389 cities worldwide for our MeetUp at 6pm on Friday, June 20th however only 152 of those cities have the 5 people necessary to hold the MeetUp so sign-up if you haven't already.
If you ARE signed up for it, take pictures. Loads and loads of photos at the MeetUp, at the midnight party you plan on attending or even of you and your friends reading the book together over th weekend. Take pictures of decorations or costumes you see that weekend; pictures of the food and strange drink etc. Send them to [email protected] and we'll post a gallery for all to see.
The Read-In, alas, has less people signed up for it. Do you plan on having a Read-In with your close friends and family? Let us know how you will be reading OotP as soon as you get your hands on the book.
Don't forget to get your BookCrossing stickers to put your extra copies of OotP out in the wild after you're done with them.