My (B.K.'s) Plans for Book V Launch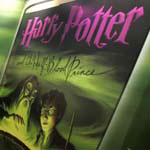 Jun 11, 2003
Uncategorized
While I'm by no means comparible to Jim Dale, I thought I'd share what I'll be doing for the Book V launch (and it gives me a chance to highlight some of the local goings on).
On Friday, I'll be hitting the Borders in Peabody, MA to grab my Trade version and Books on CD along with my wife and some visiting guests.
Saturday, before returning our guests to the airport, I will attend an event in my hometown – "The Witch City" of Salem, MA.
Then I'll most likely hibernate until I finish the book.
(Also, it looks like a large part of Salem will become Diagon Alley and/or Hogsmeade for Halloween this year – stay tuned for those details in the coming months. Those of you who have not visited Salem, Massachusetts may not be aware that in addition to its incredible Maritime History & woeful Witch Trials, it is QUITE the destination for October 31. And yes, the Salem Witches Institute was mentioned in Goblet of Fire)