LA Times Looks at Miscommunication with Book V Audio Clip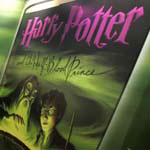 Jun 12, 2003
(SPOILER ALERT)
An article in this morning's LA Times (Free registration required) looks at all the miscommunication surrounding yesterday's release of an audio clip for Order of the Phoenix.
Fans first stumbled across the audio excerpt Wednesday through America Online and the Leaky Cauldron site, then began posting comments on the clip, Anelli said.

The comments later were removed because Anelli and other editors of the Internet blog didn't want to spoil any surprises, she said.

Scholastic spokeswoman Judy Corman declined to comment on Amazon.com's excerpt. Amazon said it received the clip from the children's audio imprint of the Random House audio group, which could not be reached for comment.
Additional sources have informed us that Random House did indeed have permission to post a minute and a half clip from the Audio Book but that JKR's people were just surprised at the clip that was chosen. It sounds like there was no communication on what the clip should or should not contain and that the clip chosen was a bit more "spoiling" than JKR's people would like.