NBC "Weekend Today" Show looking for Die Hard Fans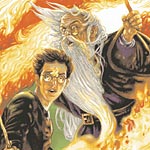 Jun 13, 2003
Uncategorized
We mentioned this earlier in the week, but we didn't say who it was for. Well, NBC's "Weekend Today" show is still looking for die hard fans for their segment. They're looking for more adult fans than young'uns.
If you know ANY diehard fans who dress up on a regular basis (cosplay? just for fun) or have their house totally decked out or just has some quirkish HP fan story, email us via [email protected] and we'll get the word to them. Please make sure you send your name, age, email address and phone number.
Keep in mind this will air the morning of Saturday, June 21st so we need to hear from you ASAP to make sure they can come to your house and film you!