Fan Gets Early Read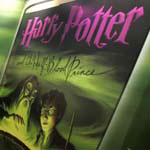 Jun 14, 2003
According to this account on iharrypotter.net, a B. Dalton worker has already cracked open one of their 141 boxes of Harry Potter books and started to read them.
Hello. I wrote a couple of weeks ago to tell about the B. Dalton Bookstores dressing up for Harry Potter Day next Saturday. Well, I just wanted to write and say that today, June 13th, 2003, I received 141 boxes of the book Harry Potter and the Order of the Pheonix, with each box containing 10 books. And, as a bonus for working in a bookstore, I get advanced reading rights, although I'm not allowed to buy it until it's available to the public. I'm already up to Chapter Nine, and I just want to say this is book is unbelievable! It's so diffrent from the last four books it seems like a whole different Harry!

P.S. We've gotten in the Harry Potter glasses and hats in already but no word on the cloaks.