Winnipeg Free Press Picks Fast-Reviewer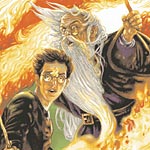 Jun 14, 2003
Thanks to readers who sent us this update to the Winnipeg Free Presses' call for a reviewer to pen an overview of Book V for the Sunday Morning Edition.
WE asked for the World's Fastest Potter Review, and we got the world's fastest response.

It was amazing. E-mail entries began pouring in early Sunday morning, less than one day after we put out a call for someone to review J.K. Rowling's fifth novel in the bestselling series about Harry Potter, the boy wizard.

The resumes and writing samples came from Seattle, Selkirk and Lac du Bonnet. They were labelled things like, "PICK ME PICK ME," discussed the proper anatomy of basilisks and hippogriffs, the merits of minor characters like Colin Greevey ("the stupidest kid I've ever read about"), and the bad-boy appeal of Draco Malfoy.

It was almost as much fun as reading a Rowling book.

This is no cake-walk, we had warned them.

Whomever won the job would have to pick up the 768-page behemoth, Harry Potter and the Order of the Phoenix, at midnight on June 20, read it in the next 19 hours (and try to fit a few hours of sleep in there, too) and file us a book review by 9 p.m. that day.

Not too surprisingly, all of the hundreds of contestants assured us they read like that all the time, anyway.

And I believe them.

I winnowed the entries down this week to a Top 10, tossing out those who weren't 14 or 15 — Harry Potter's age (and heard from many, many old and young disgruntled fans about that restriction, by the way).

It was a painful process because they were all so good, these kids: Articulate, witty and oh, so persuasive. We could easily have hired two dozen of them.

Of those Top 10, book editor Morley Walker chose two winners to review the book — Jessica Alcantara and Julian Prokopetz. You'll be able to read their reviews of the book on the front of the June 22 Books section.

If for any reason one of them can't review that day, Stephanie Harland is their backup. Other outstanding runners-up included (in no particular order) Evan Price, Emilie Anderson-Gregoire, Rowena McGowan, Tamara Krahn, Adam Pazdor, Stuart Darrach-Cottick and Amy-Anne Smith.

We've read their poetry, their novels-in-progress, their movie reviews and their journals, and laughed out loud at their charming letters ("Please don't think I'm an introvert, sitting in my private library reading stuffy Russian novels and planning parricide…" ; or "No, no, no, no, I am not trying to prove anything at all, except my love of italics which I am using in almost horrifying over-abundance…").

We've been absolutely astounded at the quality of the writing.

For those who tsk-tsk about the education system and bemoan the declining rate of literacy, I know more than a few young talented writers you should meet. They include Gretchen Derige, Alexander Hogeveen Rutter, Emily Payne, Liz Wallis, Shira Lerner, Mark Grondin, Jayne Miles, Amy Groening and of course, dozens of others, too numerous to list.

You know who you are.

I expect we'll be reading your books, newspaper articles, plays and poetry in the next few years.

You'll do us all proud.